Building a home is the best way to have a house that suits your lifestyle needs and preferences. It's the popular option among aspiring homeowners who want to get involved with the design and construction process to ensure their non-negotiables are met.
While building a home on your own land is an exciting journey, it can also be intimidating. Since you're starting from scratch, it needs more thorough planning compared to buying an existing house. In this case, you must learn the process and details to avoid hassles.
Search for construction leads
Here are 11 comprehensive steps to help you build a home on your own land.
1. Hire A Trusted Builder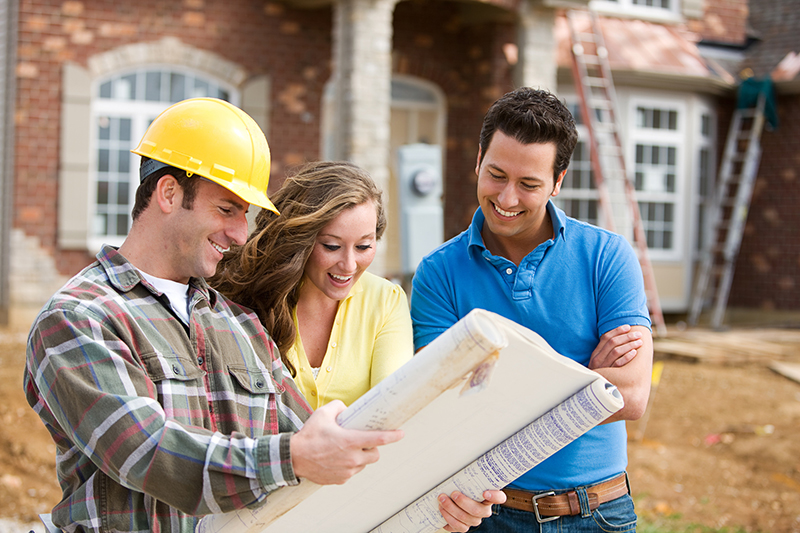 Any home construction project starts with looking for trusted custom builders within your area. Hiring professionals during the first steps of project planning is crucial to provide consultations and advice. As you search for a reliable contractor, here are some factors you must consider:
Years Of Experience: A contractor's experience tells a lot about their expertise in the field. Experienced builders know all the details in the home building process and guide you through each step.
Project Portfolio: One way to examine a builder's work is to look at their portfolio. Looking at their past projects helps you evaluate their craftsmanship. You may also look for client reviews to know how well they coordinate.
Style Specialization: Most custom home builders specialize in specific home styles. However, some contractors may offer a broader range than others, offering more flexibility in choosing an architectural style.
Price Range: A contractor's price range should be within your budget, but you should never settle for the cheapest one. Looking at their portfolio, you can see if their prices match the project's quality. Since a house is a significant investment, getting the most value for your money is a must.
Considering these factors will help you find the right custom builder for designing and constructing your dream house in your chosen location.
2. Determine Your Budget
The flexible price range is one of the best benefits of building a custom home. However, your budget sets the limitations in home construction. It gives you a maximum house size and determines the type of finish you can afford.
Low-Cost: A low-cost house finish typically ranges between USD$100 and USD$150 per square foot. The builder will use the most inexpensive materials for furnishing and put the most significant part of the budget into the home's structural integrity.
Mid-Range: A mid-range finish usually costs around USD$150 to USD$200 per square foot. It involves using both affordable and premium materials around the home to achieve durability, functionality, and elegance.
High-End: A high-end or luxury finish costs anywhere beyond USD$500 per square foot. The builder will choose all premium materials, from the structural framing to the fixtures. In this type of construction, the sky is the limit.
To determine your budget, start by selecting your desired total floor area and multiply it by the average cost of your chosen type of finish.
3. Start Land Survey And Inspection
Land survey and inspection is the most crucial part of building a home from scratch. In some cases, property owners skip this part before buying the lot, only to find out that it's not suitable for construction. Therefore, confirming all the details with a team of professionals is a must.
Check The Zoning: Checking the zoning helps determine the local authority's legal policies on land use. Confirming the legalities first allows you to verify if the land is suitable for residential use.
Inspect The Soil Condition: A geodetic engineer will inspect the soil to see if it's rigid enough for construction. They'll also test it for contaminants and evaluate the area for flood, earthquake, and fire hazards. This step is crucial to protect your hard-earned investment and ensure your safety.
Examine Available Utility Hookups: The availability of utility hookups like plumbing, electricity, and gas is imperative to make your home functional. Checking these services helps you allot a budget for repair or connection. If your lot is in a remote location, it's best to consider alternative energy sources like a solar power system.
Surveys and inspections ensure your safety and determine the scale of the project. Some builders have a team of experts for this process. However, you may also hire one yourself.
4. Choose A Home Style
Finding a design inspiration helps you determine which architectural style suits your lot. A beautiful house stands out but seamlessly blends in with the environment, making everything cohesive and balanced. Here are some popular home styles you may choose from:
Modern: Modern homes feature a minimalistic approach to design. They commonly have a flat roof and a sleek exterior design with neutral colors and black metal accents.
Farmhouse: Farmhouse architecture is a classic home style that transcends design trends. It focuses on simplicity through the use of natural materials. It also prioritizes functionality and comfort to create a cozy space.
Mid-Century Modern: Mid-century modern architecture celebrates the combination of natural and synthetic building materials. Some of its distinct design elements are floor-to-ceiling windows and clean roof lines.
Mediterranean: Mediterranean-style houses are perfect for locations with warm climates. It features light-colored walls with a stucco finish, red or terracotta tile roof, vaulted ceilings, and arches.
Contemporary: This architectural style is the most flexible. It's not confined to strict design rules. Instead, it focuses on uniqueness in shapes, colors, and overall structure. It's the perfect home for expressing creativity and incorporating modern building materials.
Cape Cod: This home style is an American classic. It features a steep roof, efficiently preventing snow accumulation during winter. It also has dormer windows and wooden blinds, which are functional and stylish.
Ranch-Style: Ranch-style houses feature a single-story floor plan that sprawls on the property. They also feature a low-pitched roof, large windows, and glass doors connecting the interior to the outdoors.
Cottage-Style: This home style is inspired by medieval architecture. It celebrates the aesthetics of houses that resemble those from a storybook. It features a steep roof, arched doorways, and shuttered windows.
Choosing a home architectural style provides a starting point for your architect to meet your design preferences.
5. Create An Efficient Floor Plan
After choosing your preferred home style, it's time to create a floor plan. A proper layout is essential to maximize each space and prioritize functionality. It also ensures good traffic flow, which is crucial for your safety. Here are some factors to consider when drawing a floor plan:
Total Floor Area: Providing the specific total floor area gives you a good start in dividing the home into different spaces. It also allows your architect or designer to maximize each room according to your needs.
Number Of Bedrooms: A home's number of bedrooms determines how many people it can accommodate. A starter home typically has two to three bedrooms, while larger ones have four or more.
Number Of Bathrooms: The bathroom is typically the second to the most expensive room in the house due to plumbing, tilework, and fixtures. The number of bathrooms in a home can significantly impact the budget.
Kitchen Size: The kitchen is commonly the busiest part of the house. Its size and layout are crucial to its overall efficiency, especially for a family home. The average kitchen size ranges from 160 to 240 square feet, depending on the total floor area.
Type Of Layout: Most modern homes have an open floor plan to create an expansive design. It combines the living, dining, and kitchen in one large space. However, you may stick to the traditional layout if you want a clear separation between rooms.
Efficient Window And Door Orientation: Proper placement of doors and windows is vital to the home's overall flow. It also affects your perception of space from the interior. For instance, a room with many windows may look and feel more extensive due to the natural light that comes in.
Electrical Switches And Outlets: Many homeowners overlook the electrical when planning. The proper placement of switches and outlets makes home living more convenient. It would be best to keep all the electricals accessible for function and safety.
When creating a floor plan, it's best to coordinate with your architect closely to ensure each detail suits your lifestyle.
6. Consider Additional Features
A house is more than just a place to lounge, sleep, and eat. It should also be a space where you can live your best by doing what you love. Therefore, add other features to make staying at home more enjoyable.
Hobby Room: A hobby room is perfect for aspiring homeowners who want a dedicated space for their crafts. You can add an art studio, a game room, a music room, or a multipurpose room to do what you love.
Gym: A home gym is suitable for staying fit. This way, you don't have to go out every time you work out.
Outdoor Living Space: An outdoor living space like a covered patio, deck, fire pit, or gazebo helps you enjoy the environment. These areas provide relaxation and more opportunities to host parties and family get-togethers.
Swimming Pool: A swimming pool is a luxurious home addition. If your land is in a warm region, having a pool to cool down during summer elevates your home living.
Having these features can make your home more functional.
7. Select Construction Materials
Selecting construction materials usually happens during planning. As you move along the design process, your contractor will make suggestions based on your price range.
Structural Framing: The most common materials for structural framing are timber and steel. Wood is suitable for building traditional-style homes, while steel is perfect for modern and contemporary ones.
Roofing: The best roofing options depend on your chosen home design. The most common options are asphalt shingles, slate, corrugated metal, and terracotta tiles.
Flooring: Your chosen flooring material significantly impacts the total project cost. The most expensive options are hardwood and natural stone flooring. You may also select mid-range and low-cost options like engineered wood, laminate, and polished concrete.
Exterior Cladding: The exterior cladding adds character to traditional home styles like farmhouse, ranch, and cottage. On the other hand, most modern and contemporary homes are rendered with cement and painted for a sleek look.
Insulation: Your home's insulation is crucial to comfort, safety, and energy efficiency. Some of the best options are fiberglass, spray foam, and mineral wool. The thickness of your insulation should also follow the standards.
Bathroom Tiles: Tilework in the bathroom helps enhance waterproofing. The most affordable options are ceramic and porcelain. However, you may also choose natural stone tiles for an organic look.
Countertop Material: The countertop is the focal point of the kitchen. Quartz, granite, marble, and butcher block are some of the most popular choices. However, the best options depend on your interior design theme.
Once you've chosen your preferred construction and furnishing materials, your contractor will provide a detailed quote for transparency.
8. Finalize The Design
Finalizing the design before construction is crucial to avoid delays and additional expenses. During planning, expect back-and-forth revisions as you perfect every detail. If you want to make changes, do it before you finalize the design and move on to the next step.
9. Get The Necessary Permits
When you have the blueprint, it's time to get approval from your local authority. In most cases, the contractor will take care of this step for you. Getting permits is easy if the final design follows the building code.
10. Prepare The Site
Once you have all the necessary permits, your contractor will start preparing the site for construction. They may begin to clear the area and excavate for the foundation. If there's an existing structure on the property, they'll knock it down to give way for the new one.
11. Start Construction
The construction process typically lasts around 4 to 10 months, depending on the house's size and design. You may expect to wait over a year if you're building a luxurious family home, but it's worth the wait. During this step, it's best to visit the site periodically to see the progress.
Conclusion
Building a home on your own land requires a lot of time and effort in planning. However, nothing matches the rewarding feeling of seeing your dream house in the best location.