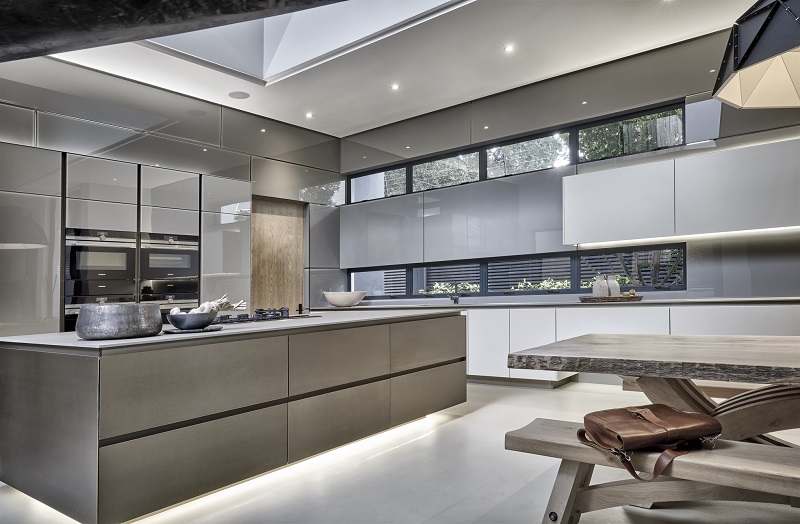 A kitchen is the heart of any home which makes it arguably the most important part of the house. It is therefore imperative that the accessories used in the kitchen should be designed for every aspect of life.
Africa being an emerging market, it has started to experience new technologies that embody a modern Kenya. The introduction of modern kitchen fittings has revolutionized the African market and made it realize that utility and comfort can be incorporated in the same design.
According to Anna Maliboho of Roco in South Africa, Africa has seen a steady increase in the average consumption of products as more and more customers acquire more information and education on how these systems work and why they should use this technology that is readily available to them. This has been made possible by the advent of the internet which makes information readily available for the consumer; as Mr. Philippe Mammone of Ixina in Germany mentions.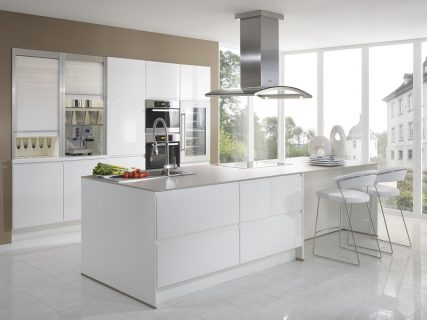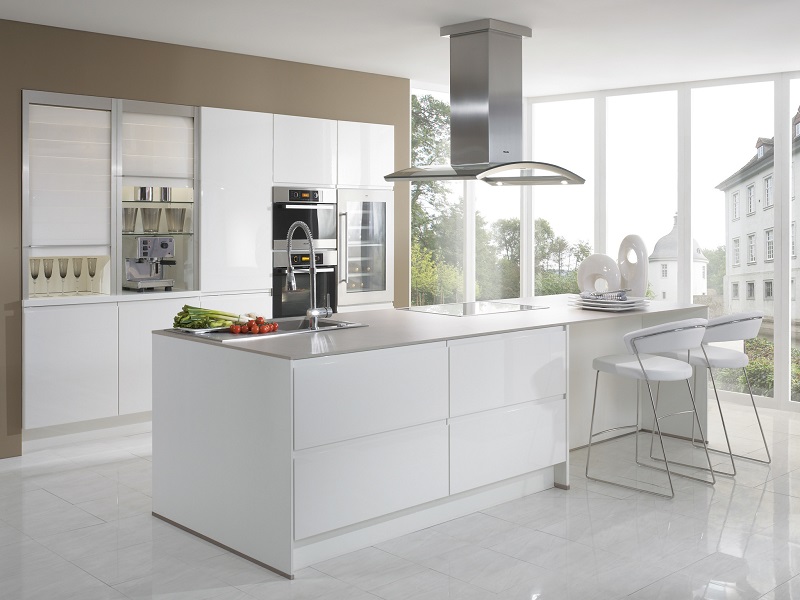 However, with every manufacturer looking to capitalize on the emerging African market, the market is now full of products; making the decision to go for a particular product very important. According to Phillip Richards of Blu-Line in South Africa, The key is to consider the functionality and ensure that everything has been thought through. The next step is to consider the materials and textures as you want the materials used to be authentic and offer that element of texture.
Moreover, Mr. Andrea Giorgini Export sales Manager at Veneta Cucine in Italy adds that, the materials have to match perfectly the style of the house, and the designer must have the ability to enhance the space with the right colours, finishes and elements.
Kitchen mixers & Sinks
A good kitchen mixer has more to offer than just water, it can be used for instance as a pull-out spout to fill pots or water plants on the cupboard. The same applies with kitchen sinks, they should offer you a solution to the mess under your kitchen sink. Mr. Brian Ombego of Hansgrohe in Germany mentions that, when it comes to selecting the right basin mixer, quality is essential because you do not want to replace your mixer every few years. "Functionality is also paramount; like the select button makes it easier to turn the water on and off, including using the back of your hand or elbow," he adds.

Kitchen faucets
A kitchen is the environment where both comfort and functionality have to co-exist. Therefore, when selecting kitchen faucets, it is essential to consult with the designer on which style to adopt. The choice of materials together with the design of the furniture and appliances can match or contrast but always needs to follow a rationality.
According to Emanuela Tavolini, GRAFF Europe Sales Director, good kitchen faucets represent the perfect combination between design and functionality. "Most of our faucets are in fact equipped with a revolving spout and a side spray. The faucets and side sprays provide different kind of water jets to make every day cleaning and rinsing operations easier," she adds.

Mohammed Ataya,Vice President GROHE Egypt, North and West Africa mentions that, there is a personal style and preference for everyone. "Our faucets from the Allure collection have clean, angular shapes and fit right into the growing fascination for faceted shapes in architecture and industry alike, with its amazing 'Aqua window'. Each of our product is conceived based on our brand values of quality, technology, design and sustainability. Our state-of-the-art portfolio is developed in an integrated innovation process," he affirms.

Also Read:Having a Modern Kitchen
Cupboards
Advancement in technology has revolutionized how people use the kitchen spaces and furniture. With every home accommodating cupboard space, Hinges are still the most effective way of articulating cupboard doors. According to Leopold Müllner the Export Manager at TZ Austria, there is a market for high end products. "We handle all the requirements from the market in terms of humid and temperature issues. We have a big range of different supporting materials which are moisture and water resistant and also have a UV resistance property," he adds.
Ms. Maliboho of Roco mentions that, recent innovations in terms of functionality such as controlled movement of cupboard doors, closing via a dampening system all further add to the end user's appeal, from Soft-Close mechanisms that prevent banging of furniture, Door to Door Folding Systems that enable space saving especially in smaller kitchens, right through to Push- to-Open hinges and mechanisms that also allow for one touch opening of furniture; not forgetting the Anti-Slam Devices which can be fitted to dampen the force of closing surfaces thus preventing damage over time.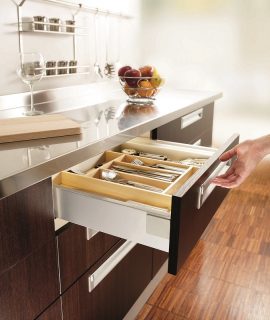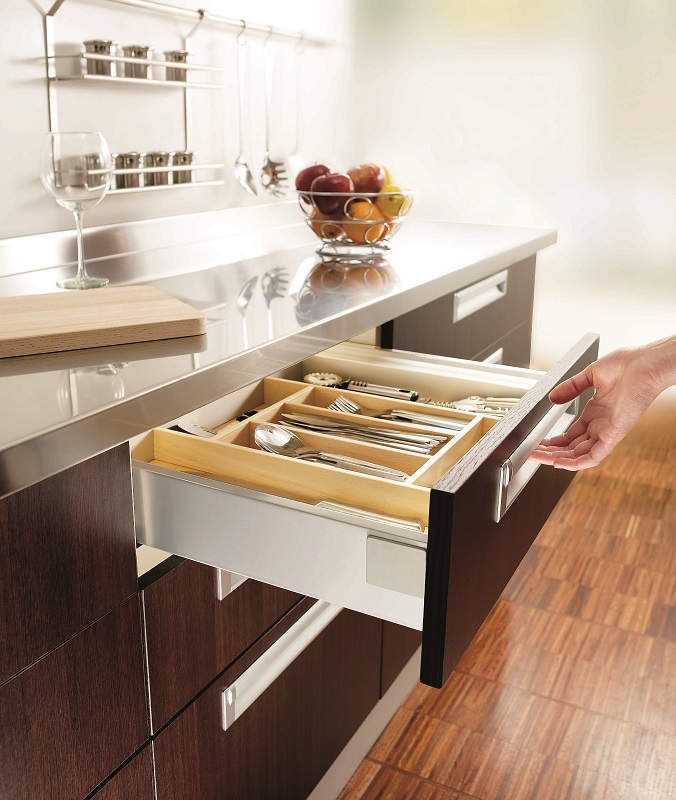 "These Slow-Motion and OneTouch technologies offer unrivaled efficacy compared to their counterparts in the market. Although these technologies may not be all new, but the advancement thereof makes our living spaces especially our kitchens to be ergonomically functional, preserve the life of the actual units and make use of space efficient and enjoyable," she affirms.
Handles
Every good kitchen needs great handles. The right handle selection and positioning can transform the look of your kitchen units, giving them an ultra-modern look.
"When choosing a handle, design certainly plays a primary role, but other aspects such as ergonomics, ease of grip, solid grip, ease of cleaning and absence of edges, should not be underestimated," mentions Mr. Luca Frigerio of Citterio Giulio SpA in Italy. 
Drawers
Kitchens have to withstand the rigours of everyday use. So it is important that they not only look good but are practical too. Modern kitchens not only offer trendy features and sophisticated looks but are also top in terms of functionality. They make everyday kitchen use fun. But buying a new kitchen can also be a bit of a challenge. The kitchen you decide on will last for 15 years or more, and it is often very difficult to keep an overview of the latest product innovations.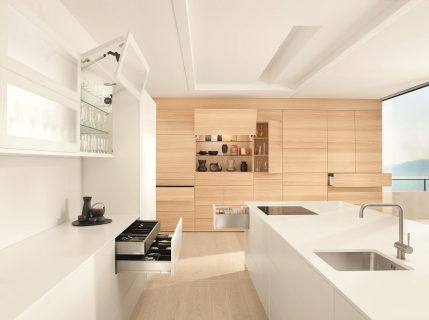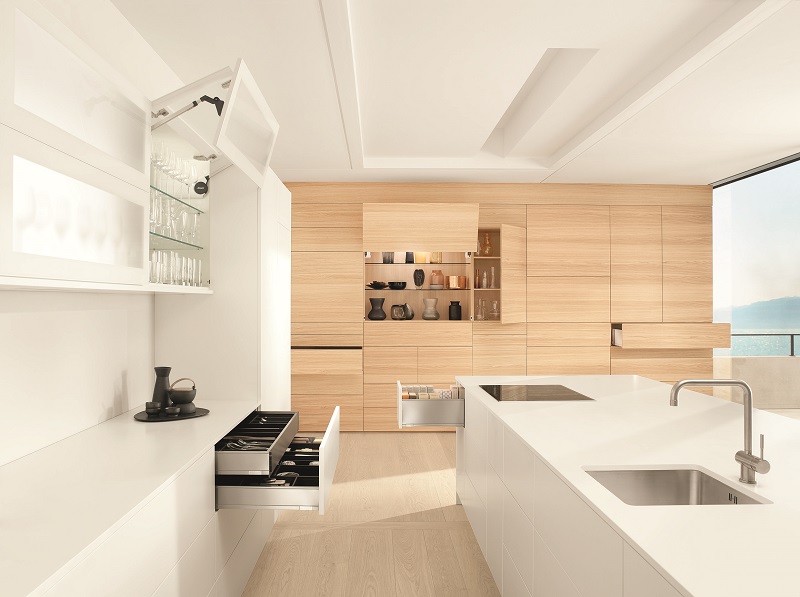 Blum from Austria has been investigating the needs of kitchen users around the globe for years and is continuously coming up with new ideas on how to make modern kitchens even more practical. Blum has identified the three key features of a practical kitchen: good workflows, enough storage space and top quality motion. Oppein Kitchens uses Blum products for all their hardware; this is because choosing a reliable brand leaves you covered in-case of any eventualities.
African designers are constantly looking for ways on how to create African designs. Especially these new technologies allows for infinite design options. According to Johan Joubert, the Managing Director at Grass in South Africa, the first observation in all kitchen furniture is that the only moving component in your kitchen is the hardware that is used. The cupboard and work surface is stationary, and do not determine the lifespan or functionality of the kitchen, but the moving parts give life and character to the kitchen area.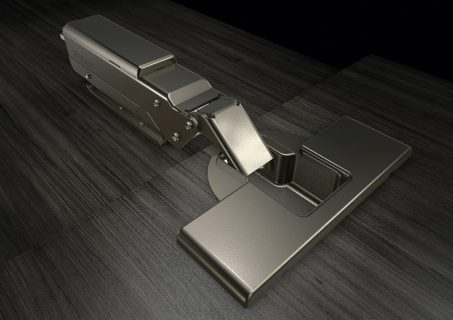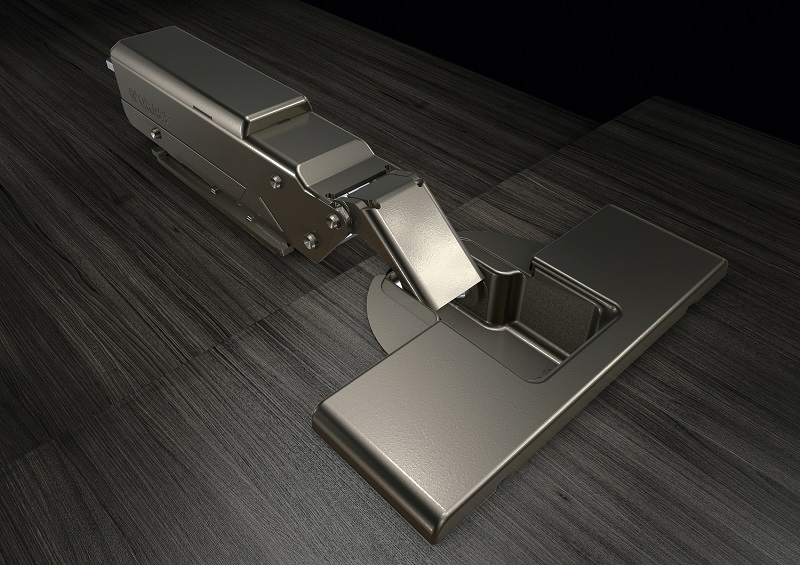 "Apart from good design and enough storage space, when you use quality and well functional products in the operational side of the kitchen it enhances and makes the time spent in the working area joyful and exciting," Mr Snehal Bakrania of Hafele East Africa affirms.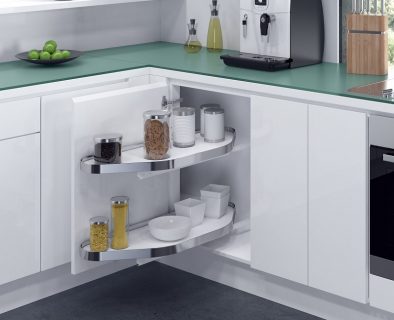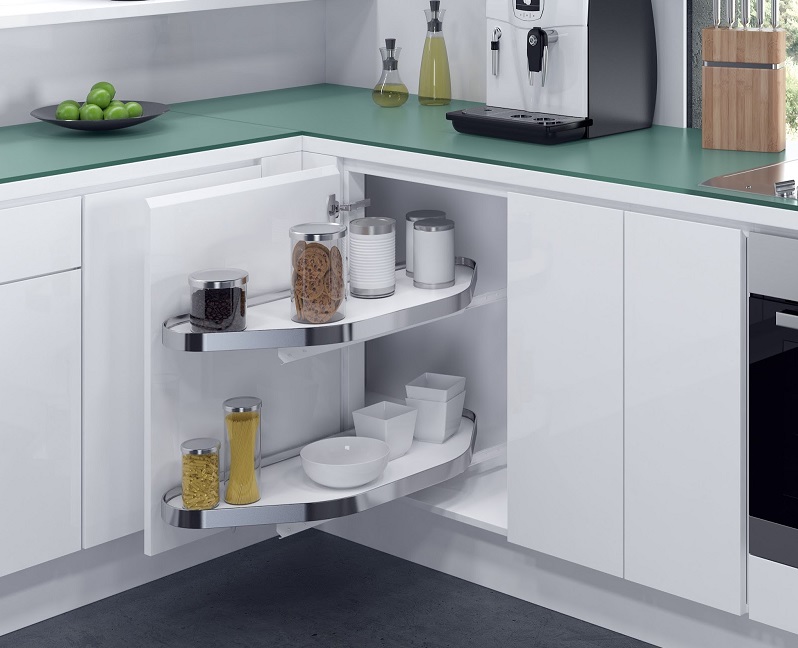 Moreover, Tejash Majmudar of Hettich in India, further mentions that, the Avantech thin drawer system with Actro 5D runner is the latest in cutting edge technology. Drawer sides of Avantech are just 13mm wide in anodized aluminium with no holes or cover caps confirming to the puristic design demanded by discerning architects. 5 dimension adjustments can be made without any tools on the specially designed Actro 5D runners. "These are the only concealed runners in the world to offer up to 80kgs of weight carrying capacity," he affirms.
Hangers
Hangers are used to speed up the installation of drawers in a kitchen. There are different configurations of cabinet hangers. They all do the same thing even though they might look different. Hangers come in pairs: One side screws to the cabinet, and one side screws to the wall. It just a matter of joining the two parts together to hang the cabinet. According to Xabier Noguera of Indaux in Spain, apart from quality, style and flexibility, hangers also need to have the safety aspect.

Hinges
Hinges are used in every kitchen cupboard. There is a huge choice of types and sizes of hinges that have a variety of uses. Therefore, before replacing a hinge in your kitchen you will need to identify the specific hinge that you will need. According to Mr. Doğukan Çetiner of Samet in Turkey further adds that, North African countries are quite keen on brand and quality compared to other African countries. However, Middle and South African countries have also started to catch up, adding performance into the mix.


Outdoor Kitchen
An outdoor kitchen can be as simple as a grill, table and chairs, or as elaborate as a fully outfitted kitchen complete with built-in appliances and seating. However, according to Sandra Frylén of Roshults in Sweden, an outdoor kitchen should be just as functional as an indoor kitchen. Everything you can have indoors should be able to be outdoors.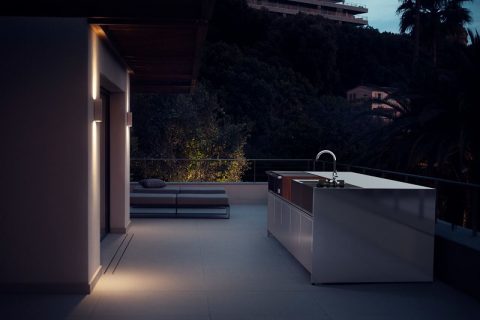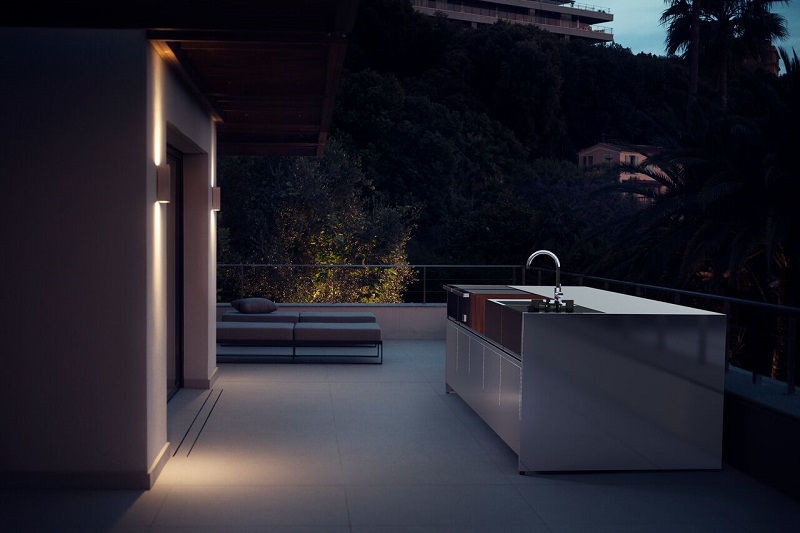 Incorporating interior kitchen ideas to your outdoor setting is a great way to add versatility, value and fun to your home. With so many different types of outdoor kitchens, designing the best kitchen for your family is very important.
Kitchen appliances
The speed at which technology is developing is neck breaking. Everything now is smart, and the modern kitchen appliances have not been left behind. Valcucine in Italy observes that the very first technology is still the human power. The handmade fittings are comparable to a real tailoring approach. "In the luxury sector finishing and details are crucial factors to obtain a modern and personal house," he adds.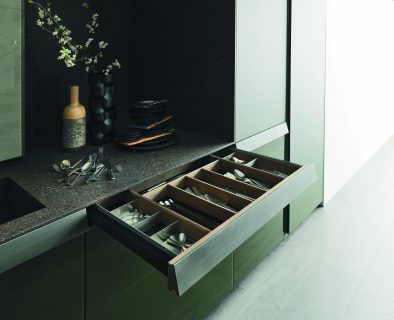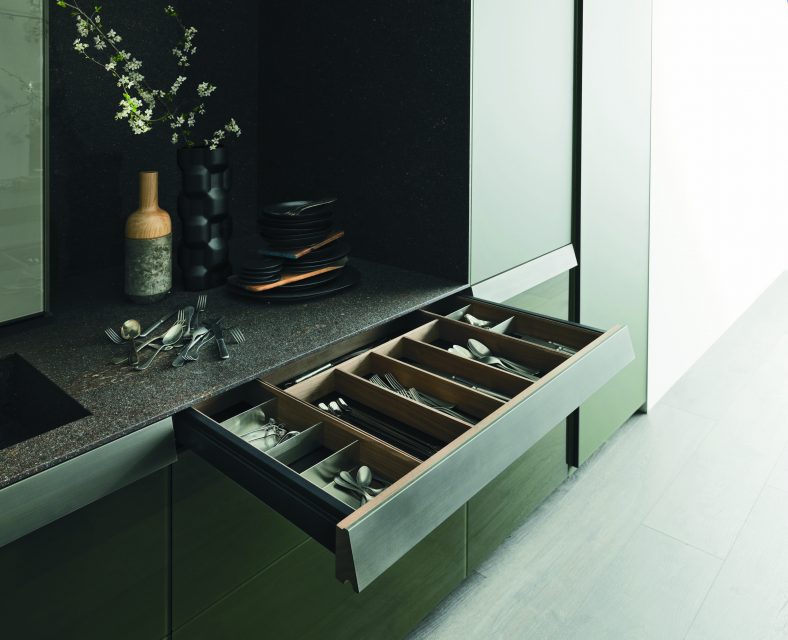 When it comes to choosing the right kitchen appliances for your kitchen, Mr. Burçin Girit of Bosch in Turkey mentions that, the customer has to look up the market to find out the recent trends and their availability.
Jackline from Newmatic Africa Limited, points out that it is necessary to check availability of spare parts, after sales services, product warranty and quality before purchasing the kitchen fittings.
However, fortunately kitchen design has moved into the 21st century and there is no longer the need to use our imaginations when it comes to creating our dream kitchen. Technology can now bring a design to life and its influence in helping to design our homes is only going to grow.
As technology advances, the kitchen is developing and adapting to become more and more efficient and intelligent. Wi-Fi connected smart appliances and devices mean that we're able to spend much less time and effort in the kitchen as technology does all our dirty work for us. It is now possible to control our kitchens from anywhere in the world, or just from their couches.
Ovens and Hobs
Ovens are becoming more and more efficient, saving you time and energy and cooking your food faster and better. Additionally, increasing automation takes all of the guess-work and risk out of cooking as ovens and hobs are becoming able to calculate how long, and at what temperature, food should cook for.
Nematic provides hoods that uses the BLDC technology, hobs that uses the Solid Core Burner and ovens that have tripled gazed doors for complete safety and peace of mind.
What's new
Inductions Hobs
While not exactly new to the scene, induction hobs are becoming more and more widespread as people realize how good they really are. Made up of magnets designed to exclusively heat the pot or pan, the actual hob remains completely cool to the touch throughout the process.
Able to change the temperature as quickly as gas, they are extremely responsive, energy efficient, and much safer than electricity or gas hobs – perfect for when you have children in the house.
Refrigerator technology has also developed rapidly to keep food fresher for longer at the exactly ideal temperature and humidity. Some smart fridges are now even able to tell you when your food will expire and what groceries you are running short on.
Contact our contributors
South Africa
South Africa
Germany
Italy
India
Germany
South Africa
Austria
Spain
Turkey
Sweden
Italy
Italy
USA
Kenya
Italian Creation Group Valcucine
Italy
Turkey
Germany
Kenya