Spring is a season of renewal and rejuvenation, making it the perfect time to update the decor of your front door. It is the first thing your guests see when they arrive, so it's important to create an inviting and welcoming entrance. With the warmer weather and blooming flowers, spring provides the perfect opportunity to add a touch of color and cheer to your home's exterior. Whether you prefer a classic and traditional look or something more modern and eclectic, there are plenty of ways to decorate your front door this spring. In this article, we will share some tips and ideas to help you spruce up your front door and make a stylish statement this season.
Update Your Wreath
It is a classic front door decoration that can easily be updated to reflect the changing seasons. When it comes to spring wreaths, think colorful florals, greenery, and natural elements like twigs and branches. For a modern twist, consider incorporating asymmetrical or geometric shapes into your design. These trendy shapes can create a more dynamic and contemporary look. If you're feeling creative, you can make your own unique door adornment with materials such as fresh flowers, artificial blooms, or dried herbs. This allows you to showcase your personal style.
Create a Cozy Seating Area
Search for construction leads
Another way to enhance your front door area is by creating a cozy seating area. Whether you have a small porch or a grand entrance, adding a comfortable chair or bench can create an inviting atmosphere for guests to relax and enjoy the outdoors. Consider adding a throw blanket or pillows to make the area even more comfortable. If you have space, you can even add a small table and some plants to create a mini garden oasis.
Brighten Your Entry with Lighting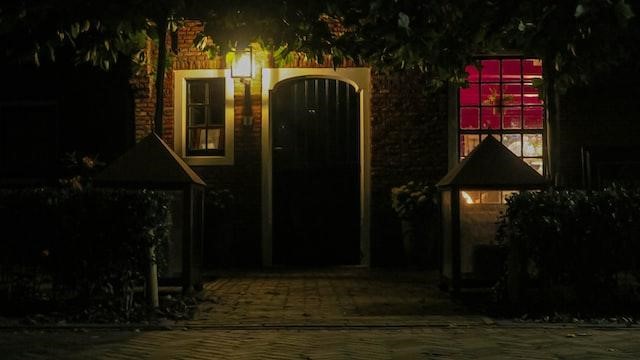 Lighting can be an essential element when it comes to decorating your front door area. A well-placed light fixture or string lights can add a touch of warmth and elegance to your entryway, making it more welcoming for guests. Here are some lighting ideas to brighten up your front door area:
String lights – String lights are an easy and versatile way to add lighting to your front door area. You can wrap them around your porch railing, drape them over your door, or hang them from trees or other structures in your yard. Choose warm white or cool white bulbs depending on your preference.
Lanterns are a classic lighting option that can add a rustic touch to your front door area. You can hang them from your porch ceiling or place them on the ground to create a warm glow. You can also fill them with battery-operated candles for added ambiance.
Solar-powered pathway lights.
If you have a pathway leading up to your front door, consider adding solar-powered pathway lights to guide your guests. These lights charge during the day and automatically turn on at night, providing a safe and welcoming path to your front door.
Outdoor wall sconces.
Outdoor wall sconces are a more permanent lighting option that can add a touch of elegance to your front door area. They come in a variety of styles and finishes, so you can choose one that complements the overall aesthetic of your home.
If you have a particularly beautiful feature on your property, such as a large tree or sculpture, consider adding spotlights to highlight it. This can add an extra layer of interest to your front door area and create a dramatic effect.
Decorative Door Knocker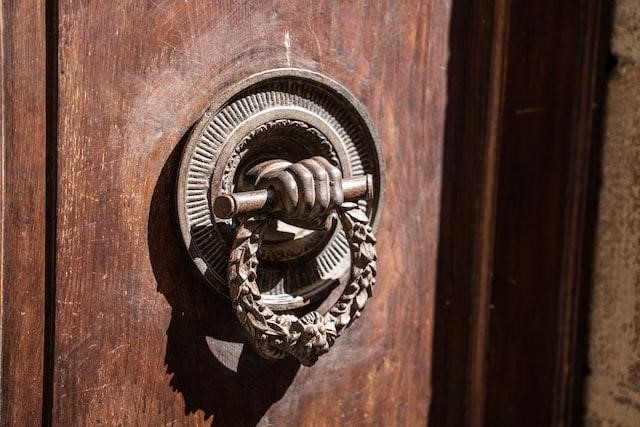 Adding a decorative door knocker is an easy and affordable way to update the look of your front door. Whether you choose a traditional design or a more modern one, a door knocker can add character and charm to your entryway. Consider choosing a design that reflects your personal style or complements the overall aesthetic of your home.
Bottom Line
Updating the décor of your front door area is an easy and effective way to refresh the look and feel of your home this spring. Whether you update your wreath, add a cozy seating area, brighten up your entry with lighting, or add a decorative door knocker, there are plenty of ways to enhance your front door area and create a warm and inviting atmosphere for your guests. With these simple tips, you can transform your front door area into a beautiful and welcoming space that reflects your style and celebrates spring's joys.