Even in developed country communities, toxic or contaminated water may be a severe health danger to a population. Asbestos, chlorine, fluoride, heavy metals, and other noxious substances may all be found in shower water, just like they can in drinking water.
The good news is that you can get a high-quality shower filter for a reasonable price that will provide water filtration to protect you and your family from all the chemicals and metals in water, just when you thought we were trying to put the kibosh on your at-home spa day. It's similar to using a water filter pitcher to get rid of impurities and sediment from your drinking water to use a filter for your shower water. Let's dive into some of the top-rated shower filters in the market.
Sonaki Inline
Search for construction leads
For your showerhead, an activated carbon filter is the best option. As an inline type, this shower water filter eliminates the need for a separate shower spray. You may take a shower with confidence since the granular activated carbon gets rid of germs, chlorine, chloramine (another disinfectant occasionally used), heavy metals, corrosion, and any other byproducts. Additionally, it will soften the water in your filtered shower, giving you the softest hair yet.
QwenchPure KDF-55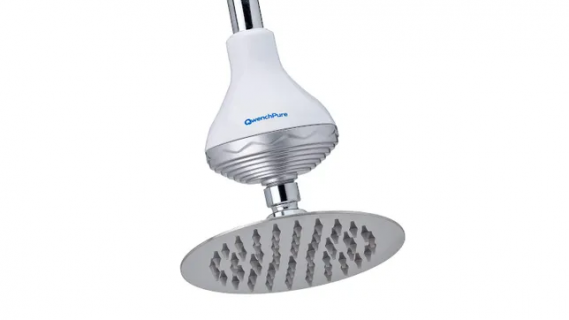 Copper and zinc, two materials that produce a modest electrical-chemical charge between them, are used to make KDF filters. Although adding extra metal to your shower may seem paradoxical, a KDF filter is excellent for removing chlorine, mercury, cadmium, arsenic, and even aluminum. While the heavy metals in your shower will not be noticeable to you, the electric charge will. Any showerhead may be fitted with this shower head filter, which also functions in part as a water softener to filter hard water.
Aquasana AQ-4100

The AQ-4100 from Aquasana is a typical 2-stage shower filter with a built-in shower head. This filter, known as AquaSorb HX, uses a coconut shell activated carbon filter that has been tested and approved by ANSI/ NSF to remove chlorine on average to a 90 percent level.
Additionally, the filter raises the pH of the water while lowering other harsh substances like pesticides, lead, and VOCs.
This filter has a 10,000-gallon lifetime, much as many others. To further personalize your showering experience, there are four choices available.
Culligan WSH-C125 Filtered Shower Head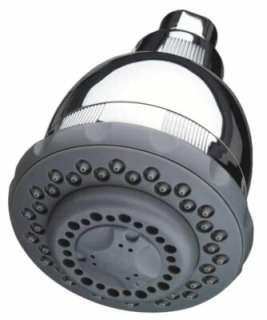 The Culligan WSH-C125 is a wall-mounted shower head. The lifespan of this shower water filtration system is up to 10,000 gallons, or around six months.
The filter has five distinct spray settings that allow it to eliminate chlorine and sulfur odors, soften hard water, and lessen scale buildup from calcium and magnesium. It also addresses dry skin problems brought on by these minerals.
This filter is suitable for water with a temperature range of 40 to 100 degrees Fahrenheit. The filter satisfies the EPA's WaterSense requirement for efficiency of 1.8 gallons per minute or less and is NSF/ANSI certified for chlorine removal.
Berkey Shower Filter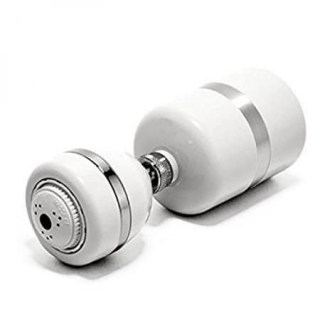 The Berkey shower water filtration system has a 20,000-gallon lifespan and is built of tested KDF media, which reduces chlorine, kills bacteria, and prevents the formation of algae and fungi.
The filter has a backflush attachment that slows down the rate at which it clogs. The device has a reduction capacity that is impressively greater than most of the competitors at up to 95%.
You have the option of purchasing this device with or without a showerhead. This shower water filters installs quickly and effortlessly, much like most other shower water filters.
Captain Eco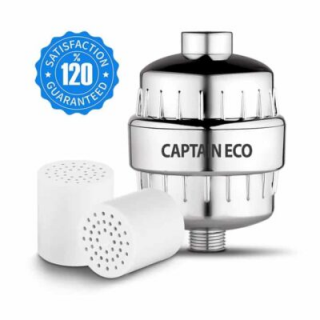 With its innovative calcium sulfite construction, the Captain Eco 5-stage shower filters eliminates chlorine, heavy metals, bacteria, and algae from both cold and hot water.
The producers are so sure of their product's quality that they actually guarantee a 120 percent refund if you're not happy with it. They'll PAY YOU to return it if you don't like it. Really cool.
As an added bonus, the filter is packed with a complimentary shower curtain and the first replacement cartridge.
SL2-CM Slim-Line 2 Universal Shower Filter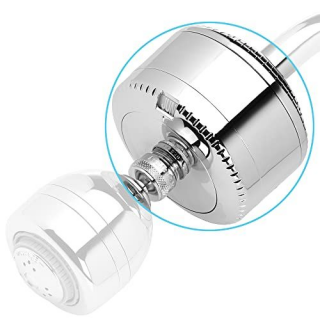 Deeke's major worry while looking for a shower head filter is eliminating chlorine to keep her skin smooth and her hair color flawless. Sprite, a brand she has been devoted to for a few years since the filter is efficient and simple to install, is the shower head filter that she has been looking for.
Also enthusiastic with utilizing this shower head filter are Amazon reviewers. Customers believe the affordable shower head filter helps soften their skin, eliminates itching, and enhances the entire shower experience in addition to receiving a 4.4-star average rating from more than 1,100 reviews.