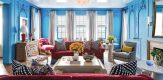 If you are planning some home improvements and you're tired of surfing the internet for dual occupancy designs in Melbourne, don't worry this article has got you sorted. While building a home, you must go through some ideas to create that perfect home which reflects your taste and style.
Everyone wishes to add that wow-factor to their homes. One best way to do this is by incorporating some out of the box home design ideas.
Incorporate health and fitness
Search for construction leads
A smart home is only something that is well equipped with the latest devices, you should make your home a place where you can maintain your health and fitness.
Whether you want to install an outdoor pool or you want to set up a gym, make sure you utilize the outdoor area effectively with the help of an architect. Not only these areas will be beneficial for your fitness but it will also add to the appeal of the house.
Texture to the interiors
When you work with any modern home builders, they will suggest that you go for textures wherever possible.
This is one of the most celebrated trends of 2019. Even though minimalist furniture and interior designs look good but 2019 is all about patterns, textures and experimenting with colours. Some warm texture with simple furniture will look aesthetic.
Painted Floor Tiles
Of all of the easiest top home trends that can be implemented is painted floor tiles. Not only are this type of upgrade is quite affordable but it looks nice as well. So if you're someone who likes to step out of the comfort zone you can begin by ditching the traditional floor tiling plan and opt for painted floor tiles instead.
Bring nature indoors
If you want to give your house a spectacular look without putting too many efforts, your designer will suggest placing some indoor plants or paintings that depict a scene of nature.
On the other hand, furniture materials that are obtained from nature can be given a priority. This touch of nature in the interior design will make space look more authentic and unique. You can use natural wood in your home interior design as it will look classy when accompanied by plain white walls.
Other options include different stone materials, such as granite, marble, pebbles, and those materials that resemble and complement with natural elements. Statement ceiling and floor Statement ceilings and floors are one of the most celebrated interior design trends of 2019 whether you prefer bold colours or geometric patterns you can incorporate any design or colour patterns in your ceilings or floors.
However, if you don't want to add this eccentric interior design for your floor or ceiling, you can opt for a patterned floor and ceiling. This is yet another great way to make a statement without the need of going overboard with your interior design choices. You may talk to a company that can provide reliable services when it comes to Dual Occupancy in Melbourne.