Your commercial office should be a safe, inviting, and productive space. After all, it's where you and your employees spend a vast amount of time. If you're looking to add a fresh new look to your workspace, something as simple as new paint can be just the ticket. In fact, new paint for your office is proven to provide a variety of benefits, including:
A Modern Appearance
Your clients want the help of a company that is up-to-date with industry trends. If your walls are drab and outdated, that will send the wrong message. A pale blue will transform your space into something sleek and sophisticated.
A Great Way to Rebrand
Has your company undergone a recent change? Whether it's a new mission or a change in leadership, new paint can communicate the new aesthetic. Try coordinating your walls with your business's new logo.
A Way to Correct Water or Mold Damage
Older buildings often have one thing going for them: character in spades. But they also come with the damages of time. If you are looking to cover up old water stains or mold growth, a new coat of paint is just the trick.
A Boost to Your Employees' Productivity
It's no secret that colors affect moods. If you want to keep your employees happy and productive, it may be time to take another look at the colors of your office walls. Blues, yellows, and grays are proven to increase productivity.
Whether you're looking to achieve one of these benefits or all four, the answer is as simple as a fresh coat of paint. And if you need a little extra inspiration, keep reading. We've provided 6 office painting ideas that stand out.
1. Add an Accent Wall
Accent walls are a painting staple. And they're especially useful if you're looking to highlight an architectural feature (like exposed bricks or pipes.)
In case you don't know, an accent wall is a singular space that is painted differently from the rest of the room. You might opt for a paint color that is bright and cheery, or one that is dark and moody. Either way, the accent wall will serve as a focal point for the room.
Accent walls also have the added benefit of making a room appear larger than it really is. So if your employees are working in a limited space, an accent wall can make the area feel roomier.
With all that being said, you won't want to add an accent wall to a room that already feels busy. Follow your intuition as to whether an accent will add to any existing clutter or provide direction for the space.
2. Go For An Ombre Effect
If you can't choose between two similar colors, an ombre effect may be the perfect solution. It will give your walls a dreamy, watercolor look that is sure to keep your employees and customers interested.
While an ombre finish may seem complicated, it's not too difficult for an experienced painter to pull off. The only question will be: what colors should you opt for? Oh, and as a last step, you'll need to decide whether to blend the colors horizontally or vertically. Either way, you'll be pleased with the final effect.
3. Try Faux Finishes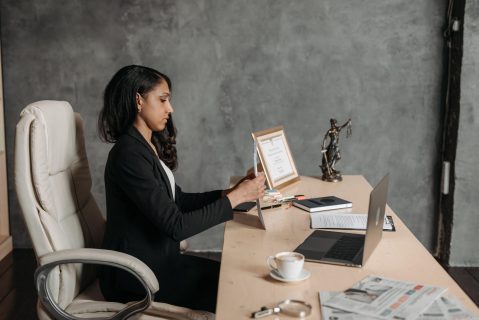 If you're looking for a painting method that will really make your space stand out, consider a faux finish. This technique is used to give a wall the appearance of being made out of a different material. Instead of drywall, you could opt for the appearance of granite, wood, concrete, or fabric.
Faux finishes are a great way to add depth and interest to your space. It's also long-lasting and will make your office seem more expensive. But be sure to hire an experienced painter, as this technique can be difficult to pull off realistically.
4. Incorporate Your Logo
If you are really interested in portraying your brand message in a visual way, communicate that idea with your painter. Logos can be incorporated into office design in unique and interesting ways.
Find a prominent wall or space to showcase your logo or company name. You'll want to make sure there is plenty of space for large lettering. That way, any clients who enter the room will know immediately where they are. You'll also want to make sure that the colors of your logo are in stark contrast to the space behind it. That way, the message is easy to see and read.
For a seamless design, incorporate your brand colors throughout the entire space. From floor to ceiling, try to represent the heart of your company.
5. Paint the Ceiling
Speaking of ceilings, instead of an accent wall, why not opt for an accent ceiling? If you opt for a darker above-head color, the room will feel cozier and more intimate. On the other hand, a lighter color for the ceiling will make the room feel airy and spacious. Either way, painting your ceiling is a bold, dramatic, and fun design choice.
6. Choose the Perfect Color
At the end of the day, the perfect paint job comes down to the perfect paint color. And if you really want to choose a color that works, you may need to do a little research into psychology.
For example, a red office will translate into an energetic and passionate workplace. While an orange office will boost the creativity and enthusiasm of the space. Yellow, on the other hand, will keep your employees happy and hopeful. And green will speak to stability and harmony.
Even a thoughtful gray can work toward your purpose, if you're interested in a space that is balanced and not distracting. Understanding the tone you wish to set will help you pick the perfect shade of paint.
Enjoy Your Fresh, New Office Space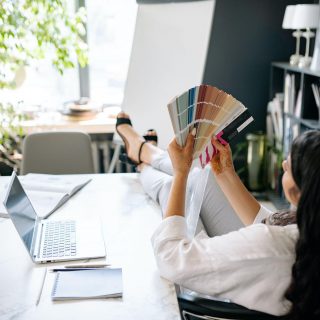 After reading these six office painting ideas, you have a lot to choose from. Opt for an accent wall, a faux finish, an incorporated logo, or all of the above. In any case, you'll be happy with your investment—and so will your employees and clients.