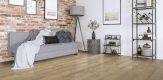 If you're in the market for new flooring, you may be wondering what options are available to you. Waterproof hybrid flooring is a relatively new type of flooring that gained popularity in 2022, and for good reason. In this blog post, we'll explore what waterproof hybrid flooring is and why it's a great choice for your next project.
What is waterproof hybrid flooring?
Waterproof hybrid flooring is a great way to transform the look and feel of your next renovation or new construction project. It's a hybrid of hardwood, laminate, and vinyl flooring that offers the look of natural wood or stone without the hassle of maintenance. Hybrid flooring is also highly moisture-resistant, making it an ideal choice for areas prone to spills and water damage.
Search for construction leads
Waterproof hybrid flooring typically consists of a multi-layered structure, with a rigid core made of either stone-plastic composite (SPC) or wood-plastic composite (WPC), a printed design layer, and a protective wear layer.
One of the key benefits of waterproof hybrid flooring is its ability to withstand water and moisture. This is because of the waterproof core, which helps prevent water from seeping into the flooring and causing damage. This makes it an ideal choice for areas of the home that are prone to moisture, such as bathrooms, kitchens, and basements.
According to some of the top flooring companies in the world, waterproof hybrid flooring has become increasingly popular in recent years due to its durability, waterproof properties, and ease of maintenance. It is particularly popular in areas with high humidity or moisture, such as kitchens, bathrooms, and basements.
The exact popularity of this flooring may vary by region, but it has gained significant traction in many countries including Australia, the United States, Canada, and Europe.
The origins of waterproof hybrid flooring are not clear, as several manufacturers claim to have developed it independently. However, the first hybrid flooring was produced in China, and it is believed that the technology spread from there to other countries.
According to Greg from carpetmelbournedirect.com.au, Australians love waterproof hybrid flooring because it is a low-maintenance option that can withstand high levels of foot traffic and moisture. Many homes in Australia have open floor plans, which means that the flooring needs to be able to transition seamlessly between different areas. It is also versatile in terms of design, with a wide range of styles and colors available to suit any interior décor.
In the United States and other nations, waterproof hybrid flooring has gained popularity, but it may not be as ubiquitous as it is in Australia. American and European consumers tend to be more concerned with the aesthetics of their flooring and may prioritize natural materials like hardwood or stone over hybrid flooring. However, as more consumers become aware of the benefits of hybrid flooring, it is likely to continue to gain popularity worldwide.
Why choose waterproof hybrid flooring?
There are several reasons why you should consider waterproof hybrid flooring for your next flooring project. Here are some of the key benefits:
Durability: Waterproof hybrid flooring is incredibly durable when compared to other manufactured options, making it a great choice for high-traffic areas of the home. It can withstand scratches, dents, and other types of wear and tear.
Easy maintenance: Unlike hardwood  which requires regular refinishing and maintenance, waterproof hybrid flooring is easy to clean and maintain. It can be swept or vacuumed regularly, and spills can be wiped up with a damp cloth.
Variety of styles: Waterproof hybrid flooring comes in a variety of styles, colors, and designs, making it easy to find a look that suits your home's décor.
Cost-effective: Compared to hardwood flooring, waterproof hybrid flooring is typically more affordable. This makes it a great choice for homeowners who want the look of hardwood without the high price tag.
The disadvantages of waterproof hybrid flooring
The disadvantages of this flooring should be considered before you commit to this material for your next construction or renovation project. When hybrid flooring becomes damaged with scratches and dents, they can't be sanded out and refinished like hardwood flooring can. This means the cost to replace the flooring may be higher than just applying a fresh finish to the existing flooring.  Additionally, hybrid flooring is often not as durable as hardwood or stone — especially in high-traffic areas that may be prone to wear and tear.
Hybrid flooring may not resist heat or sunlight as well as other materials like vinyl, so you should consider this factor when making your decision. The surface can also become slippery when wet, making it a less than ideal choice for some households.
Still, hybrid flooring can offer wonderful benefits to you in terms of aesthetics and affordability. The material comes in a variety of colors and textures that can help create the perfect interior for your building. Hybrid flooring also has the potential to be more affordable than traditional hardwood or stone floors, making it an attractive option for budget.
If you're considering hybrid flooring for your next construction project, take into account any potential disadvantages and weigh them against the benefits that hybrid flooring can offer. With careful consideration, you can make an informed decision on which type of flooring is best for you.
Overall, hybrid flooring is a great choice for homeowners who want a durable, low-maintenance, and affordable option. Whether you're renovating your bathroom, kitchen, or basement, waterproof hybrid flooring is a versatile and stylish choice that can enhance the look and functionality of your space.