While it's only dominantly seen and prevalent nowadays, it's not only recently that shipping containers have been used in the construction industry. Shipping containers have earned their spotlight in the construction sector since the 80s. Because of its many benefits to the construction industry, shipping containers are commonly seen across different construction projects.
Shipping container uses can vary, usually depending on the need of the construction project. From storage units to practical breakrooms and even using the shipping container itself for the main building, shipping containers really are beneficial, functional, and versatile.
Search for construction leads
Are you interested in learning more about how shipping containers are used in the construction industry? This article lists the top five uses of shipping containers, other than shipping per se. Read on to know them.
1. Site Construction Office
This first item on the list is something temporary in nature. It can last as long as a particular construction project is ongoing. Smaller sites need not have a site construction office. Bigger ones, however, will need to have one. It is where engineers, architects, contractors, and other workers can hold meetings and discussions, when needed, away from the noise and hustle of a busy construction site.
Because this is temporary, you can opt for a shipping container hire to build one. You can rent it out while the construction is still ongoing and then, later on, return the same. With this, you won't have to purchase a shipping container, uncertain if you'll still have use for it in the future.
2. Storage For Equipment And Materials
Some equipment and materials are fine to keep on-site, close to where they'll be used. But there could be equipment and materials which need to be stored in a closed and protected space to preserve their quality. Examples of those construction materials are open paint, laminates that could get warped or damaged when exposed to the heat and rain, and sharp objects like cutting tools and nails.
In the past, makeshift storage spaces were built on every construction site. However, it can be time-consuming to do as it can eat up at least the first few days of the pre-build phase.
A faster and more efficient alternative instead is to use shipping containers. The structure itself is ready; there's no need to build anything. Additionally, once it's done being used on one project, it can also easily be moved to another site which makes for a more sustainable structure, even if it is only a small one.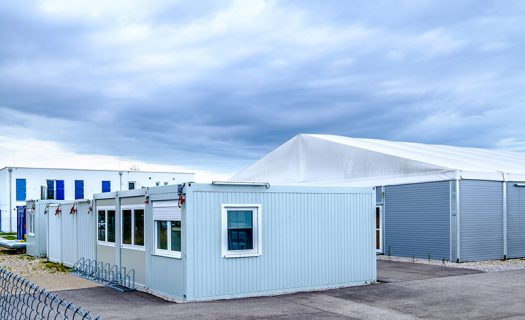 3. On-Site Workshop
There are construction sites where having an on-site workshop is a plus. Sheltered areas are preferred to carry out tasks, such as fabrication processes, steel bar cutting, and welding. The finished items from those fabrication processes and the tools and equipment used have to be stored securely.
This is where a shipping container comes in. It can serve as an on-site workshop whenever one is needed. With a shipping container, it's easier to create a climate-controlled workspace where you can carry out specific duties and store items safely.
4. Air-Conditioned Breakrooms
Contractors need to take breaks, too. Forcing them to work for extremely long hours in scorching weather conditions will only make them inefficient with their job. Moreover, it may also increase the risk of injuries.
Air-conditioned breakrooms serve as the resting places of construction workers. Many can contain a small kitchen, with chairs and tables, for snacks and lunch breaks. Most importantly, the temperature is climate-controlled to give them a chance to cool their bodies from the heat outside. On the other hand, you can also have a heating furnace installed if the temperature outside is too cold.
5. Apartment Units
Take a good look outside, and you might see different structures built from shipping containers. One way shipping containers are used is by building apartment units.
Shipping containers are perfect for apartments because of their size. There's only very little work needed to tweak each shipping container to meet the desired room size per apartment. Run a quick search of tiny homes on the Internet, and you'll surely come across quite a wide range of inspiration.
Conclusion
Within each construction project, many different sub-areas need to be fulfilled. For starters, there's the need to have meeting rooms, portable offices, and storage areas, to name a few – as discussed above. Rather than constructing those from scratch, shipping containers are now the mode of choice in many sites. The examples above are only a few of the many ways shipping containers are repurposed to use on construction sites.