Buying solar panels can be challenging, especially if you're a first-timer. However, once you choose the best ones suited for your property, a solar panel can be beneficial, allowing you to cut your monthly electricity costs.
Generally, solar panels may vary widely depending on the materials they're made from and their features. They also differ when it comes to energy output. Therefore, it's crucial to shop around first and research before buying any type of solar panels available on the market.
Search for construction leads
If you're planning to buy solar panels in Adelaide but don't know where to get started, here are some of the practical tips to know:
Never Rely On Ads
Due to the increasing demand for solar panels, more companies use the power of ads to promote their products and influence buyers. However, whether you're buying solar panels for the first time or upgrading your old panels, you should never be carried away by the ads in excitement.
It's best to seek referrals or recommendations from your family members, friends, colleagues, or neighbors who have purchased solar panels before. Ask them about the company or brand that they have chosen. It may also come in handy to ask questions about the following:
Ease of installation
Service quality
Potential problems
You won't only learn more about the brand or company by asking questions, it can also help save your time and effort when buying solar panels.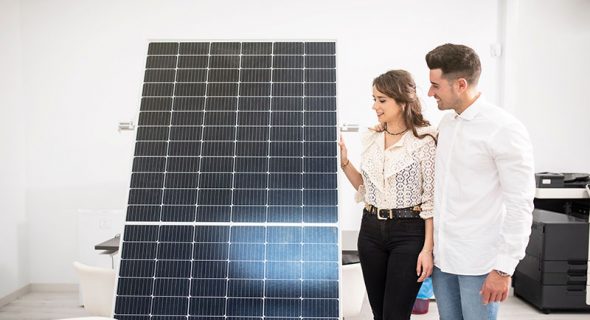 Know The Right Type Of Solar Panels For You
There are various types of solar panels you can choose from, which include the following:
Monocrystalline Solar Panel
It's a common option for many homeowners. Although it's known for being efficient among other solar panels, it tends to be costly.
Polycrystalline Solar Panel
It's less efficient and comes with an affordable price tag.
Unlike other solar panels, a thin-film solar panel has a finer design, making it more portable and flexible. However, it isn't as efficient as monocrystalline.
Check The Warranty
A warranty is designed to protect consumers' rights. So, when buying solar panels, it's wise to choose a provider that offers a good warranty period. In case of a sudden defect or malfunction, you don't need to spend your own money for repairs, allowing you to maximize your investment.
The warranty of solar panels may vary widely depending on the brand or manufacturer. If you really want to protect your hard-earned money from buying solar panels, opt for a company that offers a longer warranty period.
Choose The Best Solar Panel Brand Wisely
With the popularity of solar panels, there are many brands or manufacturers you can choose from. Unfortunately, not all of them are committed to providing high-quality yet affordable solar panels. So, if you don't want to waste your time and money, choose the best solar panel brand wisely.
If you don't know about the different solar panel brands in the market, don't hesitate to search online. Check the top most reliable brands and read reviews. Doing so, you'll be able to get more information about brands, enabling you to decide wisely. You can also quickly filter the brands that offer quality solar panels at reasonable rates.
Pay Attention To Solar Panel Mounting
Ensure that your tracking system, roof, and ground mounting are engineer-certified based on your region's regulations. For instance, if you reside in a cyclone-prone area, ensure that the mounting system and brackets are also designed to withstand cyclones.
Quality solar panels are also wind-certified. Besides, you don't want panels to take off during a storm. So, pay close attention to the solar panel mounting system. Ask about warranty arrangements, wind certification, and other necessary documents.
Be Realistic With Your Budget
The upfront cost of solar panels isn't cheap, but it's worth it because you can save more for the future. When appropriately installed, solar panels can help reduce your energy bills.
Choose the quality-made panels guaranteed to last long to ensure that you won't pay a lot on your solar panel repairs and maintenance.
Consider Durability
Since solar panels will be exposed to extreme weather elements, you should consider durability when purchasing. Solar panels that quickly break should be avoided since system downtime may take a huge toll on your savings.
When shopping around, it's best to ask the providers about the panels' long-term durability. Manufacturers should disclose the results of their testing and quality standards to back the validity of their solar panels.
Conclusion
Investing in solar panels may seem daunting. However, considering the perks they offer to both your finances and the environment, there's no reason why you shouldn't go for this renewable source of energy.
Depending on your budget and needs, keep the above tips in mind when looking for solar panels to choose the right products for your home or commercial property.