Mezzanines are fast becoming an essential construction project in Melbourne, providing innovative solutions to maximize space and meet various needs.  For the purpose of this discussion, we're going to examine how mezzanines are key construction projects, the engineering behind them, and the mezzanine floor benefits in Melbourne.
How Mezzanines Are Key Construction Projects
Mezzanines are the intermediate floors or platforms constructed within a building, typically between the main floor and the ceiling.  It is constructed without the need for extensive work or expanding the building's footprint for the provision of additional spaces for various purposes.  The mezzanine can be used for such purposes as offices, recreational areas, or storage.
Our concern in this section is on its significance in construction and its application in the vibrant city of Melbourne.
Enhancing Space Utilization
Mezzanine provides an excellent way of maximizing space efficiency, particularly in commercial, residential and industrial settings.  They create extra square footage and make the most of available space without expanding the building footprint allowing for more versatility.  This post shows how mezzanine can be used for space optimization.
Also, homeowners use them for residential space enhancement of their living space, storage areas and home offices making it an ideal solution for growing families.  Mezzanine offers a creative and functional extension to homes and is easily customizable to fit the specific preferences of each household.
Its commercial application in Melbourne includes companies using mezzanines for showroom displays, office expansion, additional storage and for optimizing their working environment generally.  It further helps businesses to adapt to changing spatial requirements and support growth needs without costly relocations.
Structural Steel Systems
The backbone of mezzanines is a sturdy structural system that ensures their safety, longevity and stability.  These systems are designed in such a way as to support the additional weight of the mezzanine.  This way it can serve its intended use and meet the strict construction standards.
These mezzanine steel systems can be designed and fabricated to match the architectural and aesthetic preferences of the construction project.  With this flexibility in design, existing structures or new buildings can be integrated seamlessly into the project framework.  Melbourne's mezzanines are constructed with engineering excellence in mind by experts.  They ensure structural integrity and compliance with local regulations.
Floor Construction
During floor construction, the mezzanine is streamlined with turnkey solutions that include design, fabrication and installation.  Businesses find this option attractive when looking for how to expand efficiently because it's hassle-free and minimizes downtime.
High-quality materials are used for flooring to enhance easy maintenance and ensure durability and resistance to wear and tear.  With the range of finish options available, you can customize the finish to match the aesthetic requirements of the project.  Installing a mezzanine on your property enhances its value and increases its appeal to potential buyers or tenants.
Engineered Mezzanines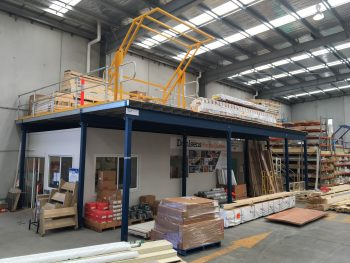 Engineered mezzanines are critical to construction projects and offer a versatile solution to space optimization and structural integrity.  In this section, we shall explore their significance in Melbourne's construction landscape.
Customized Design and Versatility
They can be engineered with precision to fit seamlessly into existing structures with precision to fulfill their intended functions efficiently.  This customization ensures that a balance between aesthetics and functionality is maintained – enhancing the overall appeal of the entire structure.  Mezzanines are also engineered to withstand added loads and activities while ensuring the structural stability and safety of their users.
High-Quality Materials and Expertise
Mezzanines are made of top-quality materials to guarantee durability and longevity.  These materials can withstand the test of time while minimizing maintenance needs.  The construction is made possible by skilled teams capable of executing complex projects.
Through collaborative effort of the teams, they can successfully install and seamlessly integrate Mezzanines into existing structures.  In doing this, they adhere to all necessary compliance and certification requirements, providing clients with peace of mind and assuring a reliable and secure construction project.
Comprehensive Turnkey Solutions
In the construction of mezzanines, efficiency is at the core and the commitment to provide a hassle-free experience is always evident.  From the stage of conceptualization to completion, Melbourne mezzanines offers an all-encompassing turnkey solution covering the entire construction process.  Clients get an elevated experience through the incorporation of their ideals into the design, fabrication, and installation phases.
The installation process can be quick because priority is given to efficiency which minimizes disruptions to on-going operations.  Mezzanines also provide a cost-effective way of creating additional space making them a valuable investment option for property owners and businesses.
Mezzanine Floor Benefits in Melbourne
In this final section, we shall consider the benefits of mezzanine floors and how they enhance the functionality and value of both commercial and residential properties.
Expanded Space
They maximize space efficiency by making the most of available space whether in business areas or homes.  This space is created without the need for costly expansions allowing for versatile use.
Tailored to Your Needs
Mezzanine floors can be customized to cater to specific spatial requirements.  This allows homeowners and businesses to design a perfect fit for their property or space to serve their unique needs.
Cost-Effective Home Improvement
They are an affordable alternative to other traditional home extension methods that add value to your property.  Investment in a mezzanine floor not only expands your space, it also improves the value of your home and enhances its overall appeal.
Commercial Space Optimization
It provides businesses the opportunity to optimize their working environment by adding office space or storage.  With this adaptability, companies can meet changing spatial demands without the need to relocate.
Structural Strength and Safety
Melbourne's mezzanines are built with sturdy structural steel to ensure durability and safety.  These regulation-compliant structures are built to support additional weights and activities the floors may host.
Long-Term Investment
Installing mezzanines on your property is a long-term investment that enhances your property value and gives lasting utility.  See the post on this site https://www.pherrus.com.au/ to learn other ways to make long-term gains on your property investment.  Also, its stability and durability make it a priced addition to your property.
Conclusion
Mezzanines have evolved into indispensable construction projects that cater to the ever-growing demands of space optimization and versatility.  Engineered mezzanines represent a revolutionary approach to construction that integrates design precision, high-quality materials and turnkey solutions.
This pioneering approach also maximizes space efficiency, offers versatile functionality and ensures structural strength and safety.  Overall, mezzanine floors are a game-changer in construction and property improvement.