Retaining wall suppliers are important in providing retaining walls that are essential for construction projects, providing the necessary support to contain soil behind them and make slopes usable for building. One of the most common methods to build these walls is to use steel posts that can be easily installed, durable and strong enough to use in more challenging construction projects.
These landscape and architectural hardscapes come in a variety of uniquely engineered designs, thanks to the companies and suppliers who constantly work on coming up with designs that best fit the job while causing the least possible harm to the environment.
Catch below some of the most notable suppliers who contribute massively to the construction industry as retaining wall suppliers.
Search for construction leads
MagnumStone By CornerStone
Developed with the engineer, contractor, and final consumer in mind, MagnumStone offers a wet-cast interlocking concrete block system with a hollow core design.
MagnumStone boasts of producing eco-friendly wall blocks since they use up to 40% less concrete in the vertical and horizontal sections, which are left hollow. Since less concrete is used, their manufacturing process is more eco-friendly.
Additionally, the walls are lightweight, and require less machinery and labor during the transportation and installation process, further reducing the carbon footprint of these processes.
The MagnumStone System is versatile, offering innovative production and installation methods. With the many design options at your disposal, you can create practically any wall solution using the MagnumStone System.
Allan Block
Inspired by nature and built for life, the Allan Block Wall System is durable, naturally attractive, and very easy to install. If you want a safe and strong wall that has been tested and proven, look no further.
Allan Block offers a collection of products that you can choose from depending on your style and design requirements. Their different types of walls can create any short retaining wall solution. They can further be enforced using geogrids to build taller walls.
Allan Block has a big family of retaining wall products, the different collections of which offer distinct solutions. The AB Collection, for instance, has a smooth finish that helps add a burst of life to outdoor spaces.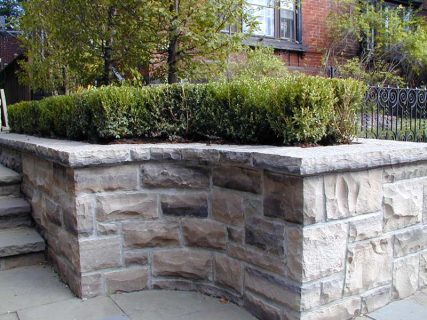 Image Source
Redi-Rock
Redi-Rock gravity walls have been used over the years to create solutions across Europe, Canada, Asia, and the US. Their massive retaining wall blocks hold back the earth behind them and look extremely beautiful doing so.
Their standard concrete wall blocks are like large Lego pieces that interlock to create tall, gravity retaining wall solutions. You can be sure Redi-Rock will create a beautiful and structurally sound wall solution for your project.
Redi-Rock's latest innovation is the Red-Rock XL which offers hollow core wall blocks which make building taller retaining walls, well, not such a tall task. This new product makes it easier and more practical to build retaining walls in small spaces.
Anchor
Anchor Wall Systems develops free-standing wall systems which are attractive, easy to install, and durable. Their solutions create attractive and functional hardscapes by developing retaining wall shapes and textures that seamlessly blend with the environment.
Anchor provides the 28" single-piece column cap that fits any project you may have in mind. The flat top of this column cup provides additional versatility since accessories such as light fixtures and planters can be fixed on them.
They also have another unique product, the Diamond Pro 9D Retaining Wall System which is best for lightweight commercial retaining wall projects and budget-conscious residential projects. It has a rear lip locator which makes installation fast and accurate.
Their Diamond Pro Quarried Face Retaining Wall System assumes the look of unearthed natural stone. It offers structural strength comparable to that of the Diamond Pro 9D, with an additional unique aesthetic appeal.
Rockwood
Among its customers, Rockwood is regarded as the leader in appearance, dependability, and efficiency. They create wall solutions for governmental, commercial, residential, and industrial applications.
They offer a wide variety of solutions that would fit any landscape development. From the unit interchangeability, variable setbacks, and multiple fascia styles, Rockwood retaining walls are designed to provide you with endless design flexibility.
Their multi-piece Lakeland system, for example, gives outdoor spaces a rustic and classic appearance that can intuitively add to the architectural design of your project.
All you need to do to get the most out of Rockwood solutions is bring your imagination and watch their retaining wall solutions work magic on your space.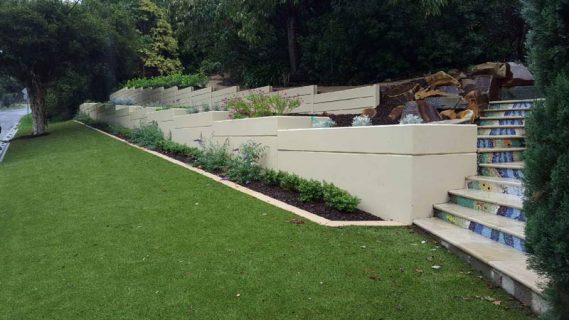 Image Source
Final Words
Different retaining wall suppliers have come up with various retaining wall solutions that are proof of the level of imagination and innovation in their minds. The various retaining wall systems bring with them different dynamics and styles that can be fused with virtually any design. Whether you are working on a commercial, residential or industrial project, there is always a retaining wall solution that fits your situation.
Although it is not easy to tell which supplier is the best since they all have different performance metrics, not all these solutions are good for all construction projects. Do a comprehensive review of all their products before settling on the best one for your project.