Geocells are an example of geosynthetic technology uniquely suited to the African environment. Geocells are a 3D mechanical soil stabilization and road reinforcement method. The honeycombed cells create a new composite entity when filled with soil materials due to the unique interaction of geometry, soil and the cell-wall material.
The stiff 3D mattress restrains the lateral movement of soil particles and maximizes the distribution of lateral and vertical stresses. The main advantage of geocells is the creation of a layer with significantly increased compressive, shear and bending stiffness (slab effect). This results in higher bearing capacity, lower stress/strain fields, resulting in lower deformations and extended service life.
However, as Zeev Strahl of PRS – the veteran Israeli manufacturer of geocells – states, this is where Neoloy, a nano-polymeric alloy comes into play. "In the end, it is the stiffness and durability  properties of material (beside the cell geometry) that the geocell is manufactured from that determines the level of engineering performance. Neoloy is an innovative  alloy developed by PRS specifically for geocells.
Studies and field trials by leading civil engineering faculties and engineering companies around the world have validated that geocells made from Neoloy show significantly better ultimate bearing capacity, stiffness, and reinforcement relative to geocells made from conventional HDPE geocells, particularly for the entire life span of the roads pavements."
The Neoloy Geocells' stiffness, resistance to deformation (creep)and long-term design strength make geocells more suitable for the demanding requirements of infrastructure projects. Projects undertaken in Africa for the Neoloy Geocell include: weak subgrade stabilization and reinforcement for paved and gravel roads, railroad embankments, terminal storage, container yards, airfields and landfills from Northern to Southern Africa and from the Gold Coast to the Horn of Africa. Clients include UNOPS, mine owners , energy companies, railway authorities , port authorities, and government agencies and municipalities.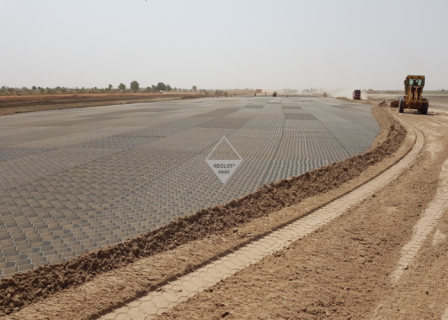 Dimiter Alexiew an international Geosynthetic Consultant from Germany, explains that in the African context, it is important to note that the 3D Neoloy Geocell confinement enables the use of sands or other locally available inferior fills, in place of gravel aggregate. And as it works for sands, finer-grained, partially cohesive soils, such as Laterite, can also be used for structural infill. This is of great benefit in many regions in Africa, where even sand is rare.
Besides the lack of gravel and sand, expansive soils are a common geotechnical problem in Africa that can be resolved economically by Neoloy Geocells, as a proven solution to equalize heave deformations. In addition, cement stabilization can be replaced in many projects with geocell mechanical reinforcement, as it is more cost-effective, does not crack over time and does not have negative environmental impacts.
Zeev Strahl of PRS: "The high improved modulus factor from Neoloy Geocell reinforcement typically reduces pavement thickness by 50%, even with marginal infill, with no decrease in performance or service life.
Neoloy optimized pavements do not crack, thereby significantly decreasing repairs and maintenance, even under heavy loading/trafficking and harsh environmental conditions. So, both construction and maintenance costs can be lowered at the same time. The end result is a sustainable construction solution with significant economic advantages, enabling countries to maximize their infrastructure investments in the most cost-effective and environmentally-friendly manner."
Strahl also states that "PRS provides engineering  solutions not plastic material ", and provides via its engineering department, "geotechnical consulting and support including customized design for each project through training and installation supervision." We run a partnership program for local distribution and partners that enables the client to get a engineered solution for soil reinforcement via local distributors and PRS trained engineers throughout the African continent.