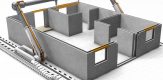 In the construction industry the movement is gaining pace and therefore the attention of both the general public and personal sectors. Transparency Market Research predicts that the market size for 3D printing in construction will grow from US$ 29 Mn in 2019 to US$ 280 Mn by 2027.
The Singapore Government – through the Singapore Center for 3D Printing – is investigating the way to build housing project through the utilization of 3D printers while the United Arab Emirates is doubling right down to become a number one player in 3D printing globally. They recently launched a sensible Build ability Index to drive better practices within the 3D construction of buildings and integration of smart components, like connected sensors, for greater functionality and sustainability. Their aim is to use 3D printing technology in 27% of Dubai's buildings by 2030. Considering the competitive nature of the construction industry, 3D printing offers contractors an innovative way to set themselves apart from their competitors.
Search for construction leads
Also read: Dubai unveils world's largest 3D-printed building
The construction industry stands to gain in many ways by adopting 3D technology. Here are seven advantages to be gained by employing a 3D printer in construction projects.
1. Reduced Injury
One of the most important benefits that 3D printers have presented to construction workers may be a reduction in injuries within the field. Considering that building with concrete is difficult—even dangerous—this may be a welcome improvement. Not only do workers have a neater time doing their job, but employers have less worker's compensation paperwork to go through thanks to injuries on the work.
2. Reduced Material Costs
Another improvement may be a considerable reduction of fabric waste. 3D printers use the precise amount of concrete needed for the wall, floor, or whatever it is that you simply want to create. Builders and GCs do not have to order in bulk because they'll know exactly what proportion material they have.
3. Quicker Construction
This is the place solid 3D printers really set themselves apart from conventional development techniques. Where a project may sometimes take weeks–or months—to complete, 3D printers can often finish a project during a matter of hours or days. a whole house was once constructed in 24 hours! this enables contractors to maneuver onto other projects sooner and with more orders filled. This means extra money for the contractor.
4. Cheaper Construction Overall,
The utilization of 3D printers' costs less than traditional construction techniques and processes. With the decrease of time, and material cost, organizations will see a sensational increment in their benefits. And while some workers will probably need to be layed off, others will remain, since someone still must be ready to put all of the pieces together. By learning the technology, workers have an opportunity to take care of their job security. They'll earn more, as will the corporate as an entirety.
5. New Markets
Utilizing a 3D printer additionally permits construction organizations to enter into business sectors which may have in any case been blocked off to them previously. And for brand spanking new construction companies, having a 3D printer available could set them aside from companies that are around for a couple of decades and are immune to change. Similarly, traditional and established construction companies could utilize 3D printers to ensure they continue to be relevant within the market. Essentially, 3D printers are often used as a way to enter a replacement market but also to offer an already established company a competitive edge.
6. Better Durability
While testing concrete during the first stages of construction will still be necessary, 3D printers are found to contribute to the sturdiness of the structural elements. this is often due partially to how the materials are made and therefore the manner in which they're assembled. More durable buildings mean fewer repairs have to be made, so construction companies can focus their efforts elsewhere to drive profit. For clients, too, their preferences certainly rest with a building which will last longer.
7. Brand Improvement
Finally, one among the foremost important impacts that the 3D printer has had—and will still have—on the development industry is increased brand awareness. Construction companies are typically thought of to be wasteful and unsustainable. Because it reduces waste, 3D printing is a superb method for a corporation to enhance how they're viewed by those that are concerned about the environmental toll that concrete construction takes on the planet. Contractors that would use a touch help in their branding could had best to acquire and utilize a 3D printer.