A dump truck or dumper truck for your project needs means firstly understanding the various types and then getting a sound knowledge of the best brands  and suppliers available in the market. This is because various jobs in construction demand a dump truck with specific features and overall you also want a reliable dump truck that will give you years of service. Let as start with the types of dump trucks and then look at the top 10 dump truck manufacturers in the world today
Types of dump trucks
Dump trucks or dumper trucks are trucks fitted with an open box and a hydraulic lift that enables it to easily tip out its contents whether it is sand or debris. Dumper trucks need to be versatile and robust in order to operate in harsh construction environments and top manufacturers of dump trucks have successfully been producing machinery to meet these needs. In addition have Dump truck manufacturers have to contend with significant and varying requirements from customers in order to be able to rank amongst the top 10 dump truck manufacturers in the world.
Search for construction leads
Many of our projects will need dump trucks to get the work done. Dumpers are used to move aggregates from one point to another and using the hydraulic components to lift up the rear contents so it can fall to the ground. These trucks are available in many configurations and sizes so here we are presenting the dump trucks commonly used in the construction industry. Always remember to check your federal and state weight restrictions or frost prohibitions when selecting your dumper.
Off Road Dump Trucks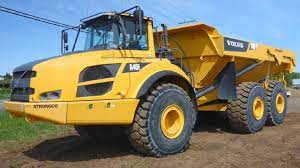 [yarpp]
Also known as articulated trucks. Off-roads are big dumpers used essentially for mining operations or in situations where large amount of aggregate needs to be hauled. Their big size and heavy load makes them ideal for off-road situations(rough terrain) and not recommended for being used over roads or developed areas and they are among the best when hauling ling distances. They are capable of handling loads larger than 40 tons and up to 60 tons. These trucks have a hinge in between the cab and the bed box. Some of the greatest manufacturers include Belaz and Caterpillar.
Transfer Dump Truck
These are trucks pulled by a separate trailer.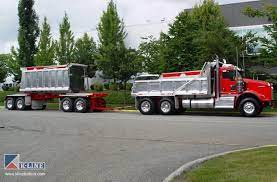 The main characteristic of transfer dump trucks is that the separate trailer has a movable cargo container. This configuration will maximize loads capacity without losing maneuverability. The separate container is powered by an electric motor mounted on the tractor that travels on wheels rolling into the trailer frame of the main dumper. There is variation of a transfer truck allowing you to add other cargo containers to the main truck. Be careful, as this type of configuration is not allowed in all states due to weight restrictions.
Side Dump Trucks
These are one of the fastest to unload. They have one of the largest capacity of these type of trucks, and they have the characteristic that it will tilt to the side to dump the material into the ground.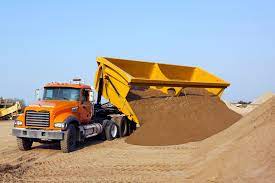 They offer safety against tipping over although because of their length, they have limited maneuverability. Because of their characteristic, these trucks cannot always be used and they are preferred in projects on which the site has plenty of space and room. However, side dumpers will carry less volume of load than traditional standard dump.
Read also: How To Choose The Best Quality Blinds For Your Home
Standard Dump Truck
This is the regular truck which is commonly used in the construction industry.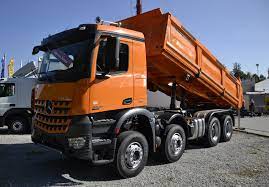 The dump chassis is lifted by a hydraulic ram mounted between the cab and the truck body. It has one front axle and one or more rear axles. The common configurations for standard dumpers include the six-wheeler and ten-wheeler. They offer great maneuverability, however, they can not be used over soft soils. You need to have a Commercial driver's license to drive a standard dump truck. You can review a list of available CDL jobs that required such skills.
Other Dump Trucks
There are other dumpers configuration although not as common as the previous one. These are some additional trucks types: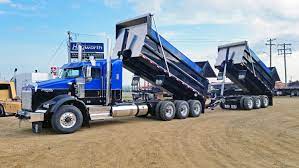 Truck and Pup – Very similar to a transfer dumper but it differentiates by having its own hydraulic ram.  It is capable of stand-alone dumping.
Super dump Truck – A unique truck capable of carrying large loads. The dumper is particularly useful for asphalt and concrete paving applications.
Semi-trailer end dump truck– A side truck where the two-axle trailer has its own hydraulic hoist.
Semi-trailer bottom dump truck– Similar to the semi-trailer end truck where the dump feature is a clam shell dump gate in the center bottom of the trailer.The biggest advantage of a semi bottom dump truck is the ability to lay material in a specific location and narrow areas.
Double and triple trailer bottom dump truck– Consists of a two-axle tractor pulling a single-axle semi-trailer and one or two full trailers.The biggest disadvantage is the difficulty in going in reverse.
Now onto the top manufacturers and suppliers of dump trucks
Top 10 Dump Truck Manufacturers in the World
If you are looking to buy a new or used dumper truck you cant afford not to know the top dumper truck manufacturers to ensure you get a brand name that will meet your needs. The top Dumper truck manufacturers have to build robust sturdy and long-lasting machinery that can withstand the difficult operating environments found on construction sites.
We take a look at the top 10 dump truck manufacturers in the world, brands that are household names in the construction industry, and daily strive to bring new and cutting edge dump trucks into the market.
Scania
Started back in 1891, Scania is a world-leading provider of transport solutions, including trucks and buses for heavy transport applications combined with an extensive product-related service offering such as vehicle financing, insurance, and rental services.
Headquartered in Södertälje and with manufacturing branches in countries such as France, Netherlands, Argentina, Russia, and many others, the company has a wide range of tippers the latest of them being the XT range.
The Scania XT range stands ready to take on the toughest challenges. It can be tailored to withstand challenging surroundings, securing uptime and boosting productivity, in order for you to run a profitable operation.
Xuzhou Construction Machinery Group Co., Ltd. (XCMG)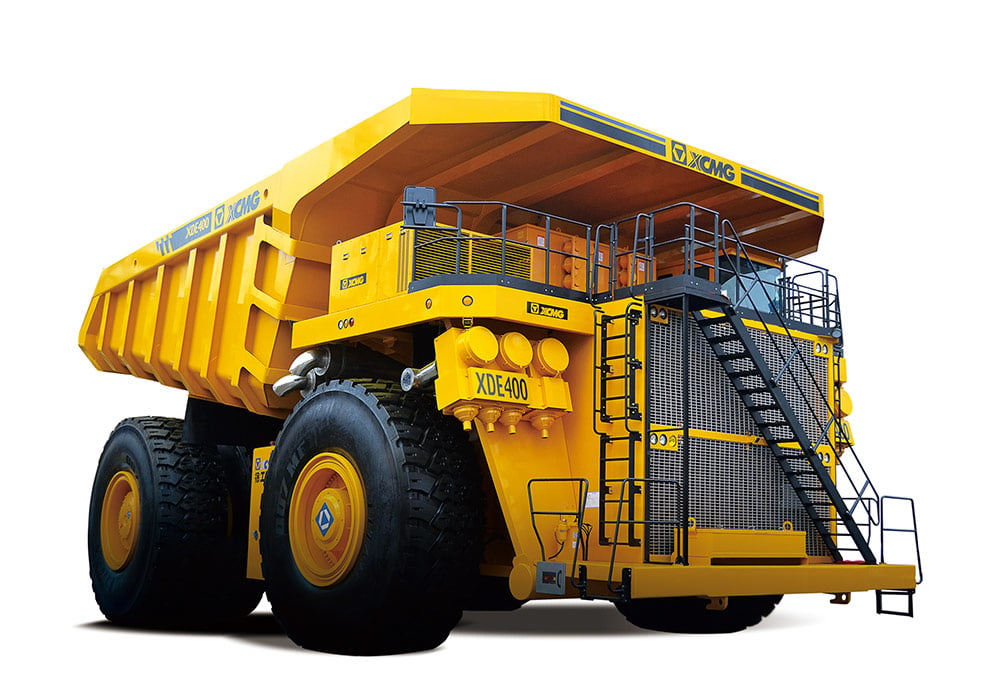 Founded in 1943, XCMG has since then stood at the forefront of the Chinese construction machinery industry and developed into one of the largest construction machinery companies in the world.
When it comes to tippers the company has a wide range of the XCMG's T-series topping the list. Dump trucks under this series are heavy-duty type, composite type, and urban construction muck type multi-configuration.
They have been developed mainly to meet the needs of driving on construction sites and urban highways with different load materials such as sands, stones, mineral fines, irons, construction wastes, earthwork transportation, etc.
Volvo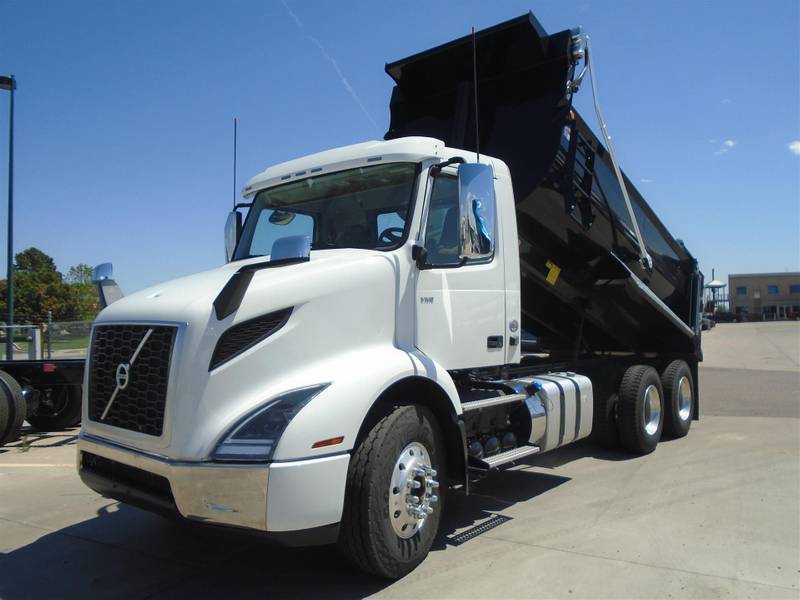 Volvo Group is a Swedish multinational manufacturing corporation that focuses on fulfilling the demands of the construction industry.
Through its subsidiaries, Volvo Construction Equipment and Volvo Trucks the company currently has multiple dump truck models offered in about 200 countries around the globe. The Volvo VHD dump trucks are currently the newest and the most recommended models.
"Dump trucks have to be tough If there's a pile of dirt on the Jobsite, you drive over it. If there's a pool of water, you drive through it. And you do it day after day. That's exactly the truck we built the Volvo VHD to be.
If you didn't know better, you'd think it was built out of cast iron with a thousand horses under the hood. It's that strong, that rugged, and that dependable. In other words, it's just what you need to get the job done," says Volvo on their website.
SANY Group
Founded back in 1986, as Hunan Lianyuan Welding Material Factory in Lianyuan, SANY is a leading enterprise of high-end equipment manufacturing industry with over 20 R&D centers and manufacturing bases all over the world.
On their dump truck product list, the most recent is the SYZ322C-8S (Ⅴ), with SANY-DEUTZ power engine, Fast transmission, and HanDe axle that constitute the golden power chain, a climbing performance improved by 5% and fuel consumption reduced by 3%.
Caterpillar Inc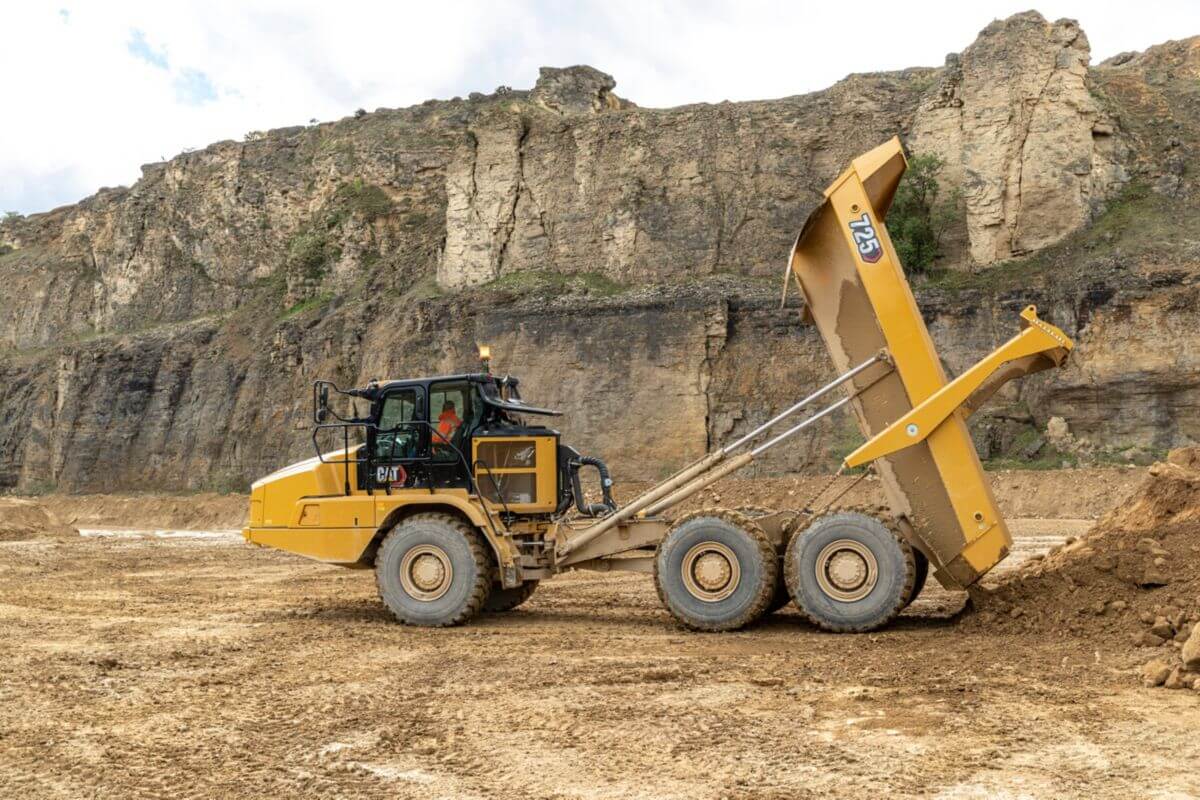 Caterpillar is the world's leading manufacturer of construction and mining equipment, diesel and natural gas engines, industrial gas turbines, and diesel-electric locomotives. Since 1925, the company has been driving sustainable progress and helping customers build a better world through innovative products and services.
The Cat® 725, which features a world-class cab design, re-engineered using global operator feedback to advance comfort and ease of operation, is the company's latest in their dump truck catalog.
Enhancements include new controls, transmission-protection features, hoist-assist system, advanced automatic traction control system, automatic retarder control, stability-assist machine rollover warning system, and a fuel-saving ECO mode.
Tata Motors
Tata Motors Limited is an Indian multinational automotive manufacturing company, headquartered in the city of Mumbai, India, and a part of Tata Group. Using state-of-the-art technology in its world-class manufacturing units the company manufactures durable and fuel-efficient trucks that are suitable for construction projects carried out on a medium-scale.
The latest in their dump truck product list is the TATA SIGNA 1918. K equipped with  Tata Turbotronn 5L BS6 compliant engine and the customized drivetrain that achieves higher Power to Weight ratio, higher Torque at the wheel, and superior grade ability.
Tata Motors Limited has close to seven decades of automotive excellence and it is a major supplier of construction equipment in India as well as abroad.
Kenworth
Kenworth is an American manufacturer of medium and heavy-duty Class 8 trucks with offices based in Kirkland, Washington, a suburb of Seattle. Kenworth is one of three major truck divisions and brands under the parent company PACCAR, which was established back in 1912 as a car and truck dealership known as Gerlinger Motor Car Works.
The company has a wide range of dump trucks, but with the new T880 series, you've got a dependable, versatile vehicle capable of performing your toughest jobs. Day in, day out. A truck designed at its core with the strength, stamina, and operating economy you need to move your business ahead.
Komatsu Ltd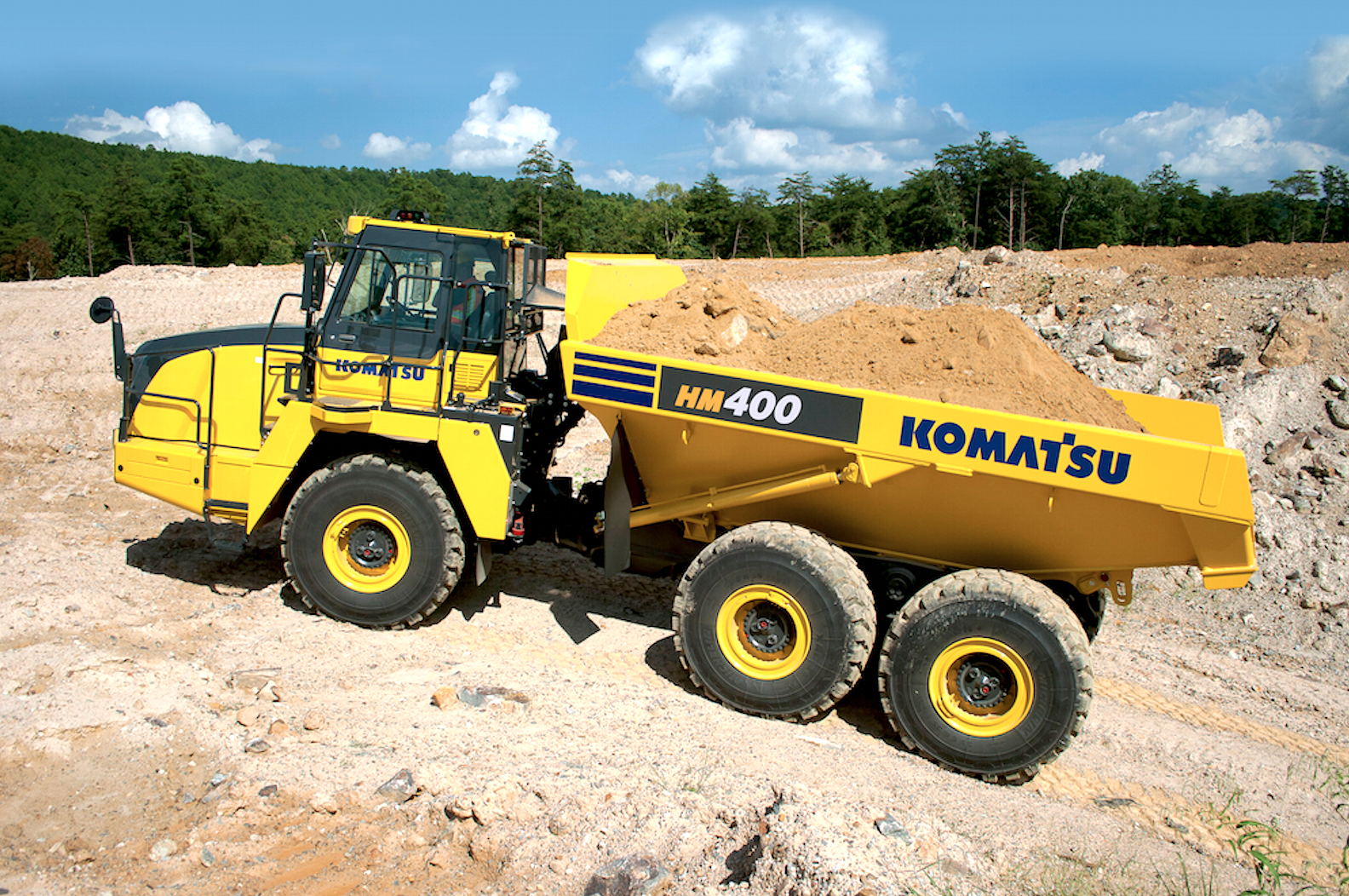 Established in 1921, Komatsu is arguably one of the oldest companies in the manufacturing and selling business of construction, mining, utility, forestry, and industrial machinery.
With a powerful Komatsu EU Stage V engine, the advanced Komatsu Traction Control System, selectable working modes for on-demand performance adjustments, a robust exterior, and state-of-the-art solutions for its suspension and retarder, the HM300-5 is the company's most sort after dump truck, and a perfect choice for any Jobsite, in any conditions.
Komatsu has more than 200 subsidiaries, 81 manufacturing facilities, and 58 sales offices around the world.
Ashok Leyland
Headquartered in Chennai, Ashok Leyland is the flagship of the Hinduja group and the 19th largest manufacturer of trucks in the world thanks to its 9 manufacturing plants and over 74 years of experience in the industry.
The most famous of their tippers are the AVTR series that came with a diverse range of options based on load, terrain & application requirements.
The company has a footprint that extends across 50 countries served through an all-India sales and service network, supplemented by close to 3000 touchpoints and a global network of over 550 touchpoints.
Isuzu Motors Ltd
Isuzu Motors Ltd., trading as Isuzu, is a Japanese company whose principal activity is the production, marketing, and sale of Isuzu commercial vehicles and diesel engines. From the FSR, NPR, NQr, FVR.
The company has a wide range of tippers the latest of them being the NMR tri-tipper. This has a special three-way tray, which means it tips backward like a standard tipper and also on both left and right sides, making it handy for jobs in hard-to-reach places.