Power generators come in various sizes and shapes. When you choose your power generator, you must choose good quality to ensure your construction schedule isn't affected when it breaks down. Selecting a generator that doesn't meet your construction site needs leads to worker downtime and project delays.
Picking a small generator reduces the efficiency of your construction, and a too large one wastes project money that you'd have put into other urgent needs. Therefore, to avoid these misfortunes, you must have a plan and assess the generator that best suits your construction site. The following are some of the factors you should consider:
1. Check The Wattage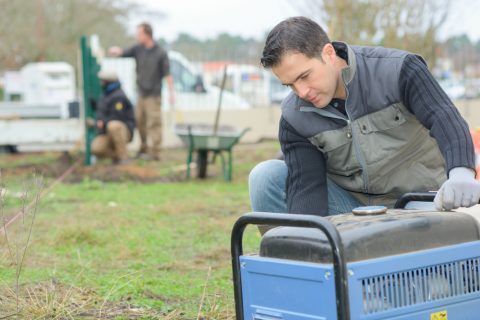 The power needs of your construction site determine the generator you'll need. You can quickly know this by checking the wattage of the power tools and electrical appliances you'll be using simultaneously in your construction. Make a list and see the estimated total wattage you need at once.
After determining the wattage, look for models like cummins generators or others that offer a prime and standby rating for their power and choose the watts that fit your calculations. This way, it becomes easy for you to schedule usage on the site. Avoid a generator with a wattage below your requirements since it'll cause delays.
2. The Quietness
With all the advancements in technology, generators have become cleaner and quieter. However, there are levels and degrees of how muffled or clean a generator can be. Hence, when choosing your generator, choose the inverter ones that offer you clean power and are silent. Its circuitry goes through an inverter board that produces electricity in its purest form.
A standard generator will be problematic and expensive if your construction site is in a noise-restricted area. Choose the generator with an inbuilt inverter that muffles the noise it produces.
3. The Generator Sizes
Size is a significant and simple factor to consider when choosing your generator. If your construction is in a closed space, you need a generator that easily fits in the room. Also, generators need to move around; if you don't intend to buy fitted wheel machines, pick a generator size that your workers can easily transport.
4. Automatic Idle Control
When choosing your generator, ensure it has automatic idle control. It saves you the cost of fuel and reduces the generator noise. An idle control adapts your engine rotation automatically with the actual load. If your generator runs sluggishly, the controller reduces the number of cycles per minute. This control is also known as the smart or echo throttle.
5. Generator Frame
Good power equipment for your construction project should give you convenience, efficiency, and the best value for your money. The frame of your generator determines its durability. Therefore, when choosing a generator, pick the one with a sturdy solid frame covering all sides. A steel frame is resistant to puncturing. Also, these frames have a waterproof coating which saves your machine from impacts from construction debris.
6. Inbuilt Power Bar
Make sure the generator you choose for your construction site can show you the power you've consumed from it. The bar ensures you know when to plug in another tool or not to plug in and avoid tripping the circuits. Remember, overloading the generator leads to downtimes in your site, and it could damage the machine and any tools connected to it. To avoid this, have an in-built power bar to check the wattage meter.
7. Storage Requirements
Storing your generator isn't as simple as it seems. Generators are fragile and incorrect storage could cost you a dime in repairs or getting a new one. When choosing your generator, ensure you accessorize it with folding handles and wheels to move the machine around.
Also, if you intend to keep it in storage for a long time, you must include a fuel stabilizer in the tanks. Otherwise, you'll be forced to remove the gas in the generator. A fuel stabilizer ensures your gas doesn't cause gum deposits and blocks the carburetor.
8. Local Regulations And Laws
When buying a generator, check the local laws and machine-use restrictions. Some states limit the noise and air pollution levels.
Hence, inquire from the generator dealer in your area to give you the regulations and laws generators should meet. With that in mind, you can then choose a generator. Remember, generators produce carbon monoxide, which is a deadly gas.
Conclusion
Different construction sites need unique generator capacities and models. While generators are readily available on the market, they come with varying specifications you must consider before picking one. Thus, with the above qualities to consider, you should be able to get a generator that can handle your construction site needs and is worth your investment.