As construction workers are responsible for many important on-site tasks, they're the backbone of our society and provide us with safer roads, well-built buildings, and durable shelters. Whether they're building a new house or performing regular road maintenance work, construction workers operate heavy equipment and machinery which allows them to get more work done in less time.
Heavy machinery is a necessity and an integral part of today's construction job sites but it can be hazardous if not operated properly. To make sure that they are handled correctly for various projects, the construction crew must evaluate the operating environment as well as other work conditions. Also, it should only be operated by certified professionals who have gone through proper training and have experience with this particular equipment.
Search for construction leads
Below we look at how to properly operate heavy machinery, avoid common mistakes and ensure that everyone on the site is safe at all times.
Find the Best Equipment and Invest in Operator Training
One of the most important ways to increase safety at a construction site is to make sure workers are properly trained on every utility crane and equipment they are operating. Machines are highly technical and can be complex with their attributes and specific features. Construction workers must understand the equipment before they put their hands on the controls, otherwise, the likelihood of disasters occurring will increase.
The equipment operator training should be a mix of classroom and practical hands-on instruction and cover topics like safety, hazard identifications, and proper maneuvering. Workers must learn how to safely mount and dismount and follow the startup procedures for each piece of equipment. They should be trained on lifting loads and understand the load capacity for the equipment they'll be working on.
Work with Established Professionals for Specific Projects
Working in the construction industry and operating heavy machinery is an intricate and complex process that can quickly become very expensive if something goes wrong on the job site. For instance, if you're working on the excavation, you should hire a professional that provides excavation services to avoid ending up with a massive bill to repair poor excavation. If you work with a company that's adequately prepared and comes with a solid plan to finish the project, you'll have peace of mind and know that they'll follow the required steps in the excavating procedure.
They will prepare the site for work, previously informing you of the need to clear the location of all vegetation and debris. Depending on the type of soil and other location variables, a professional excavation service provider will determine the actual excavation process for your site.
Working with proven experts will make it easier for you as you'll know that they come with a wide range of professional equipment and tools they know how to handle. In addition, you can expect them to know all the laws and regulations, so you won't need to run around asking the local authorities or read through the procedures and rules yourself.
Maintain Open Lines of Communication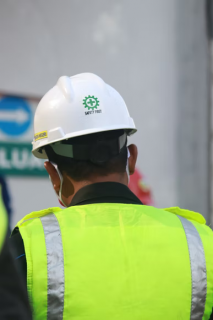 Good cooperation requires good communication. This especially applies to large construction projects with many actors and even more subcontractors. An important piece of the puzzle to get the various actors to cooperate is having regular coordination meetings, where important information can be presented, logistics issues can be discussed and any problems can be discovered even before they arise.
This is especially important for heavy machine operators as they must be a hundred percent sure that it's safe to complete a movement. The best way to prevent accidents on the construction site is by having spotters who have a two-way radio to communicate with the machine operators throughout the working day. If the team doesn't have such devices, they should use hand signals or signs as a way of communicating with each other.
Wearing appropriate PPE gear like safety vests, sturdy boots, and safety glasses is also essential as it allows operators to see the team at all times. Spotters must also signal to pedestrians and oncoming traffic when heavy equipment is in operation and redirect them if necessary.
Inspect Equipment Before Use
Inspecting heavy machinery and equipment before using them will ensure that they are in a good operating condition which is a much-needed precautionary measure. Visually inspect tires and tracks for any wear, cracks, or damage, check fluids such as engine oil, oil levels, and hydraulic fluid before firing up the equipment, and make sure all attachments are previously firmly and securely locked into place.
Never use machinery or equipment that isn't functioning properly or appears damaged as this can further damage the machine but also present a major safety threat on the site.
Wear Your Seatbelt
This might sound silly and basic but wearing a seatbelt can be a life-saver, especially in risky environments like a construction site. If the equipment accidentally starts to make unexpected movements and roll over, the seatbelt may prevent you from getting jostled around. It may prevent you from sustaining serious life-threatening injuries and keep you alive.
Final Thoughts
Working with heavy machinery and equipment is no joke and your construction team must be trained on all the hazards and dangers. Following the overall safety program will ensure that you stay productive and maintain an accident-free construction site.