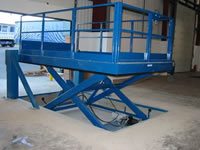 By Emmanuel Onsomu
A scissor lift is a type of platform which can usually only move vertically; mainly by the use of linked, folding supports in a criss-cross 'X' pattern, known as a pantograph.
Search for construction leads
The upward motion is achieved by the application of pressure to the outside of the lowest set of supports, elongating the crossing pattern, and propelling the work platform vertically.
The platform may also have an extending 'bridge' to allow closer access to the work area (because of the inherent limits of vertical only movement).
In the building industry, scissor lifts are appreciated for their ability to support a substantial amount of weight and are therefore most used where more workspace and lifting capability is required.
They are generally used to bring people to a certain height that they should be working on. They can also be used to transport to an elevated area the needed equipment and materials such as pipes, concrete blocks, cement, and others. In addition, they are simple to operate, reducing fatigue in operators and increasing levels of production. When not in use and fully retracted, scissor lifts take up little space in a warehouse or office.
As is noted by Pentalift Equipment Corporation, scissor lifts are available in three operating methods. Hydraulic scissor lifts use one or more hydraulic cylinders to move the platform up or down. Pneumatic scissor lifts operate through the use of air bags to move the platform up or down.  A self positioning scissor lift is weight sensitive, as weight is added to the platform it automatically lowers, as weight is removed from the platform it automatically raises.
Scissor Lifts Beat Gravity: Chase Equipment
There comes a time when goods, as well as people, must go up in the world. When levitation arises on the agenda, scissor lifts come into their own, Nikoletta Papp, marketing assistant at leading international supplier of scissor lifts, Chase Equipment, notes. However, as in any heavy engineering endeavour, two hugely important key words apply: health and safety.
Scissor lifts are available in a wide range of sizes and capacities; the costs vary too. This makes it possible to choose the right scissor lift for the task in hand, without endangering the loads to be lifted and lowered and, more importantly, without putting operators at risk.
Here, a further key word applies; compliance. Both the scissor lift and the site where it is to be installed and used must comply with BS EN1570. This, BS EN1570:1999, to give it its full title, is the British Standard for such equipment.
Its comprehensive four-page content, mentions, '…raising and/or lowering goods and/or persons associated with the movement of goods carried by the lifting table (i.e. not for passenger use), for a vertical travel of up to 3.0 metres.'
What about capacity? Scissor lifts typically offer load ratings ranging from a usable 500kg up to an impressive 10,000kg. This broad range of capacities means that with the right unit, not only goods but also a complete vehicle can be raised and lowered at will.
This begs a question: how is this heavy metal made safe? The answer is with, in a word, forethought. It's usual for the company supplying the scissor lift, or lifts, to partake in a site meeting, to ensure that the location is correct for the proposed lift and vice versa. Compliance with the abovementioned British Standard is established and matters including installation and subsequent servicing are normally clarified.
In engineering terms, other safety factors are addressed. For example, anti-trap sensor strips are included to stop the lift mechanism dead, should anything be in the wrong place at the wrong time, Ms. Papp cautions. Similarly, burst valves are included to lock the lift, should a hydraulic hose fail in service. A range of options generally includes safety-related hardware such as handrails, barriers, roll-off guards and mesh enclosures for the scissor lift's platform.
It may seem that scissor lifts just go up – and down – period. However, there's a distinction between a scissor lift and a good scissor lift. As well as doing what scissor lifts do by definition, a good lift will be both well-built and tried and tested. It will be dependable as a consequence and can be relied on to do its job day in, day out. Naturally, a full servicing provision will ensure this reliability continues throughout the life of the unit.
So choosing the right scissor lift involves a combination of professional advice and the build quality that goes with it. When a company is equipped with the right scissor lift for its needs, staff will be able to work at the right height, for manual handling, moving goods to the required level or moving a complete vehicle to a level where it may be easily loaded or unloaded.
Looking to Safety Consciousness: Power-Lift
In the modern, safety conscious work environment every function of industry from Air Cargo Handling  through to Work Station Ergonomics has put considerable effort into reducing the risk of musculoskeletal disorders (MSD's) often caused by repetitive bending, stretching, lifting and lowering, Nigel Roberts of Power-Lift accentuates.
Installations of well specified scissor lift tables when installed in accordance with the European Standard or British Standard BS EN 1570-1:2011'Safety requirements for lifting tables' – part 1: Lifting tables serving up to two fixed landings have made a major contribution towards reducing these workplace injuries and accidents.
A simple and small adjustable height Power-Lift table can be the ideal method of presenting work ergonomically to an operative at his work station at just the right height, allowing him to pick and place without danger.
He can perform height adjustment and product positioning or orientation (by platform mounted turn tables or tilt tables) of the item on which he is working thus preventing excessive bending and stretching.  It also means that adjustable height work stations can be shared by co-workers on different shifts so they too can work at heights that suit their individual needs.
Variable height working platforms are ideal on packing lines and production lines and extensively used in computer manufacturing facilities where the assembly of a typical desktop or server requires a lot of manipulation and will vary in size and weight during the manufacture and testing process.  At the other end of the scale Aircraft Ground Support Equipment will often include a large lift table capable of lifting Unit Load Devices (ULD / Air Cargo Pallets) weighing over 7 tonnes.  This operation has to be performed accurately and with minimal risk to handling staff, aircraft and cargo.
Scissor style platform lifts are found on many automated production lines especially where there are heavy loads and high duty cycles.  They are compact, can sit flush with the floor in a pit when in the closed down position, and usually require no guides that would impinge on surrounding workspace. Their basic design provides exceptional reliability and repeatability.  Scissor lifts can easily and cost effectively be bespoke built to meet one's exact needs. Power-Lifts Lift tables reliability and flexibility has meant they have been adopted on all the major automotive industry production facilities and assembly lines worldwide.
Lifting tables work well in hazardous areas (ATEX) and difficult locations (off-shore exploration), they can be made of various materials to suit hostile environments, corrosive atmospheres and extremes of temperatures eg stainless steel or Hot dip galvanised alternatively polished stainless for pharmaceutical or clean room applications.  Static scissors lift platforms can be designed to blend in with architectural features of a building with minimal effect on the unit's structural integrity.
Lifting tables are used in loading bays for vehicle unloading. They are specified where the range of vehicle bed heights varies widely or when especially large or heavy loads need to be handled. There are several styles of bridging plates and loading flaps that interface between the lift and the lorry. Mezzanine floors and other changes in floor levels are serviced by electro-hydraulic scissor lifting tables as they are easy to install especially when requiring access on to the lift over any of the four edges.
Wheelchair lifts and short rise lifts for the mobility impaired often utilise a scissor mechanism as the method of actuation. They can be installed as pit free with an access ramp or in a small pit that requires minimal civils /building works.
Most lifting tables are powered by hydraulics, usually electro hydraulic power packs are used, however manually operated hand pump and foot pump operated units are frequently utilised in low weight, low duty cycle applications.  On occasion air springs, air bags or even air motors powering a hydraulic pump are utilized.
Air lift and tilt table technology has come on considerably in the last few years, one of the main advantages is that low closed height can be obtained as the air bag becomes part of the supporting structure. Air bag lifts do not generally require an electrical power supply and can be installed where there is a piped air supply and hydraulics are not permitted.  Air springs are used where neither power source can be supplied cost effectively. They are typically utilized for short rise, stacking and destacking operations, for example as a sheet feeder, lowerator or on a packing or stacking line.
Snorkel's SRT and S Series Scissor Lifts
Global producer of aerial lifts, including diesel and electric scissor lifts, mast lifts, telescopic boom lifts and articulating booms, Snorkel's S4390RT and S5290RT scissor lifts provide maximum working heights of 15m and 18m. They have dual deck extensions, providing a spacious platform area totalling 1.8m x 7.3m and 900kg safe working load.
The machines feature auto-levelling hydraulic outriggers and are powered by water-cooled Kubota diesel engines. Rough terrain capability is delivered by four-wheel drive, high-grip tyres and oscillating axles as standard – and both lifts have 350mm ground clearance. All-steel construction and Snorkel's 'keep-it-simple' design philosophy make the machines ideal for demanding construction rental applications.
The new SRT Series builds on Snorkel's success with its compact rough terrain lifts. These smaller units are designed for working in confined spaces, such as between buildings. The S27770RT and S3370RT offer a maximum working height of 10.3m and 12.1m respectively. Both are also available in bi-energy for total job site flexibility – use the diesel engine for working outdoors, then switch to electric power for zero emission work inside buildings.
Snorkel already produces a comprehensive range of all-electric slab scissors, which were updated and enhanced in 2010 and 2011. The S-Series scissors have robust, durable chassis, swing-out trays for easy maintenance and a new control system that allows for very quick and simple troubleshooting.
Designed for working in narrow aisles, the S2632E provides a maximum working height of 10m and is just 0.81m wide, with a lift capacity of 227kg, or two people with tools. A wider version, the S2646E, offers the same working height but double the safe working load. The largest lift in the slab scissor range is the S3246E, with a working height of 11.8m and 317kg lift capacity.
The most compact lift in the S Series is the S1930E, which delivers a working height of up to 7.6m and a platform capacity of 227kg. Compact and nimble, the S1930E has an inside turning radius of less than 130mm and can climb slopes of 25%.  The S1930E is just 0.76m wide, so can easily pass through a standard European doorway. For additional flexibility, the S1932E is just 50mm wider, but 30kg lighter – and is rated for outdoor use by one person.
Genie® GS™-4047 and the GS™-2669 RT, GS™-3369 RT and GS™-4069 RT Series
Terex AWP's 12 m (39 ft) Genie® GS™-4047 full drive-height self-propelled electric scissor lift was launched in September 2011 to meet the demands of tightly packed, high rise indoor spaces. The GS™-4047 lifts up to 350 kg (770 lbs) to a maximum working height of 13.93 m (45 ft 1.5 in).
With dual front-wheel drive and zero inside turning radius, combined with a compact footprint of just 2.44 m (8 ft) long and 1.19 m (3 ft 11 in) wide stowed, the GS™-4047 is ideal for maneuvering around tight restrictive work environments. A 91 cm (3 ft) extension deck allows workers and tools to utilize the maximum amount of platform workspace.
The GS™-4047 has a travel speed of 3.1 km/h (1.9 mph) and is able to handle a 25% gradient to get up slopes and loading ramps. Its new 24 V 300 Ah battery pack offers more power for elevation and translation and enables the operator to operate for a full eight-hour work shift.
The GS™-4047 incorporates the new SmartLink™ control system that offers the operator the choice of two lift speeds based on the work environment and the application.  The joystick is used for drive and steer only making it very simple to use.  In addition, SmartLink™ allows for improved troubleshooting with new grouped fault codes, easier battery charge detection and user-friendly machine adjustments.
The four-wheel braking system combines dual rear spring, hydraulically-released brakes with dual front wheel hydraulic dynamic braking, making the unit extremely responsive. The brakes are fully enclosed in steel casing for protection against worksite debris and machine wear, resulting in a longer life cycle.
Heavy-duty steel swing-out service trays allow for access to all machine components for easy service and maintenance, and 90 percent of the components are common across the entire Genie slab scissors family, so service departments are able to stock fewer parts and technicians can apply existing maintenance knowledge.
Genie also launched a series of 1.75 m wide rough terrain scissor lifts in July 2011. The three new models (GS™-2669 RT, GS™-3369 RT and GS™-4069 RT) are a significant redesign of the 68 series through increased capacity and improved jobsite performance. The GS™-4069 is the world's first 12.2 m full drive-height rough terrain scissor lift in its class, offering a 14.2 m working height.
Providing end user uptime while on the jobsite, the 9.96 m and 7.9m working models are also equipped with the full drive-height feature, offering 11.96 m and 9.9 m of working height.
An increased platform work space gives end users more room to get their jobs done more efficiently. Increased lifting capacity on the GS™-2669 RT of 20 percent, from 567 kg (1250 lbs) to 680 kg (1500 lbs), provides the end user with more lifting capability. The GS™-3369 RT has a lifting capacity of 454 kg (1000 lbs); the GS™-4069 RT has a lifting capacity of 363 kg (800 lbs).
A standard front active-oscillating axle keeps all four wheels on the ground during operation, providing the end user with more machine control and power when climbing hills and jobsite obstacles. Wheel drives and high efficiency piston motors were added to get more torque to the rear wheels, providing jobsite performance similar to the large
Genie® boom products
Full swing-out doors provide easier service access to electronics, manifolds, hydraulics and engine.
PalletPal Lift Trucks and Dandy Lifts from Southworth Products Corp
The PalletPal Lift Truck from Southworth Products Corp combines the best attributes of a lift table and a pallet truck, allowing the operator to pick up a load, transport it to the workplace, and lift it to the most convenient working height.
With a lifting capacity of 1650 lbs., the PalletPal Lift Truck can be raised as high as 311/2″.  The electric-lift model, powered by a 12-volt, maintenance-free battery, raises a load to the highest position in less than six seconds.  This model includes extended-duty cycles, a battery discharge indicator, and an automatic battery charger.
The manual-lift model provides two lifting speeds — 17 strokes for light loads, 56 strokes for heavy ones.  Standard safety features include an overload relief valve and automatic stabilizers that take over from the wheels and lock into place when the load is approximately 15″ high.  High-tensile-strength-steel construction reduces weight without sacrificing strength.  Standard forks are each 45″ long, with either 201/2″ or 27″ as the outside dimension.  For longer loads 79" forks are available.
PalletPal Lift Trucks are ideal for anyone feeding printing presses, cutters, binderies, metal presses, conveyors, packaging stations, etc.  Whether used for picking orders, positioning materials at production machines, or other applications, they reduce production time and labor turnover by eliminating repetitive bending, lifting, and carrying, all at a fraction of the cost of a driver-operated fork lift truck.
Also from Southworth Products is the Dandy Lift™ line of lifter/transporters. These lifts continue to set the standard for quality, performance, and overall value in foot-pump hydraulic lifter/transporters.
Their hydraulics offer infinite height adjustment (within range) with a 20:1 mechanical advantage.  Ergonomic improvements on every new model include a "Multi-Grip" Position Handle with sure-grip cushioning and gentle contours that allow users to pick the most comfortable hand position for what they are doing — pushing, pulling, maneuvering, or raising loads, a "Qwik-Grip" Lowering Handle with an oversized, open-triangle design that makes it accessible from almost any position behind or beside the Dandy Lift and a 180° Access Foot Pedal with a large, open-loop design that allows it to be pumped from different angles at the rear or side of the unit while providing solid contact regardless of footwear.
Dandy Lifts are available in seven models with a wide range of capacities (330 to 1,760 lbs.), lifting heights (29" to 49.8"), and platform sizes (17.7" x 28" to 23.6" x 39.4").  Configurations include single-scissor, double-scissor, high-lift, and heavy-duty.  A low-profile model has a platform that descends to 3.2" from the floor and is available with forks for use with skids and plastic pallets.  All units feature steerable caster-type wheels; parking locks; and attractive, colorful, enamel-and-chrome finishes.
For machine feeding and offloading applications, Southworth offers two redesigned models (330 and 1,100 lbs. capacity) of Dandy Levelers™ — portable auto-leveling platforms that minimize bending and reaching by keeping loads at comfortable working heights as items are added or removed. Also available is the Powered Dandy Lift, which lifts and lowers at the touch of a button thanks to a 24-volt battery.  Powered Dandy Lifts are available in five models with capacities from 220 to 500 lbs., platform sizes of 20" x 31.5" and 24" x 36", and raised heights to 51".
List of Contributors:
Chase Equipment
Nikoletta Papp
Marketing Assistant
Email: [email protected]
Website: www.chaseequipment.com
Power-Lift
Nigel Roberts
E-mail: [email protected]
Website: www.powerlift.co.uk
Snorkel
Dan Jenkins
Email: [email protected]
Website: www.snorkellifts.com
 Terex
Charlotte Bridge
Marketing Communications Specialist
Email: [email protected]
Website: www.terex.com
 Southworth Products
Ben McKelway – PR
E-mail: [email protected]
www.southworthproducts.com
 
ETA Melco
K.G.Guna
[email protected]
www.etamelco.ae
 Schindler Limited Victoria
Victoria Guga
[email protected]
www.schindler.com
 Prysmian Group
Horvat Davor
[email protected]
www.prysmiangroup.com
[email protected]
www.adumek.com
PhantomPark
Brad Davies
[email protected]
www.phantompark.com