Compared with traditional buildings, Steel Structure Building Construction offers an innovative type of building structure—the entire building made of steel. The structure mainly comprises steel beams, columns, trusses, and other parts made of thin-walled steel and steel plates. It is connected between parts and parts by welding, bolts, or rivets. The lightweight and simple structures are widely used in large factories, stadiums, super high-rise buildings, and other fields.
Steel Structure Building Construction provides affordable, durable, and low-maintenance solutions for workshops, warehouses, agricultural buildings, garage buildings, and aircraft hangars. Compared to wooden structures, steel is resistant to strong winds, heavy snow, and termites. The interior layout of the metal buildings can be fully customized to meet your needs.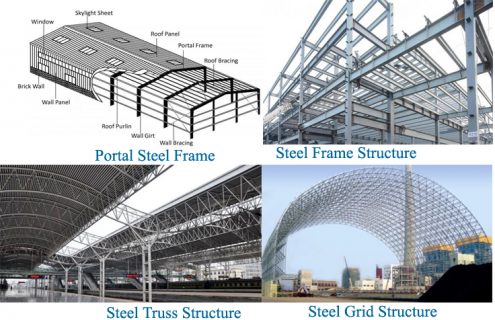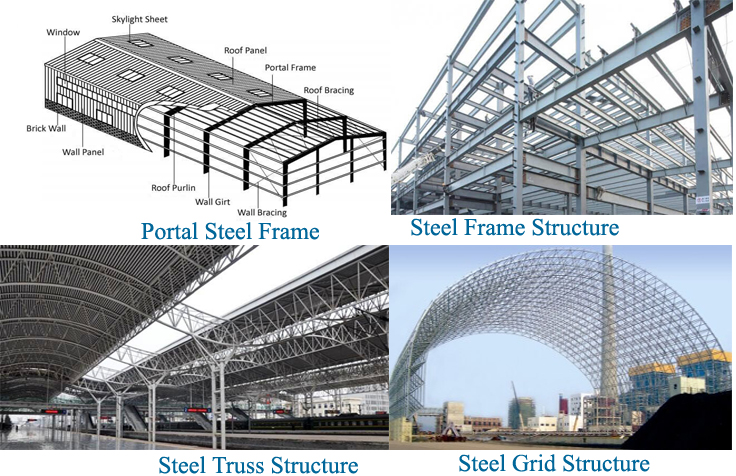 Types of steel structure building:
Search for construction leads
1. Portal Frame Steel Building Structures
The portal steel frame comprises a hot-rolled or welded section steel, cold-formed C/Z steel, and steel pipe as the main force-bearing components and adopts a light roof and wall structure. The Portal frame is the most common form of the light steel structure.
2. Steel Building Frame Structure
The steel frame structure is composed of steel beams and columns that can withstand vertical and horizontal loads. Columns, beams, bracing, and other members are rigidly or hingedly connected to form a flexible layout and create a larger space. It is widely used in a multi-story, high-rise, and super high-rise buildings, commercial office buildings, conference centers, and other buildings.
3. Steel Truss Structure
The steel truss structure is made up of several rods hinged at both ends of each rod. It can be divided into plane truss and space truss. According to the parts section, it can be divided into tube truss and angle steel truss. The truss is generally composed of the upper chord, lower chord, vertical rod, diagonal web, and inter-truss support. The amount of steel used in trusses is less than that of solid web beams, the structural weight is lighter, and the rigidity is greater.
4. Steel Grid Structure
According to a specific rule, the grid structure comprises many rods, with small space stress, lightweight, high rigidity, and excellent seismic resistance. It is used as a gymnasium, exhibition hall, aircraft hangar.
Steel Structure Building Connection: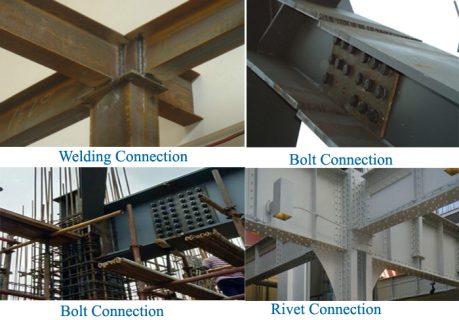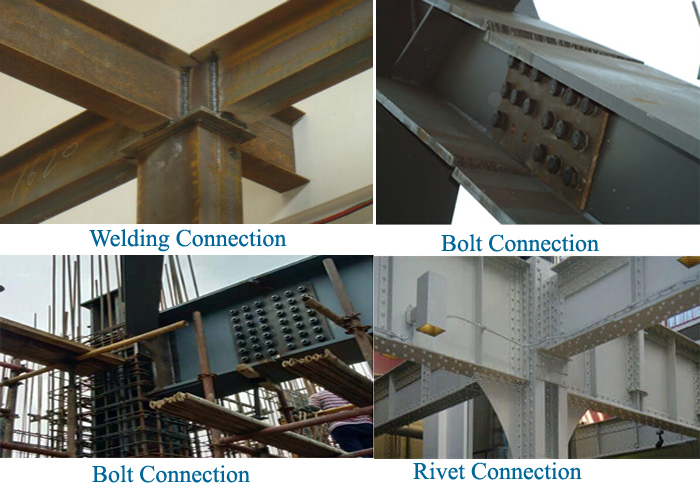 There are three conventional steel building structure connections: welding connection, rivet connection, and bolt connection.
Welding Connection
The welded connection is the primary connection method for steel structures.
According to the relative positions of the two weldments: butt weld, overlap weld, T joint, and corner joint.
Bolt Connection
Bolt connection is divided into ordinary bolts and high-strength bolts.
Ordinary bolts are for temporary connection and the connection of removable static load structures.
High-strength friction bolts are currently widely used in industrial, civil construction steel structure connections. They are the most suitable connection method for bearing dynamic loads among various links.
Rivet Connection
A rivet is a type of tight member composed of a head and a nail rod. It mainly completes the connection work by the friction generated by its deformation. The specific connection methods include cold riveting and hot riveting.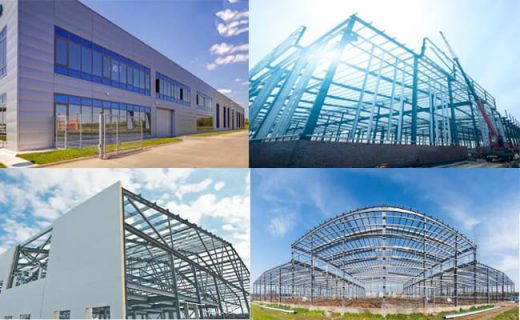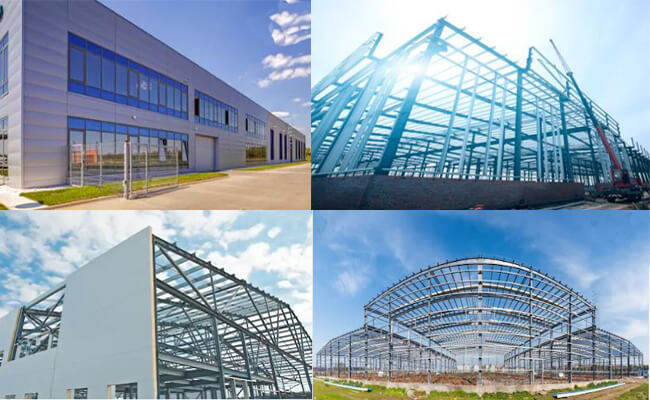 The advantage of Steel Structure Building
All steel structure buildings components are designed and manufactured in the factory, cut, welded, and drilled strictly following the manufacturing drawings to ensure that the structure tolerance is less than 2mm. Compared with traditional concrete buildings, the installation of metal structure building is easier and faster to complete. After installation, the owner can save on construction and labor costs during installation.
Havit Steel Structure Co., Ltd supplies metal structure building components directly from the factory so that we can offer you the lowest prices without commissions from intermediaries, and these buildings are all-inclusive. Every building comes with all the necessary components, including the main steel frame, bracing system, purlin and wall girt, bolts, and screws. It also comes with roll-up doors, windows, and colorful wall panels. We can provide you with everything you need to build industrial, agricultural, and commercial buildings on the land, providing solutions for individuals and businesses.