The need for affordable living space is high all over the world, especially in cities and metropolitan areas. This is due on the one hand to the growth in population. In many countries, however, it is also due to migration into the cities on account of poor living conditions, crises or natural catastrophes.
Depending on the country and culture circle, there are a great many different approaches to the creation of affordable living space. What is crucial about these low-cost housing concepts is that they can be implemented by local people using the regionally available materials.
Search for construction leads
Various building materials can be used to create inexpensive living space. Depending on the region these can be, for example, concrete, stone, wood and steel, as well as plastics such as polystyrene. Each has its advantages and disadvantages. Derived from experience in Europe, construction with precast concrete elements is an ideal way to manufacture high-quality living space quickly and cost efficient. The prerequisite, however, is that the need is correspondingly large and that the planning is consistently tailored to this construction method from the outset.
The use of concrete in housing construction is advantageous in many different ways: its raw materials are available almost everywhere, allowing concrete to be produced locally. Concrete is durable, therefore these buildings can be used over several generations. In addition, concrete houses are stable and are resistant to the weather and termites. And last but not least, this material is freely formable, allowing the building to be adapted easily to the climatic, geological, cultural and traditional needs.
In combination with the precast construction method, concrete is virtually unbeatable as a building material. The planning, production and assembly for this construction method are standardised and thus enable a constant, reliable quality with optimum use of materials. That makes cost-optimised and resource-saving construction possible.
Low-cost housing concept from the expert Weckenmann Anlagentechnik
However, construction with precast concrete elements alone is no guarantee of success: what's decisive is that the planning is tailored optimally to the respective boundary conditions.
That naturally includes the choice of a suitable manufacturing method. Precast plants capable of delivering what is required for a successful construction system cannot be found everywhere. A mobile solution is then required in order to manufacture the necessary construction elements locally. For this reason Weckenmann Anlagentechnik GmbH & Co. KG, headquartered in Dormettingen, Germany have joined forces to combine these two success criteria consistently in their joint low-cost housing concept.
The low-cost housing concept has a modular structure and can be adapted to the respective local conditions. The joint construction system is characterized by the following features:
The room concept is suitable for various types of housing, such as two or four-room flats and single or two-storey buildings.
The construction is cost-optimized.
All parts are manufactured in fair faced concrete, which means that no additional surface treatment is necessary.
The individual structural elements are connected using locally available materials such as bolted connections
There are no surface-mounted installations anywhere in the house
All necessary components are manufactured in a battery mould – either stationary or as a mobile/transportable formwork in the form of the mobile battery mould (MBM®). This guarantees that all manufactured precast elements are dimensional and accurate with finished surfaces, i.e. no additional surface treatments are necessary.
The Weckenmann team thus provides a holistic concept: from perfect planning and effective production through to zero transport way to the building site.
Production with mobile battery mould direct at Construction Site
Battery moulds are an ideal production tool for the low-cost housing concept. They can be used to manufacture solid walls, concrete slabs and flat slabs. Using a standard mould with 20 compartments, each measuring 3.5 m by 7.1 m, two housing units with around 36 m2 of living space can be manufactured per day. The specialists reckon with a period of one day per housing unit for the assembly of the finished panels.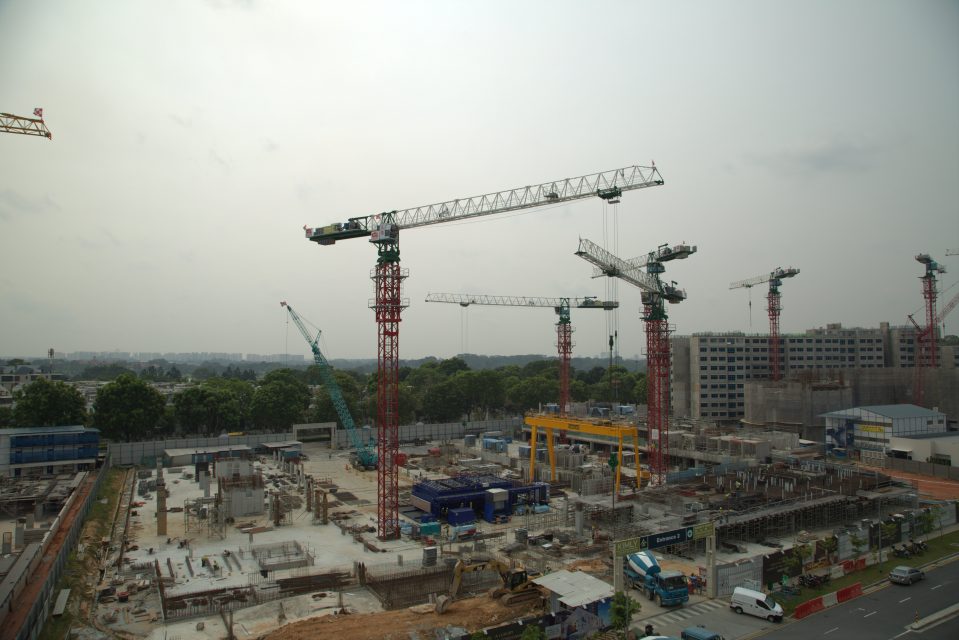 The joint low-cost housing concept was presented at the worldwide biggest exhibition bauma 2016 in Munich, Germany and met with great interest from the trade visitors. In fact, a building developer will be using this system in future for a construction project in South America with more than 10,000 housing units.The production of the required precast concrete elements takes place using a mobile battery mould from the plant manufacturer Weckenmann Anlagentechnik.
Mobile Battery Mould (MBM)
The transportable precast factory for the production of floor slabs and walls in the immediate vicinity of the construction site
Initial situation
The worldwide urbanization means that the demand is growing for the faster construction of cost-effective and top-quality buildings with a long service life. Precast concrete elements are generally used for this purpose. However, there are often no stationary precast plants nearby, making transport distances long and thus unprofitable.
Solution
MBM can bring the production of flat precast concrete parts directly to where it is needed – to the immediate vicinity of the construction site. Thus, MBM offers the construction site all the advantages of the precast technology.
After the building is finished, the MBM will be installed on another site within a few days.
A typical battery mould has 20 compartments measuring 3.5 x 7.1 m, for instance. A gross production output of approx. 400 m²/day is achieved in this way in a single-shift operation. About 10 truck transports are required per battery mould unit, with one being allotted to the special vehicle. Just a few skilled employees are able to carry out setting up and/or dismantling work within a few days. Consequently, the mobile battery mould is an ideal solution for large temporary building sites.