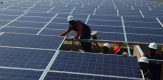 A 1.3MW solar off grid hybrid plant has been put into operation in Goma, the capital of the North Kivu province in the Democratic Republic of Congo. Nuru company, the project developers inaugurated the plant. The mini hybrid solar power plant consists of 4,000 panels, each capable of producing 335W. They are linked together by solar inverters that convert the energy transmitted by the sun's rays into electricity.
The plant is also equipped with batteries for storing the electricity, integrated in a container which enable continued supply of energy to the population after sunset. In addition, the power plant features several back-up generators with a total capacity of nearly 364kW. Electricity from the hybrid plant is distributed directly to the population via a mini-grid also built by Nuru and equipped with transformers and a transmission line.
Search for construction leads
Also Read: Namibia develops 150 kWp solar power plant in Kunene
Focus on solar energy
"Nuru has taken care to meticulously organise its electricity network, which includes 12m high power poles for medium voltage and 8 to 10m high poles for low voltage. These ecological poles, made of bamboo, are used to support the power cables that supply customers and for smart meters that measure customer consumption," explains Nuru company.
The DRC's potential to generate energy is high, having a wide range of both renewable and non-renewable energy sources. However, the country, highly relies more on hydroelectric power plants for its electricity production. The exploitation of other renewable energy sources, particularly solar energy, is still in its infancy. The government has resulted to focus on solar energy as this sector is supported by development partners.