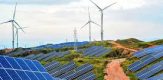 Three Cameroonian small and medium-sized enterprises (SMEs) have received US $5m grant from Switzerland for the implementation of their water and renewable energy projects.
Cameroonian Minister of Economy, Planning and Land Management, Alamine Ousmane Mey, signed grant agreements with the heads of these three SMEs in the presence of the Swiss Ambassador to Cameroon, Pietro Lazzeri.
Search for construction leads
The three companies include Sawel Water Sanitation and Environment, Experience Incorporated Cameroon and Solar Hydrowatt. They were selected following a call for projects that was launched within the framework of the SVF in 2018. Each company received more than  US $1.6m.
Also Read:Namibia, Angola to develop cross-border Baynes hydroelectric dam
Project details
The funds allocated to Sawel Water Sanitation and Environment, a company specialising in renewable energies, will enable the construction of water boreholes and solar pumping systems, irrigation and livestock watering systems.
Funding to Solar hydrowatt, a company operating in village hydraulics, will be used to install a hybrid system in Fotetsa, a group of villages in the commune of Dschang in the west of Cameroon.
The hybrid system will have a capacity of 120 kW in hydropower and 15 kWp in solar photovoltaic energy and will provide access to electricity for approximately 1,500 people. Experience Incorporated Cameroon, a cooperative which specialises in potato production will use its financing for its agricultural projects in the production basin of Santa, a commune located in the North-West region.
While Cameroon is not yet on track to meet the targets of the Millennium Development Goals (MDGs) for water and sanitation, it has made notable progress since 1990, much more needs to be done to improve the situation, especially in rural areas.
In 2006, 70% of the population had access to safe drinking water and the coverage in urban centres is 88%, significantly better than the 47% in rural areas. However, rapid urbanization has rendered existing infrastructure inadequate with periurban dwellers also lacking access to safe drinking water. Sanitation coverage is also poor. In urban areas only 58% of the population has access to improved sanitation facilities, and the rate in rural areas is 42%