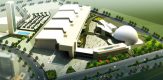 A Chinese contractor CGCOC has been awarded a contract to build the first phase of a US$120m convention centre in Ethiopia. The complex will be constructed in the capital Adis Ababa.
Once complete, the Addis–Africa International Convention and Exhibition Centre (AAICEC) is projected to cover 11ha and accommodate to 5,000 delegates.
Search for construction leads
Work on the convention centre in Ethiopia is being financed by the AAICEC's shareholders consisting of the city government and chamber of commerce, the Bank of Abyssinia as well as expatriate Ethiopians living in South Africa. The company is offering more shares to anyone who wants to invest in the scheme.
Also read:Ethiopia to construct 5 stadia in Addis Ababa
The first phase of the scheme will comprise of the centre itself, two exhibition halls, an amphitheatre, offices and restaurants. The second phase will add four exhibition pavilions and the final phase will conclude with a four-star hotel and a shopping mall.
"A world-class convention and exhibition center is one of the key urban infrastructures that Ethiopia is currently missing and which Addis needs to avail to the business community in order to affirm its regional and international position. Availability of a world-class venue in Addis Ababa is critical for the expansion of business, investment and export in Ethiopia," said AAICEC.
CGCOC, which was formerly known as the CGC Overseas Construction Group, was chosen out of a shortlist of 10 firms from China and Dubai, as well as major Ethiopian firms Teklebirhan Construction and Afro-Tsion.
The firm, which was founded by Chinese state-owned petrochemical group Sinopec, is active throughout Africa, and has previously undertaken large road-building schemes in Ethiopia, as well as the Nile bridge project.
The project is expected to take three years to be complete.