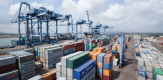 The Hamile village, of the Jirapa/Lambussie district in the far northwestern Upper West Region of north Ghana, close to the border with Burkina Faso might soon be home to a new inland port according to the former Deputy Finance Minister and Member of Parliament for Ajumako-Enyan-Essiam constituency, Cassiel Ato Forson.
Mr. Forson said that the port infrastructure would be constructed by the government of former president John Mahama if elected in December this year under the proposed US$ 10bn accelerated infrastructural plan, dubbed the Big Push.
Search for construction leads
Also Read: Ghana to begin construction of Keta seaport next year
The plan's objective is to drive jobs and entrepreneurial agenda through the dualization of the West African country roads, completion of the construction of the remainder of the 200 Community Day Senior High Schools, finishing all the hospital projects, and constructing bridges among other projects.
Construction of a railway line linking Sekondi-Takoradi to Hamile
In addition to the construction of the inland port, the Ajumako-Enyan-Essiam constituency MP also said that Mahama would also construct a railway line from Sekondi-Takoradi, the capital of Sekondi – Takoradi Metropolitan Assembly and the Western Region of Ghana to Hamile.
"We are also planning to put up a railway line that will start from Sekondi-Takoradi to Axim. It will connect all the way to Elubo, extend to Enchi, from Enchi we will extend it to Asawanso, Goaso, take it to Sunyani, Wenchi, all the way to Bamboi and Bole, and take it to Sorla with the hope that we can connect it to Wa, Nadowli and Hamile."
Mr. Forson said that the railway project is commercially viable as the trains will carry both passengers and goods adding that both the inland port and railway projects, will create an avenue for business in that enclave i.e. the western part of the north and the Upper West Region of the country.