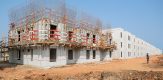 Construction of US $726,612 three-storey multi-purpose building in Accra, Ghana has begun after the Bethel Society of the Methodist Church at Adenta broke ground for the commencement of work.
Construction works on the ultra-modern facility are set to be completed within 5 years. Once complete the facility will have over 1,000 seats for both the children and adult churches, plus a terrace.
The multi-purpose building
Search for construction leads
In addition, the building will also have a prayer room, meeting rooms, a three-storey conference office, circuit office and disability-friendly features. Some of the other features include parking space, a clinic, an event center, football field, event center, and devotional chapels.
Also Read:High-rise buildings in Ghana to attract compulsory insurance cover
Speaking after cutting the sod, Right Reverend Professor Joseph Yarquah Edusa-Eyison, Bishop of the Northern Accra Diocese said the project comes at the right time after the growing number of members. He added that the chapel will be a constant reminder to Christians about God as it represents his presence amongst his people.
Rev Edusa-Eyison challenged members to support the project and intensify evangelism to fill the new building. On the other side, Resident Minister Reverend Helena Ama Serwaa Opoku-Sarkodie said that the building was to show appreciation to God for his glory for the past 28 years.
She encouraged members to invest in the project saying "Let us rise up and build, we should support this project wholeheartedly because our labor will never be in vain. In support of the church and the entire community, Reve Opoku-Sarkodie said the church has also begun construction of a community library that will be completed soon and will help spread the reading culture across the community.
He added that the two projects not only support development in the area but also the creation of job opportunities through construction and tenders.