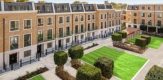 The 100,000 United Nations Office of Project Services (UNOPS) and Sustainable Housing Solutions (SHS) affordable housing scheme has kicked off in Amasaman Ghana. Vice President Dr. Mahamudu Bawumia has cut sod for work to commence on the construction of a landmark 6,500 houses.
Dr. Mahamudu Bawumia said that the project aims at reducing the the backlog in housing in Ghana adding that one of the greatest ongoing need across Africa is the availability of affordable housing for citizens.
Search for construction leads
"With the UNOPS programme coming on board to augment the projects currently being taken by Government, we are miles away to addressing the housing gap. The affordable housing scheme will enable working Ghanaians purchase decent homes," said the Vice President.
Also Read:Construction of US $200m housing development begins in Zimbabwe
United Nations Office of Project Services (UNOPS) and Sustainable Housing Solutions (SHS)
Deputy Minister of Works and Housing, Barbara Ayisi Aisha on her part pointed out that t increasing population and urbanization have made access to homes a difficult challenge in cities in the country. According to her, in bridging the housing gap, 60% of Ghana's urban population will need some form of government's support to get housing.
Under the UNOPS/SHS project, large scale affordable environmentally friendly housing units are to be provided for every Ghanaian. The country is set to receive US $5.3bn to construct the units across the country. It will also create local jobs for thousands of people, boost the Ghanaian economy and help bridge the housing gap.
UNOPS is expected to build over 800,000 homes across Asia, Africa, and the Caribbean. It is the largest affordable housing scheme the world has ever seen. The concept aims at providing a 'turn-key solution' to reduce the current shortfall of tens of millions of decent dwellings. In Asia, India and Pakistan are the two beneficiaries while Ghana and Kenya are benefiting in Africa.
The new partnership will also explore new opportunities in the renewable market, with UNOPS expected to work with MYRA-SHS Energy, a subsidiary of SHS, which focuses on investments in renewable energy projects and associated infrastructure.