Construction works are currently underway for Hollywood Park,  the largest urban mixed-use mega-development in the Western region of the USA.
Spanning nearly 300 acres, the development includes up to 5 million square feet of creative office space and up to 890,000 square feet of retail. In addition, it includes a 300-room hotel and up to 2,500 new residences. All of this surrounds a 3.1 million-square-foot 6,000-seat SoFi Stadium, one of Los Angeles' most striking architectural structures.
Also Read: Design unveiled for the Angels Landing skyscraper in Los Angeles
Moreover, linked by walkable paseos and plazas the development will border a 6-acre artificial lake. The lake has 25 acres of tree-lined public parks and plazas. Hollywood Park, thus, will be a world-class destination for both local and international guests.
Its location just six miles off the coast, a short drive from LAX and the City of Inglewood's future Crenshaw/LAX Line makes Hollywood Park an even more prospective iconic global destination for millions to enjoy.
Cosm venue to be developed at Hollywood Park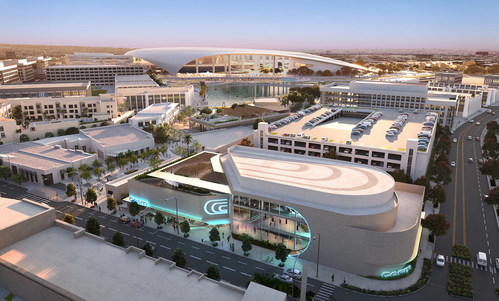 An agreement was recently signed for the development of the Cosm venue at Hollywood Park. The park will reportedly be the first of its kind to be home tome to Cosm venue, which will utilize Cosm's cutting-edge domed and compound curved LED technology.
Cosm, a global leader in experiential media and immersive technology, has been signed recently as a tenant to Hollywood Park. The park will be the first of its kind to be home tome to Cosm's cutting-edge domed and compound curved LED technology.
The venue will be a part of Hollywood Park's retail zone. It will feature a 26.6-meter-diameter LED dome in a 65,000-square-foot building. In addition, the venue will be able to accommodate 1,700 visitors. Live sports and entertainment, experiential events and content, immersive art, music, and other things will all be part of the venue's programming.
The HKS-designed the Cosm arena in Los Angeles, which will start to take shape in the fall of 2022.
Cosm venue to revolutionize how the world consumes content and elevate fandom
"By creating our first Cosm location in the heart of the global entertainment hub, we are revolutionizing how the world consumes content and elevating fandom. We have long provided some of the most recognizable and enjoyable experiences for our partners all around the world.
Cosmos is a mood, not just a location. You have to experience it to believe it. From the fervor of the crowd to the joy of being courtside at the biggest athletic events. In addition to the excitement of being in the front row at your dream concert. Not to mention the intensity of being engulfed in immersive settings.
All that is being brought to life by Cosm, first in Los Angeles and then globally," explained Jeb Terry. Terry is the president and CEO of Cosm.