The British government last week revealed the "Integrated Rail Plan for the North and Midlands," which displays plans totalling £96 billion ($130 billion) to construct several new rail lines in northern England.
Extensive plans for modern rail lines linking all major cities in the north of England, drawn up in recent years recommended by the government in London, have also been trimmed to a single line that covers only side of the route.
The High Speed 2 system original plan was a Y-shaped network, with a line between London and Birmingham spreading with two branches, one northeast to Leeds and another northwest to Manchester. Construction for London-Birmingham section is ongoing while the Birmingham-Manchester route will be constructed, mostly in the 2030s. The part to the northeast will be very short, extending only from Birmingham to Nottingham. From Nottingham, old lines will be modernized and electrified to fit for HS2 trains.
Read also: HS2 hails big carbon saving on Colne Valley Viaduct project.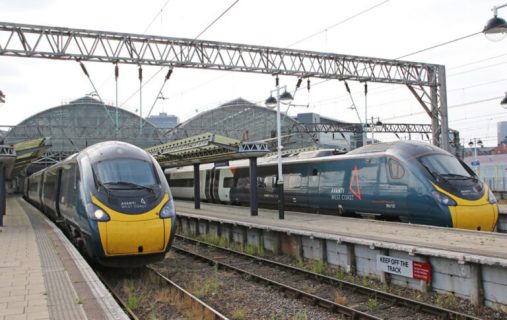 Integrated Rail Plan for the North
Plans for modern routes in the north of England, designed by a specially created transit administration reffered as Transport for the North (TfN), have been much rejected by the government in London for being too expensive or too slow to build. The Integrated Rail Plan for the North and Midlands comprises of a new 40-mile-long high speed line from Warrington (near Liverpool) through Manchester east to the Huddersfield area near Leeds, offering a new route through the Pennine hills which spreads north-south in the north of England. A number of existing east-west rail routes cross the Pennine range, but all were constructed by Victorian engineers cheaply and have stiff gradients and or tunnels with restricted clearances. The major existing route between Manchester and York will also be electrified with overhead wires, providing faster services, mostly on the more steeply graded sections.
Decision for new purpose-built passenger stations in Manchester and nearby cities Liverpool and Bradford, have greatly been dropped. A surface-level station in Manchester is set for HS2 services; local government and TfN had recommended an underground station, enabling high-speed services to head other parts in the region without reversing. The plan has been rejected, contrary to a trend in Europe to reconfigure old terminus stations as through stations by creating tunnels or using bypass lines.