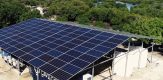 A containerized seawater desalination system, powered by solar energy, has been commissioned in Likoni, Mombasa Kenya. The water purification system is installed on a 20-foot container, top of which a small photovoltaic solar power plant has been put up. The PV plant has a battery-based electricity storage system meant to enable the entire desalination plant to run even after sunset or in instances of unfavorable weather conditions such as rain, clouds, etc.
Also Read: Kenya; Construction of Koru-Soin multipurpose dam to begin in September
Search for construction leads
With the capacity of 70 m³ of drinking water per day, the new small desalination plant is designed by GivePower, a 501(c)(3) non-profit organization based in the USA and whose line of work is the development of clean water and renewable energy systems in communities in the needy countries across the world.
Accessibility of the desalinated water
The water purified at the new refinement plant will be available for the population on-site, where what the company calls a "SmartTap system" will be utilized so as to facilitate the management of the entire drinking water supply systems. The SmartTap system consists of a device that works with software to measure the quantity of water for each consumer.
According to GivePower, the system, particularly installed in this project, is capable of pouring the exact amount of water needed to fill a person's containers, and it can also provide large quantities of water for those looking to redistribute in carts or trucks.
Similar projects in the East African country by the non-profit organization
The project in question is the second of its kind in Kenya by GivePower. In 2018, the organization installed its first-ever solar water farm – a desalination system with the capacity to provide clean water to 35,000 people in the coastal town of Kiunga, near the Kenya-Somalia border, every single day. The company is currently developing four more projects in arid localities in the East African country.