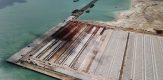 Lamu port construction in Coastal Kenya has seen 3 berths now completed and will be operational in June this year. According to Kenya Ports Authority (KPA)'s head of corporate affairs, Bernard Osero, China Communications Construction Company (CCCC) has already completed construction of the first three berths of the port.
"Lamu port will specialize in handling containers and oil cargo between the east African hinterland and the rest of the world. The new facility will enable Kenya to become a gateway of choice for Ethiopia, South Sudan and Somalia," he said. He further mentioned that Lamu port construction will also complement the existing Port of Mombasa because it is a natural deep port that can handle larger sea vessels.
Search for construction leads
The government of Kenya funded the construction of the 1st three berths under a plan referred to as the "Short-term Plan" that is estimated to cost US $689m, accounting for: dredging and reclamation; construction of berths and yards; construction of revetment, causeway and road; construction of buildings and utilities including Port headquarters, Port Police Station and Port Management Housing Scheme; procurement of equipment and tug boats; and Electric Power Connection to the National Grid and establishment of Water Reticulation Network among others.
The government has structured the remaining 29 berths to be handed over to private sector investors for financing, construction and operation.
Also Read: Rehabilitation and modernisation of Port of Kalemie in DRC to be undertaken
Benefits of the Lamu port
Lamu port construction once completed is expected to create job opportunities not only in port operations but also in agriculture, fishery, manufacturing, logistics, transport, trade and commerce.
In addition, the port is predicted to appeal to large cargo ships and provide benefits in the region by passing on savings as a result of lower marine costs due to faster ship turnaround time, reducing the cost of doing business.