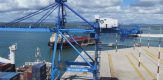 The government of Kenya is set to spend US $193m to modernize and upgrade four berths at the port of Mombasa to handle goods packed in containers and also those not packed. According to the Managing Director of the Kenya Ports Authority (KPA) Mr. Daniel Manduku, the upgrade has been driven by the growing demand for imported cargo in the region with an estimated growth of at least 5% every year.
Financing the upgrade
The European Investment Bank and French development agency AFD have offered to finance the modernization of the berths at commercial rates. Construction works are expected to be completed by 2020 with private firms including Singapore and China expressing interest in leasing the port from the government of Kenya according to Manduku.
Search for construction leads
Also Read:US $629m deal inked for Lekki Deep Seaport project
Mombasa port
Mombasa Port was built in 1895 as the main gateway for the East Africa region serving Kenya and it's neighbors including South Sudan Uganda, Rwanda, and Somalia. On the other side, KPA is also spending an additional US $376m to construct a new oil terminal which will replace its existing facility which has been in existence since 1968.
China Communication Construction Company is the contractor of the project which is set to triple the ports' annual capacity for oil and liquid gas to 1 million tonnes. Manduku noted that the demand for liquid oil is high therefore the new facility will help with Kenya's crude oil exports. This comes as Tullow Oil and the Kenyan government prepare to make a final investment decision on crude oil production in Turkana next year.
Moreover, KPA is also implementing investments worth US $2.9bn aimed at boosting the annual capacity to 110 million tonnes by 2040, this includes US $531m for constructing three new berths at Lamu port on Kenya's northernmost coastline, close to the Somalia border.