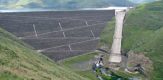 The construction of a controversial Kenyan dam is now in limbo after residents protested claiming that they have not be compensated. Residents holding demos forced contractors away from the construction site over what they termed as failure to fully compensate them.
Also read:Water infrastructure in Kenya gets $19m World Bank funding
Search for construction leads
The controversial Kenyan dam has faced opposition since its inception, from a narrative of environmental degradation to attempts to stop its construction by the Kipsigis Council of Elders. Earlier on last month bulldozers were on site excavating soil to pave way for the construction of feeder roads that are to lead to the bowl-shaped site at the heart of the Mau Forest.
The Itare dam project was picked under the national water master plan as one of Jubilee's flagship projects and is being funded by the Italian government. It is expected to serve 800,000 people in Kuresoi, Molo, Njoro, Rongai and Nakuru town. With a capacity to discharge 100,000 cubic metres of water a day, the 57-metre high dam will be managed by the Rift Valley Water Services Board.
Among the controversies surrounding the water project are the claims that it could lead to the drying up of rivers Ndoinet, Songol, Chemosit, Tariganbei, Kipsonoi, Nyongores and Sondu. This, and fears of adverse effects on wildlife with claims of lack of clearance from the National Environmental Management Authority (Nema) has made the project unpopular among the Kericho residents, with the backing of opposition leaders.
These controversies have dragged the project for the better part of last year and saw the Kipsigis Council of Elders move to court in an attempt to stop it. However, the construction which is expected to complete in 2020 has been carrying on until only recently.
The dam will have a holding capacity of 28Bn litres of water, with at least 100,000 cubic metres of it discharged per day to serve Kericho, Molo, Njoro, Elburgon, Rongai and Nakuru Town. The project comes as a relief to Nakuru people who have been facingperennial water shortages.
According to a statement released by the CMC of Ravenna, the company awarded the contract to construct the dam, this particular area was chosen because of its location in terms of water resources that can be developed to meet the demand of the region.
Mr Japheth Mutai, the Rift Valley Water Services Board CEO dispelled the claims about lack of approval from Nema saying that they were issued a permit and those alleging otherwise should stop misleading the public. He also went further to appease the residents assuring Kenyans that the dam would only use runoff water, leaving water from the rivers untapped.