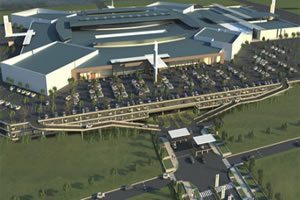 The development of the R1.7 billion (US$164.3 million) Baywest Mall in Port Elizabeth is integral to job creation in the Eastern Cape and is considered by provincial government to be an important development driver of the region.
Speaking at the official launch of the 87,500 m² mall, provincial MEC for Economic Development Mcebisi Jonas said the development had confirmed the confidence of investors in the provincial economy which had struggled to limit unemployment on the back of an underdeveloped primary sector.
According to Baywest City MD Gavin Blows, about 1, 500 local jobs would be created during the mall's construction phase while a further 7, 000 indirect and induced jobs would be created over the longer term.
Referring to the R300 million investment made in new roads infrastructure surrounding the mall, project co-developer Billion Group founder and executive chairperson Sisa Ngebulana said this is going to have a vast impact on the local economy and residents will also benefit from the massive investment in local infrastructure.
The road network funded by the developers, the South African National Roads Agency and the Nelson Mandela Bay metropolitan municipality will include an intersection onto and off the N2 as well as the development of a Redhouse–Chelsea arterial road, linking the suburbs of Sherwood and Rowallan Park via a road over the N2.
On completion in March 2015, the mall will be central to the development of the greater Baywest City project for which the developers had earmarked 320 ha. The mall is a joint venture between Abacus Asset Management and Billion Group.