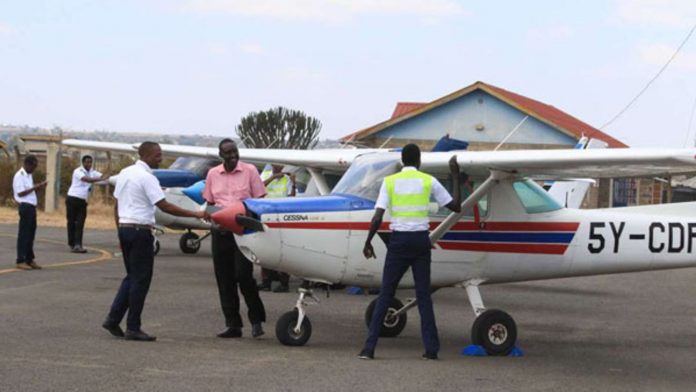 Rehabilitation works at the Nyaribo Airstrip which began in November 2020 are set to be completed in July 2021. The US $362,420.60 works include the construction of a VIP lounge, electrical works, mechanical works and storm water drainage works.
According to Northern Region Kenya Airports Authority (KAA) manager, Joseph Okumu, the authority has increased the number of flights for training schools to the airstrip hence many people are making applications seeking to put up hangers in the airstrip.
Nyeri Town MP Hon Ngunjiri Wambugu added that airports are enablers of economic growth as they act as attractions for private investors. Land prices around the airstrip have gone higher, infrastructure is also improving and hotels in the area are already preparing to carter to needs of travellers.
President Uhuru Kenyatta did the ground breaking of the 190 acres project in November 2018, but construction delayed till November 2020.
Also Read: Expansion of Arusha airport in Tanzania gathers momentum
Kenya Airports Authority
The Kenya Airports Authority is an autonomous body established in 1991 through an Act of
Parliament and is charged with an umbrella responsibility of providing and managing a
coordinated system of airports in Kenya.
KAA manages 4 International airports, 4 domestic airports and several airstrips. The main
airports managed by KAA are:‐Jomo Kenyatta International Airport (JKIA), Moi International
Airport (MIA), Eldoret International Airport (EIA) and Kisumu International Airport (KIA).
All the airports handled a total of 8 million passengers in the year 2012 with JKIA, the flagship currently handling 6 million passengers per annum. JKIA which directly contributes about 10.9% of GDP is currently undergoing expansion and rehabilitation that will see it handle 7.5 million passengers by end 2015.