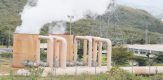 A US firm Ormat Technologies has injected 29MW of geothermal power to Kenya's grid within Olkaria III complex  increasing its total capacity to 139MW.
Ormat CEO, Isaac Angel confirmed the reports and said that it had reached the commercial operation phase of plant 4 with Kenya Power under a 20-year power purchase agreement which adds 29MW of geothermal power for Kenyans.
Search for construction leads
"With the commissioning of plant 4, the 140MW Olkaria III complex will provide clean and reliable electricity to over 250,000 households in Kenya, supporting the government's Vision 2030 to increase generation capacity," Angel said.
He added that that the initiative is a major factor that will assist them in their expansion plan especially in Kenya.
"Now that we have the commercial terms in place, we will continue to evaluate the feasibility of future expansions of the Olkaria III complex as well as other prospects to support our growth in Kenya." He said.
The US Company has so far implemented a multi-phased development strategy in Olkaria III with the first phase of plant 1 having begun operation in 2000 and the second phase in 2009. Plant 2 started production in 2013 and plant 3 in 2014.
Headquartered in Reno, Nevada, Ormat is a leading geothermal company and the only vertically integrated company solely engaged in geothermal and recovered energy generation (REG), with the objective of becoming a leading global provider of renewable energy.
The Company has over five decades of experience in the development of state-of-the-art, environmentally sound power solutions. The company designs, develops, builds, owns and operates geothermal and recovered energy-based power plants. The in-depth knowledge gained from these operations gives the Company the competitive edge by enabling efficient maintenance and timely response to operational issues.