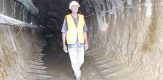 The World Bank  has began to look into the complaints about social and environmental impacts of a controversial water project in Kenya that involves digging a water tunnel as lodged by residents of Murang'a County in Kenya.
Also read:Locals oppose construction of controversial Kenyan dam over pay
Search for construction leads
It comes even as residents of Nairobi and its environs continue to have dry taps for close to a month now.
There have been issues raised about a 11.3km long northern collector tunel (NCT) seeking to divert water to Ndakaini dam that services Nairobi and its environs.
The building of the tunnel commenced on February 24 2015, collecting water from Rivers Maragua, Gikigie and irate for purposes of increasing the water supply to Nairobi by approximately 140m cubic metres per day.
The chairman of the panel Gonzalo Castro de la Mata said 47 residents of Murang'a fear experiencing water shortages for domestic, agricultural and coffee processing when the aberdares river system is diverted to NCT.
Also read:Top 3 controversial hydropower dam projects
International Development Association on December 20, 2007 approved $150 million for the Water and Sanitation Service Improvement Project in areas served by Athi Water Services Board (AWSB), Lake Victoria North Water Services Board and Coast Water Services Board.
The controversial water project in Kenya was scaled up in May 2012 with an additional financing of $300 million from IDA to increase access to water supply and sanitation services.
The inspection team said the 44km-long gravity pipeline, with capacity of 1.6 million cubic metres of water per second, has to be built up to Kabete reservoir through Ngethu and Gigiri water treatment plants to meet demand by 2017.
NCT I was to be completed by December 2015 but additional financing needs resulted in a change of Word Bank's environmental assessment category to reflect significant environmental and social impacts.
"The assessment prepared for NCT I indicated that the main environmental and socioeconomic impacts would be related to diversion of water; resulting in reduction in downstream flows in the rivers," said the inspection panel.
The Kenyan opposition had also raised the red flag, saying the project could turn Murang'a County into a desert.
The Murang'a residents also argued the Ndakaini Dam, which receives water from Thika River, spills over twice a year and additional volumes from NCT I will result in spillage that could have replenished Murang'a's lowlands water table.