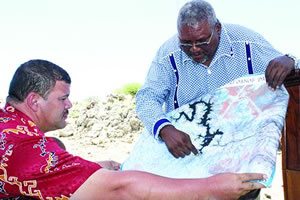 The construction of the N$250 million (US$24.1 million) waterfront on the southern banks of the Oanob Dam in Rehoboth is set to start following the ground breaking ceremony recently.
A brainchild of Rehoboth Waterfront Enterprise, jointly-owned by Afred Stephanus Dax, Benhard Mumbashu and Hendry Dirk, the project will be constructed on a 2, 026 hectares piece of land about 10 kilometres outside Rehoboth.
On completion, the waterfront will have 109 chalets that will create employment for 100 people. The project coordinator Alfred Dax said they have a 25 year lease agreement with government which can be extended to 50 years.
According to Alfred Dax, the construction will be in four phases, with the first phase focusing on roads construction commencing in the first week of January 2014. This phase is expected to take about six to eight months to complete.
He also said during phase two, a community park, with a capacity for 40 braai stands, will be developed on the western side of the dam, which will be donated to the town council for public use. The third phase is for chalets and 100 houses for those who wish to stay on the premises or spend holidays with their families. The final phase will see the development of the hotel and the waterfront. The hotel, on its own, is estimated to cost N$200 million (US$19.3 million).
Currently, there are 18 households on the farm where the waterfront will be built. Dax, however, said the farmers will not be removed forcefully from the land. Instead, the farmers and their immediate families will be considered first for employment.
At the launch of the construction, Rehoboth Urban West regional councilor Theo Diergaardt encouraged the project coordinators to do everything possible so that the project is implemented in line with set timelines and budgets.