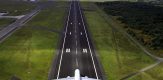 Federal Airports Authority of Nigeria (FAAN) has revealed plans to shut down a major international airport in Nigeria for runway repairs.The Nnamdi Azikiwe International Airport in Nigeria is said to have dilapidated infrastructure.The Federal Airports Authority of Nigeria (FAAN) will oversee the shutdown activity as well as the repair works.
Hadi Sirika, the Minister of State, for Aviation revealed the shutting down plans during a meeting with the industry stakeholders in Abuja. The minister pointed out that, the dilapidated infrastructure could compromise the safety of the passengers.
Search for construction leads
The airport experienced the same situation about a year and a half ago for the same reasons of repairing the runway. The runway situation has raised the need for a second runway to be constructed, as when one runway goes bad, there will be no need to shut down the whole airport as the second runway will take over and handle activities as usual.
The airport is located in the Federal Capital Territory (FCT), of Nigeria serving both domestic and international flight services. Apparently, both domestic and international terminals share the same runway. In 2009, the airport handled 3,196,438 passengers.
In November 2006, the Abuja Gateway Consortium signed a US$101.1m contract for the management of the airport for the next 25 years. The contract includes the construction of a private car parks, shopping malls, a bonded warehouse and an airport hotel. During its first five years of the contract, the consortium received an upfront payment of US$10m, unfortunately, the contract was in 2008 revoked by the former Nigeria President Umaru Musa Yar'Adua.
In the meantime, proposal have been welcomed for the construction of the second runway and the contract had been awarded to Julius Berger at a cost of US$423m. Seemingly the Federal Government revoked the awarded contract due to high execution cost. However, the government has approved fresh bids for the construction of the second runway.