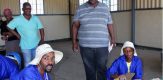 25 unemployed Cornubia residents in South Africa, the affordable housing development north of Umhlanga, and Blackburn informal settlement are learning the skills needed in finding jobs as bricklayers in a public private sector partnership (PPP) involving Tongaat Hulett Developments and several government departments.
The trainees are being taught a skills development course comprising of one month of practical and theoretical training plus two months of working experience.
Search for construction leads
The course is being offered for free to members of the community.  The government is sponsoring the cost and Tongaat Hulett Developments is offering the platform to link the community to work in the area.
Training started in March with a job readiness programme that also included workplace safety. After going through the theory part of the training, the trainee put their skills into practice by laying brick walls up to roof level
The training was offered by Elangeni TVET College located at Tongaat Hulett Developments' Blackburn Estates SSIP Hub which is located on the old Blackburn Primary School premises.
After completing the course on 8th of April the delegates were awarded an NQF Level 2 certificate for the brickwork component of the community house building qualification. This means they are approved to apply health and safety to a work area, to construct masonry structures using solid and hollow units and to set out, excavate and cast a concrete strip foundation.
Well equipped with protective clothing, they are ready to start their work experience with some of the contractors that have been employed to build the affordable houses on the Cornubia estate. They will earn small stipends while they do this work
This is the beginning of long term training programme that will involve people from the Cornubia estate together with those from Blackburn informal settlement that will entail not only bricklaying, but other construction related skills such as carpentry and plumbing