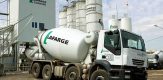 The US $2.8m Lafarge Cement dry mortar mix plant has been commissioned in Zimbabwe by president Emmerson Mnangagwa. The project is under phase one of Lafarge Zimbabwe's three-phase expansion programme launched in 2019 for a total investment of US $25m. The next stage, a vertical cement mill, is currently under construction and expected to be launched early next year.
The new dry mortar mix plant which was sourced from Turkey, is the largest of its kind in Southern Africa, and is the first such plant installed in any LafargeHolcim operation in Africa, putting Zimbabwe into a continental leading position.
Search for construction leads
Also Read: Construction of US $29m tile plant in Nyanza District, Rwanda begins
3D Printing
Besides its more conventional role, taking production of the range of dry mortar mix products from 7 tonnes to 100 000 tonnes a year, the Lafarge Cement Zimbabwe plant is capable of producing mortar for Lafarge's new technology, what it calls 3D Printing, which will increase the speed of construction by up to 70% as compared to conventional methods while costs would go down by 40%.
Through this technology, a house can be constructed in 12 hours. The 3D printer is expected in the third quarter of the year through a subsidiary of LafargeHolcim called 14 Trees.
According to president Mnangagwa, this will have far reaching impact on the attainment of targets set out in National Development Strategy 1 with regards to community based infrastructure development under devolution. "The construction of housing units, modernisation and upgrading of our ports of entry and other social service infrastructure will also be timely completed," he said.
The plant would also see an increase in the production of tile adhesives, floor solutions, plasters, water proofing solution and agriculture lime among others with an annual capacity of 100 000 tonnes but expected to peak at 150 000 tonnes.
Lafarge describes the technology as: 3D printing is the moulding of a structure by precisely placing volumes of material in sequential layers on top of each other, constructing from the ground up. The material is pushed through a nozzle which regulates flow and is guided by computer-controlled positioning process. The material used in the process is cement based with sand and specially designed admixtures as additives.