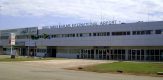 The Abeid Amani Karume International Airport construction of terminal III has been completed and has officially been inaugurated in a ceremony presided over by the East African country President Ali Mohamed Shein.
Constructed by 'Beijing Construction Engineering Group (BCEG) – a Chinese construction and engineering firm the 25,000 square meters terminal, includes 27 airline counters and immigration counter, Passengers Boarding Bridges (PBB), baggage handling system, and security checkpoint with modern systems such as x-ray machine, EDS STD.3, and IT systems.
Search for construction leads
Also Read: Zanzibar plans construction of sea bridges linking its islands
The Abeid Amani Karume International Airport construction of terminal III has other passenger support facilities including a waiting lounge, parking area for cars, a prayer area, duty-free shops, a smoking area and a VIP lounge among others.
According to the Permanent Secretary (PS) in the Ministry of Infrastructure, Transport and Communication, Mr. Mustapha Aboud Jumbe they are still making minor finishing touches before officials from the International Civil Aviation Organization (ICAO) and International Air Transport Association (IATA) come to inspect and clear the facility for use as soon as possible.
The development project cost the Zanzibar government approximately US$ 129M.
About the AAKIA
Previously known as Kisauni Airport until 2010 when it was named after Abeid Amani Karume, the island's first president, AAKIA is the main airport of Zanzibar Archipelago used largely for charter flights to and from Europe. It is located on Unguja Island, the largest island of the Zanzibar Archipelago south of Zanzibar City with which it is linked to by Nyerere Road.
During the inauguration ceremony, President Shein insisted on the maintenance of the state-of-the-art facility to enable the isles to attract more tourists and open up business with the outside world.
"Despite delays, we have managed to build the terminal and improvement to our airport not only supports our business and tourism sectors but also adds up as a creation for employment" explained the president.