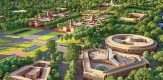 Tata Projects, a subsidiary of Indian conglomerate Tata Group, has won a bid to construct the new Indian Parliament building in the capital city of New Delhi at a cost of US $117m. According to the Central Public Works Department (CPWD) the new Parliament building will be built near the current building, which is over 90 years old.
The design
The new Parliament building is said to be shaped like a triangle and is expected to include the national emblem of India, which could be placed atop of the new building. Upon completion, the new building is expected to have halls with larger seating capacity for the Lok Sabha (lower house) and the Rajya Sabha (upper house), offices for members of Parliament along with a courtyard, dining facilities and a lounge for lawmakers.
Search for construction leads
The Lok Sabha is likely to have more numbers after the constituencies are reorganised and the present building has no space for the extra Parliamentarians. The new building is expected to accommodate nearly 1,400 Members of Parliament.
Also Read: Construction of new Zimbabwe Parliament Building nears completion
The plinth
The plinth of the new building shall match that of the existing one, which is approximately 1.8 metres above the ground level. The total plinth area of the proposed building is approximately 65,000m², including the basement area of approximately 16,921m². The building will be ground plus two-storeyed with one basement.
Construction is likely to begin after the ongoing Parliament's winter session and expected to be completed within 21 months.