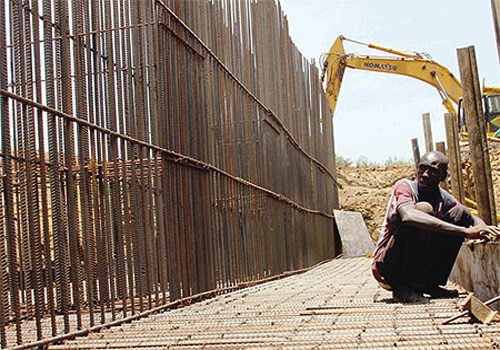 The construction of a dual carriage bridge aimed at enhancing transportation of cargo between Uganda and Kenya has commenced at Malaba border in eastern Uganda.
The European Union is funding the construction of the bridge projected to cost $46.8Million (KES3.8bn). Maltauro and H. Young construction companies have been contracted to build the bridge.
Rogard Karani, the H Young site engineer explained that the initial phase of the construction started in January and will last six months. The new bridge comes with a tarmac 1km road that will stretch from Kenya customs department to Uganda.
Karani said currently, they are laying the metallic ground foundation and building columns that will support the bridge. Thereafter, Maltauro firm will take over the construction of the top slab for the bridge and the road.
The dual carriage bridge will replace the current single carriage one. The existing bridge was built by the British in 1961. It is now old and incapable of sustaining the increasing cargo traffic from Kenya destined to Uganda and neighbouring landlocked countries.
The road stretching from Kenya customs department to Uganda is riddled with potholes. Cargo trucks often get stuck in these portholes. This raises the cost of repairs for trucks. The new road will relieve businessmen of this challenge.
Geoffrey Balamaga, the Uganda Revenue Authority (URA) eastern regional manager said the new bridge would ease the flow and clearance of cargo trucks at Malaba. On average, Malaba border clears more than 700 cargo trucks entering the country daily and 500 export cargo trucks. Due to the narrowness of the old bridge, one truck is cleared at a time. Completion of the new bridge will speed up clearance.