Oxford Parks is an architectural focal point along Oxford Road in Rosebank. On completion, this site will house five buildings on a master basement structure. 203 Oxford is a premium grade commercial development and the latest addition to the Oxford Parks precinct. Covering 11000m², the building has four floors with 500m² of ground-floor retail space, as well as, a 200-seater atrium. Once complete, the building will be occupied by Life Healthcare, one of the largest private hospital operators in South Africa.
The shape and orientation of the site influenced the dynamic form of the building. A small portion of the site faces busy Oxford Road, acting as a catalyst and gateway into the precinct. Therefore, the front face needed to be an iconic and attractive design. In response to this, dhk introduced a distinct architectural feature – a geometric protruding glass box. Moreover, a large recessed terrace wraps around the top floor with a projecting white roofline podium that provides shade and frames the building.
A large portion of the building stretches along Eastwood Road. In order to reduce the monolithic linear form, dhk introduced two contrasting facade treatments. The first includes vertical scattered punctured openings sheathed in glass, while the other is clad in aluminum panels and punctured by horizontal openings. A recess above the vehicular entrance further fragments the building and brings the architecture to a better balance human scale.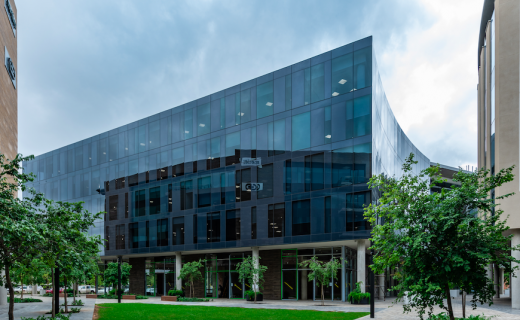 Oxford Parks were designed to complement each other, and their respective footprints fit together in a jigsaw puzzle configuration, proportionately occupying the site to optimise the usage of this prime pedestrian precinct with its generous public environment.
Through bold yet sensitive design of the buildings, together with the hard and soft landscaping of the outdoor piazza area, a natural environment was created ensuring a harmonious blend of business, life and leisure for the end user. Accommodating all parking in basements has shaped a precinct that is pedestrian friendly and offers a safe retail experience.
A comprehensive Environmental Management Plan was adopted that amongst many criteria, specified the installation of waste management systems to maximise recycling from waste generated on the project. Another environmental intervention was the installation of state-of-the-art HVAC systems in all the buildings presenting energy saving, efficiency and sustainability features including air-cooled systems to eliminate water usage.
To optimise energy usage during occupation, different striking façades provide the respective buildings with both aesthetic interest and added energy benefits.
Project team
Client – Intaprop
Architect – dhk Architects