City Developments Limited (CDL), a Singaporean real estate company has acquired and is developing the site set for a 49-storey Octagon residential tower. The development is anticipated to be the tallest pure octagonal residential skyscraper in the world and Birmingham's tallest building upon completion. The Octagon residential tower is designed by Glenn Howells Architects. It will be 155 meters (509 feet) tall and is scheduled for completion in 2025. It will comprise of 370 private rented sector apartments of different sizes.
Midgard, a JRL Group subsidiary, was awarded a 44-month tender to demolish the current 77 Paradise Circus Queensway office structure and construct the Octagon. Site works started in mid-December. Midgard will be developing a 179-metre tower crane on site earlier in 2022. The tower crane will reportedly become the tallest ever used in the city. The estimated total project and land cost is around £110m.
Search for construction leads
Read also: Tekmar Energy wins Dogger Bank Wind Farm Cable contract.
The paradise Octagon residential tower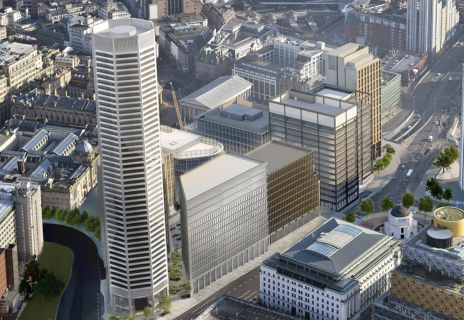 The team managing Paradise Birmingham, MEPC, is set to be the projects development manager. The CDL's investment and Midgard's appointment comes on the back of three new detailed planning applications that were submitted recently to Birmingham City Council to complete the second phase of the Paradise Masterplan.
The regional development director with Paradise development manager MEPC, Rob Groves, stated: "Attracting an investor of the admiration and quality of CDL is a great coup for Paradise and Birmingham at large. They are great players worldwide and have conveyed great confidence in the Birmingham and the region. Midgard director, Kevin Keegan added: "This is a world-class scheme, as is the whole of the Paradise project, with cutting edge design and architecture. By bringing the expertise of constructing tall structures to bear at Paradise, we will make sure this landmark tower is constructed on time and on budget."