Construction of three office blocks in Bristol has been given approval in spite of concerns they would overshadow Castle Park and "overwhelm" the Old City. The St Mary le Port development was voted in favour by Councillors. The development surrounds a ruined church tower.
The redevelopment will see one nine-storey and two eight-storey office structures, with independent cafés, shops, restaurants and bars at ground level, replacing three old bank buildings at the corner of Wine Street and High Street. The developer MEPC will also enlarge the park, revamp the ruined St Mary le Port church tower and re-establish three streets at the city centre that were lost during the Bristol Blitz. Additionally, public toilets and cycle lanes in the park will also be improved.
Search for construction leads
Read also: Southern Rail hunts firms for Southern Integrated Delivery model.
The Castle Park concerns.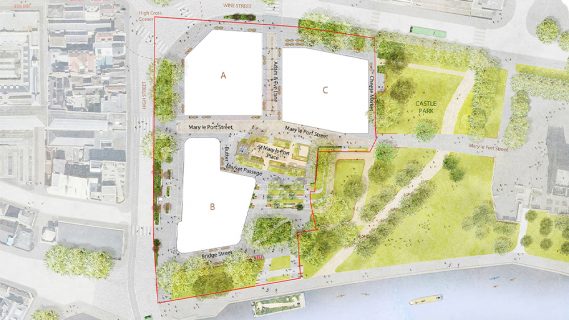 The campaign group that had objected to previous plans to revamp the site, Friends of Castle Park, revealed to the planning committee their thoughts on how the proposals would both "protect" and "enhance" the park. But Simon Hickman, from the Historic England, that had objected to the application, stated that the structures were "just too big" for the site, overwhelming the Old City except if two of the new office blocks could be two floors shorter. The strong planning committee of nine voted five to three to accept the application, despite their reservations. One councillor abstained.
Richard Eddy, the committee chair agreed that the plans were controversial but added he thought they enhanced and suited the prominent central city location. "Castle Park is a bit like New York Central Park in my view, so large structures surrounding it may be appropriate and may actually add to the attractiveness of the area," said the Conservative councilor. The developer MEPC, Roz Bird added: "I would like to thank Bristol for welcoming us with open arms and for partnering with us."