Manchester high-rise professional Renaker has revealed plans for a 42-storey residential high rise, to form the Salford Greengate cluster second phase. The 444-apartment building was designed by Denton Corker Marshall Architects , which was earlier due to be brought forward being the final of three towers from the Greengate regeneration scheme. The sequencing has now been swapped to facilitate development with Renaker already on site delivering its 52-storey Colliers Yard building, designed by OMI Architects.
The 371,000 sq ft structure will feature 7,000 sq ft of commercial area on the ground floor as well as a one-, two- and three-bedroom mixed apartments. Renaker, who last year won the three-tower Greengate scheme outline approval, presented a building control application for the Salford Greengate cluster second phase last month. Renaker is already at Greengate site constructing the 52-storey Colliers Yard which was designed by OMI Architects, the first structure to come forward from the masterplan.
Read also: King's cross to construct R8 development in London.
The Greengate investment.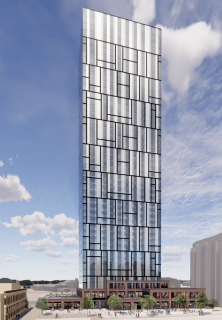 Colliers Yard is set to get finalized by January 2024 while the Salford Greengate cluster second phase construction is due to start next January, subject to planning approval. The third tower, which will comprise of 518 units, is aimed to complete in 2028. The Renaker's Greengate trio will provide in total almost 1,500 homes. Ealier in the year, BDP submited plans for a 36-storey Salford tower in Greengate. The tower would offer a co-living homes and a hotel. The application on the planning also required conversion of eight railway arches into bar and café spaces.
The first 10 floors of the tower will be occupied by the hotel, which would comprise of 171 bedrooms, a restaurant, lounge and reception. The 24 upper storeys of the highrise will contain 485 build-to-rent co-living rooms, clustered on 135 apartments, with the residents' roof terrace on the 32nd storey. Greengate has received huge investment over the last few years. It is transforming to be a sought-after place to live.