Unity East Development in Tatu City is an upcoming exclusive, elegant estate of contemporary, low-rise 2, 3, and 4 bedroom apartments spread on a total area of 10.4 acres, in a gated community at the heart of Tatu City in Kiambu, Kenya.
Tatu City is a 5,000-acre, new city featuring homes, schools, offices, a shopping district, medical clinics, nature areas, a sport & entertainment complex, and manufacturing area that will create employment for more than 250,000 residents and tens of thousands of daily visitors.
Search for construction leads
Also Read: Ocean Seven Development in Kikambala, Kilifi, Kenya
Unity East Development in Tatu City is the second phase of Unity Homes development, following the first phase (Unity West), a modern, low-rise, family-friendly residential development sitting on a 7 acres piece of land in the same city, which is almost complete.
Reportedly, Unity West boasts a total of 384 units, 100 of which are already complete and occupied with the remaining due for completion by April next year (2022) at the latest.
Unity East apartments, according to the developer, boast cool balconies with glass railing and floor-to-ceiling sliding balcony doors, making the most of the apartments' spectacular panoramic park views with the community's expansive outdoor amenities close by. Each apartment also has calming natural palettes and a modern kitchen giving a lovely, quality, and elegant indoor experience.
Generally, Unity Easts' apartments amenities include; open plan lounge opening up to a spacious balcony with glass railing and sliding aluminium doors; futuristic style imported kitchen with mosaic backsplash, standard extractor hood, and a breakfast bar; strip lights and spotlights illuminating the kitchen space beautifully, and polished Italian style granite worktops.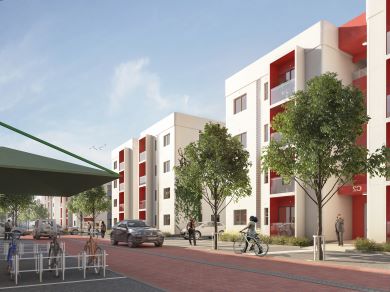 This is in addition to; European 85kg stainless steel, high-security door; wooden teak textured ceramic tiles a mix of porcelain hexagonal tiles, a spacious utility room with a provision for a washing machine, 150L solar water heating with a booster, smoke detectors; Italian style stainless kitchen and bathroom fittings; bathrooms consist of a water closet, frameless glass shower screens, rain shower & a vanity; and standard white UV high-quality wardrobes in all bedrooms.
Project Team
Developer: Unity Homes