Contractors and engineers face different problems that may become project blockers: repetitive tasks, absence of a unified file storage, poor collaboration between field and office teams, data errors in checklists and reports, etc. But the main issue has always been manual data entry.
Much paperwork is involved in every project stage, from planning to closure. Project managers have to fill in, sign and approve multiple documents like checklists, punchlists, timesheets, contractor agreements, purchase orders, invoices, etc. This can't but result in slow progress, communication gap between departments, and human error, which often causes rework.
Search for construction leads
Apps offering automated data capture and workflow automation are a way out. They replace paper docs with digital forms, speed up data entry, automate repeatable tasks, and save your business time and money. Below, there is a list of 5 Android apps that may help builders, contractors, engineers and planners perform more efficiently in 2022.

Credit: Fluix.io
Fluix is a no-code process management web app that's specifically designed for the construction industry. It offers digital forms and checklists, automated data capture, task and process workflows, and integrations with BI tools for data analysis.
Construction projects typically involve multiple teams – builders, contractors, engineers, inspectors, managers, stakeholders – working from varied locations. Some of these locations are remote job sites that often lack a stable Internet connection. Fluix ensures all these distributed teams can collaborate on projects smoothly and effectively.
An example, that's how a site inspection can be automated with Fluix. Office managers pre-fill forms on desktop, assign them to the corresponding performers, and push through workflows for completion. Site inspectors or auditors (located in different cities or even countries), receive notifications on task assignment, open the assigned documents on their mobile devices, iPads or Android tablets, and complete them, online or offline. They then sign them with electronic signatures and send back to the office. The process, which otherwise requires days to be completed, is finished in several hours, depending on the inspection size.
Features:
Digital submittals for data collection with any device, online and offline
In-built form builder supports fillable PDFs and web forms
Electronic signature enables you to sign documents from anywhere
Task-based workflows are easily created in a drag-n-drop builder
Datasets allow to sync data extracted from multiple forms
Free trial: 14 days
Pricing: Starts with $20 per user/mo (minimum limit of 20 users).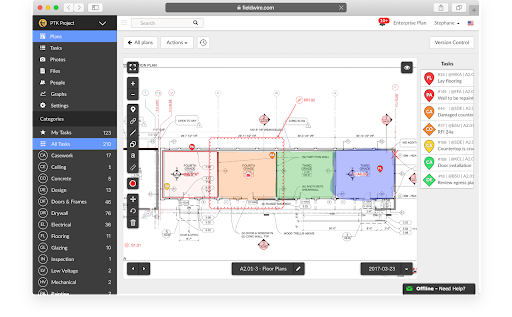 Credit: Dropbox + Fieldwire
Fieldwire is a relatively new jobsite management tool. Yet, it's gained numerous followers, supposedly due its extensive functionality for collaboration and productivity. The company's mission, as they put it, is "to be the world's most trusted field management solution for construction teams on projects of any scale". Pursuing it, Fieldwire offers solutions specifically designed for the industry, like a drawing viewer that works offline, markups and as-builts, digital timesheets and RFIs.
On the site, all solutions are divided into categories based on target users, which are general contractors, speciality contractors, owners, architects & designers. Such navigation simplifies search and helps people get straight to the section they need.
An example, automated version control is a special feature listed for designers. While contractors may find it less usable, architects require this feature a lot as they always need to keep all teams updated on a new set of drawings and plan versions.
Features:
Digital documents can be shared in real time
Checklists and punch lists to validate that the work complies with the spec
Real-time messaging through push notifications
Sync with Box, Dropbox, and OneDrive to have access to the latest plans and versions
Reports on projects and site inspections that can be shared with anyone
Free trial:  A free plan for maximum 5 users
Pricing: Starts with $44 per user/mo when billed monthly.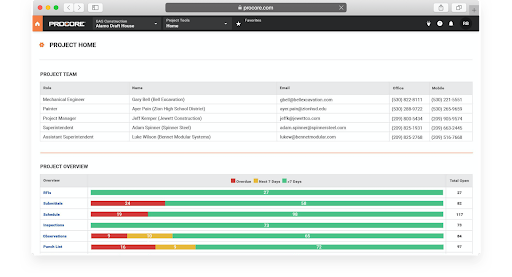 Credit: Procore.com
Procore is a leader among construction software. This construction management tool has been on the market for a while, helping project managers and contractors streamline complex processes and operations.
The long market presence has made Procore a tool for enterprises rather than small or even medium companies. The software has no trial period or free plan, so it's hard to test it on your own. To see pricing, you need to contact sales or try to calculate your plan based on your annual average construction volume and other metrics. The procedure is long and not very user-friendly.
Other than its pricing model, Procore offers numerous solutions for efficient project management. These are digital forms, intuitive workflows, RFIs, project health dashboards, datasets, integrations with other apps, and more. The platform allows you to manage project correspondence, and give all parties involved a clear understanding of where every task is, and what needs to be done to close the project on schedule.
Features:
Digital templates for automated data capture
Project overview gives a picture of the progress
Automated versioning helps be updated on the latest drawings
Site diary helps capture and record all the important information that can be used for further references
Reports provide insights, help identify patterns, and keep stakeholders and partners updated
Free Trial: N/a
Pricing: Quote upon request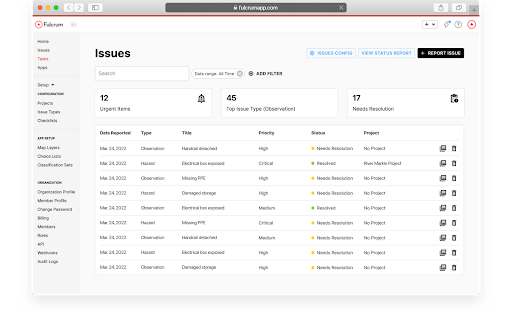 Credit: Fulcrumapp.com
Fulcrum is a tool that specializes in field inspection management. It's a fit for companies that rely on field data collection and store inspection records. The platform offers a library of digital checklists, and a form builder that you can use to customize them or design new ones. Using the drag-n-drop interface, even non-tech users can easily work with the builder.
Once created, digital checklists can be assigned to the responsible team members who can then fill them in with inspection data, add images, barcodes, and sign them with eSignature. As many other apps designed for industrial needs, data in Fulcrum can be submitted even in the offline mode. However, it will be available to managers for review and approval only after the connection is back to normal.
The field inspection software also has a clear pricing system with two plans that provide services on a per user per month basis.
Features:
Digital checklists for data capture
Automated geotagging to track the submitted info
Consolidated dashboards for better visualization
Integrations through Zapier
Operational API access for enterprises
Free trial: 30 days
Pricing: Starts with $42 per user/mo when billed monthly.
Credit: Software Advice
In contrast to the above apps with diverse applications, SmartBid has one speciality that is construction bidding. It helps contractors and project owners manage subcontractor data, share project documentation and distribute invitations to subs via fax or email. It also monitors responses, storing all data within one database.
SmartBid operates simply. Approved users can access qualified subs through ConstructConnect Sub Network and SmartInsight Contractor Network and filter them based on their project needs. The info is up-to-date, so you don't need preliminary calls or emails to figure out whether the info is still valid.
Integrations with such construction tools as Procore, Autodesk BIM 360, Dropbox, Sharepoint, Google Drive allows you to sync data between platforms you use to cover other stages of the project. SmartBid also offers training sessions that aim to help people use the app more effectively.
Features:
Contractor network with access to qualified subcontractors
In-built custom form tool for prequalification allows for info transfer between systems
Fax or email for ITB distribution
File sync integrations with Sharepoint, Google Drive, Box, Citrix Sharefile, Egnyte
Real-time, web-based ability to perform takeoffs
Free Trial:  N/a
Pricing: Depends on the number of users. Subcontractors can bid free.
To Sum Up
The automation app market is booming today, as companies are placing more demand for workflow management software. Construction firms are no exception. Project owners, managers, stakeholders understand that digital solutions deliver gains in efficiency and productivity, and help avoid rework, safety incidents, and legal claims.
What's more, automated workflows do the work people hate doing, contributing to the satisfactory employee experience and high workforce retention rate.
So the question today is not "Do I need a construction app for my organization?" It's " What construction app covers my business needs. and how can I see whether it works for me." To answer it, see the above list, check the similar selections, study reviews, consult industry mates, and apply for trials and choose what fits best.