Sika RainTite 1L has recently been launched into the DIY waterproofing market offering an add-on to the waterproofing basket. The 1L is now available for DIY users with a very small area to treat or who SIMPLY need a small amount FOR a MINOR job. Sika RainTite 1L is used in conjunction with a Sika RainTite membrane to form a durable and flexible waterproofing system. It can be used to waterproof flashings, parapet walls and sealing joints, laps and roofing screws on corrugated roofs.  Other characteristics include UV resistance, easy application, very economical, vapour permeability and excellent adhesion.
It is simply brush or roller applied in a generous amount to a clean, sound surface. While still wet, the membrane is embedded in the base coat, air pockets and creases smoothed out with overlaps of adjacent membrane overlapping by a minimum of 50mm. A second coat is applied immediately, while the base coat is still wet in order to fully saturate the membrane on both sides.  When touch-dry, the final top coat can be applied and the system must be protected from rain until it is dry.
Sika RainTite 1L is now available in 9 colours: Charcoal, grey, green, terracotta, red, white, brown and now also burgundy and black.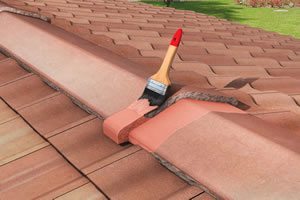 Sika AG Corporate Profile
Sika AG, located in Baar, Switzerland, is a globally active specialty chemicals company. Sika supplies the building and construction industry as well as manufacturing industries (automotive, bus, truck, rail, solar and wind power plants, facades). Sika is a leader in processing materials used in sealing, bonding, damping, reinforcing and protecting load-bearing structures.
Sika's product lines feature high-quality concrete admixtures, specialty mortars, sealants and adhesives, damping and reinforcing materials, structural strengthening systems, industrial flooring as well as roofing and waterproofing systems. Worldwide local presence in 80 countries and some 15 200 employees link customers directly to Sika and guarantee the success of all partners. Sika generated annual sales of CHF 4 829 million in 2012.