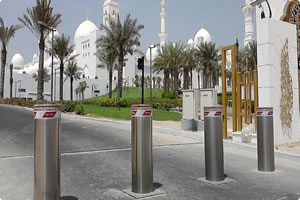 By Yvonne Andiva and Eric Mongare
While automatic gates have been around for decades they have only recently begun to make their appearance in urban settings in Africa either in homes or metered parking lots at malls.Automatic gates either slide open or swing out on hinges when activated remotely while access barriers perform the same function by swinging up.
The barriers are more popular at entrances to parking lots or at toll stations and are more often than not used in tandem with metering systems. In either case the driving mechanism may be hydraulic or electromechanical the activation being remotely done by a wireless transmitter or a manual device.
When looking for an electric gate always look out for reputable suppliers. Though the initial cost may be higher you are assured of a product that will work and be backed by competent after sales service. Gates should also come with a backup battery system in case of power failures. Today complete packages come with DIY instructions making installation easy and user friendly.
Avon Barrier Company Limited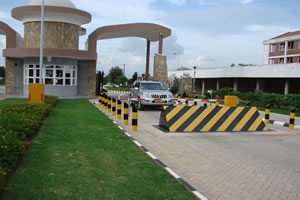 They are specialists in the design, manufacture and installation of a range of crash-tested physical security products including barriers, road-blockers, gates and bollards. The company operates internationally, throughout Africa, and has its headquarters in the United Kingdom.
It has equipment installed and supported in many African countries; Nigeria recently installed SG1100CR Gates for an international drinks company, road blockers are now protecting the access to a dam in Nigeria, plus work for the British, Canadian, Australian & American Governments in Gambia, Rwanda, Sudan, Tanzania, Ghana, Cote D'Ivoire, Ethiopia and also UN buildings across Africa.
In addition, Avon Barrier has an established and trusted network of approved suppliers in most African countries that are supported with a specialist technical team. For areas with a high risk of terrorist or hostile attack such delivery areas, service areas or any other area that could cause mass casualty, should an incident occur, Avon Barrier Company's high security rising arm barriers have been proven in crash tests to PAS 68, resisting a 7500KG truck travelling at 30 / 50MPH. Models in this range include the EB950CR and EB1400CR.
Joanne Smallwood, the Marketing Manager advises that the nature of their products means that they are designed to be installed in some of the most hostile of locations around the world, their ethos as a company has been to manufacture equipment that whilst strong, robust and able to provide the highest levels of vehicle entry/egress security, they also need to be simple to install and maintain, enabling local contractors to support them.
CASIT AUTOMATION & SECURITY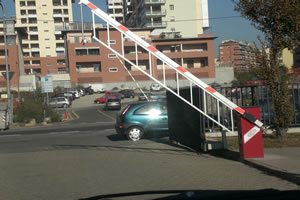 Since 1950, CASIT has been manufacturing Automation & Security solutions delivering high quality products for industry, domestic and parking. Their product range is wide: barriers, gate automation, bollards, and intensive use operators for any kind of gate, window openers and much more on
CASIT ® has chosen Sustainability thus each product is realized using green energy. Their photovoltaic panels entirely cover their industrial warehouse.
The plant covers a covered surface of almost 3.000m2 plus another equipped area of 5.000m2 inside the warehouse; the tests and the production are made with modern numerical control machines.
Their aim is to drive efficiency and deliver quality in Automation & Security. Their top line is made by: Barriers, Sliding motor – intensive use ,Wheel motors and Pistons
CASIT ® offers you a bundle of solutions: gate automation, heavy duty operators, parking solutions and accessories.
Elena Ramella from the Marketing Office says that their products are currently present in some regions of Africa such as Tunisia, Morocco, Libya, and Egypt through distributors who resell them to big companies but they are interested in new partnerships and are constantly looking for new distributors.
She adds that the unique features in their products that make them suitable to Africa's environment are the extreme resistance. Their engines and barriers are manufactured in their workshop and are tested to ensure durability and intensive use in fact they have a range of sliding with metal case, barriers with the aluminum panels and ventilated motors for better cooling.
KEY AUTOMATION S.R.L.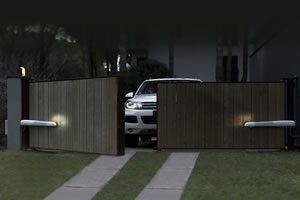 Key Automation, young and dynamic Italian company, releases in the market the Night Light System, a revolutionary way to conceive the automation for gates and doors: not just gate automation but also an independent light, an added value of style.
Night Light System is a new family of products with integrated LED lights to constantly light up entrance during the night, independently from the opening of the gate. The New Line includes the RAY, the REVO' (motors for swing gates), the SUN (motor for sliding gates), the ECLIPSE and the 14A (respectively LED flash light and control unit).
The innovation of this system is represented by the LED strips integrated in the motors that, besides advising the functioning of the motors during the movement, work also as courtesy lights overnight, activated by a crepuscular sensor that is placed inside the ECLIPSE flash light and directly managed by the 14A control unit.
This new line of products is done thinking to safety and comfort too; safety with the enlightenment granted to the external of your house by the courtesy lights that facilitate the nighttime view also in presence of security cameras; comfort because courtesy lights show the width of the entrance while maneuvering with your car.
Vanessa Marangon from the marketing department says that their products are available in Africa and they sell through agents. He adds that all their products are advanced and they do not cause harm to the environment.
Lindsay Transportation Solutions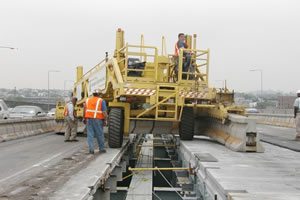 Lindsay's Infrastructure business segment is composed of numerous businesses serving customers in a variety of applications. The key businesses represented are: Barrier Systems and Snoline SpA as well as
Contract Manufacturing for parts or complete goods for such firms as John Deere, General Electric and Case New Holland.
The Quickchange® Moveable Barrier system (QMB) from Barrier Systems is designed to create a positive traffic barrier between opposing lanes of traffic and between motorists and construction work areas.
A QMB System consists of two major parts. A highly engineered and road tested cement or steel barrier and a Barrier Transfer Machine (BTM) that laterally transfers the barrier wall, one lane or more, at speeds of up to 5 mph (8 km/h). This allows the contractor to quickly reconfigure the roadway to meet changing traffic demands and at the same time expedite construction.
By expanding the work zone during off-peak traffic periods, contractors can combine or eliminate stages and use larger, more efficient equipment to accelerate the construction process. This often results in eliminating one or more construction seasons. The system also reduces congestion by enabling more lanes to be open during peak hour traffic.
John Dreznes of Lindsay Transportation Solutions says that their products are extensively available in Africa through agents. He also advices that a buyer of road safety products should make sure that the products purchased are tested to, and meet a test certification level. Proper training for installation and maintenance of road safety products is also essential. Road safety products cannot perform if installed incorrectly or not properly maintained.
Pilomat S.r.l.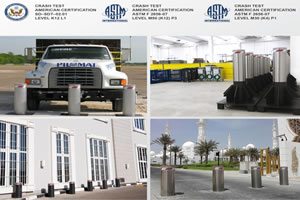 They have been operating for over 40 years in the installation business specializing in the design and manufacture of automotive products geared toward access control with concealed technology, designed to meet heavy-duty needs.
At present PILOMAT counts itself among the top leading manufacturer of automated access control technology in the world, thanks to some structural, management and innovation features that represent their strength. i.e. Wide range of production from residential security installation to the highest level of antiterrorism securities, their flagship products are automatic rising bollards with hydraulic movement, technology universally recognized as the most reliable, seeing as it is a constant development in technology, the pace of the movement being constant, linear and low in noise, as well as uses reliable and durable materials, dependable in every temperature and weather conditions.
In order to satisfy all customers' needs PILOMAT offers also semiautomatic, removable and fixed bollards as well as PILOMAT Energy towers for water and air supply and a wide selection of road blocker with hydraulic movement.
Silvia Mazzoleni from the marketing Office says that Pilomat aims at providing its customers with both the reliability and longevity of its products and the personalization of the installations according to their security, environmental and architectural necessities. She adds that they are always looking for new distributors and installers with the aim to enlarge their market in those areas of the world that are in expansion.
Parksafe Systems Ltd.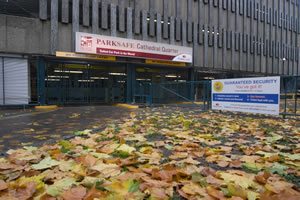 Parksafe pride themselves in offering customers the ultimate parking experience with their car parks operating completely crime free for over 13 years. They have an impressive reputation for 24 hour, zero-crime and offer a unique no-quibble guarantee against vehicle related thefts. Their Derby car park was voted '10th Safest Place in the World' by Science and Technology magazine and is deemed to be the safest car park in the world!
Parksafe Systems Ltd operates car parks in Derby, Lancaster and Workington in Cumbria and also design and manufacture car parking equipment and secure parking systems. The newly-refurbished Derby car park offers a wealth of innovative features including their newest state-of-the-art security system.
Their high security system and car park operation has won numerous awards including the British Parking Association 'Best Parking Practice Award', BPA special award for 'Technological Innovation and Customer Guarantee' and their technology has been recommended by the Design Council.
Ken Wigley, the chairman advices that their products are very safe and reliable to use and they have recently sold to Derby City Council.
Proforme UK Limited
They supply electric Gate Automation Kits for Electric Gates to for trade and for the public. Proforme supply electric gate kits from the worlds four leading gate automation and door entry systems manufacturers, the reason they do this is: Each manufacturer has a kit that is better for different situations, Each has a fantastic track record in this field and is trusted, Trade customers can get all of the parts needed with trade prices from one supplier, They have worked as fitters for all four manufacturers and at proforme they will only supply the best there is for your instillation.
Proforme have a long history with automatic electric gates, they now can supply their customers with the very best standard of diy electric gate kits, to be fitted by you without the need for huge installation fees whilst still retaining up to a 3 year warranty. All of their gate kits are suitable for both steel and wooden gates.
Centurion Systems (Pty) Ltd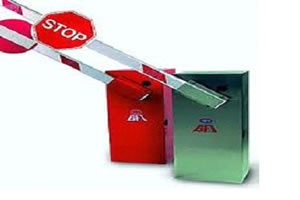 Centurion Systems (Pty) Ltd is manufacturer of access automation equipment, and offers a diverse and award-winning range of incredibly feature-rich products for controlling the access of people and vehicles into and out of residential, commercial and industrial properties. The fact that Centurion's gate operators and traffic barriers are designed and manufactured in Africa means that they are more than capable of withstanding the harsh African conditions and have a proven track record of 27 years providing reliable automation to homes and businesses throughout the continent. The company exports to the whole of Africa, and is able to offer unconditional sales- and after-sales support through a network of authorised distributors situated in the majority of commercial hubs, including Kenya, Nigeria, Zimbabwe and Tanzania.
According to Centurion Marketing manager Charl Mijnhardt currently their products are largely available in Africa and they can be purchased through their certified agents or by directly contacting their company. He adds that their products are built for security and reliability. In addition to being constructed from only the robust materials made to withstand the harsh African climate.
Their Gate motors are an absolute staple of access automation and remain a reliable and cost-effective means of achieving access control and the accompanying security and convenience.
CENTURION manufactures gate motors for both swing and sliding gates, with operators available for domestic, light-industrial and full industrial applications. The vast majority of CENTURION's gate motors feature dependable battery backup and will continue working even during lengthy power outages.
Cassidy Bros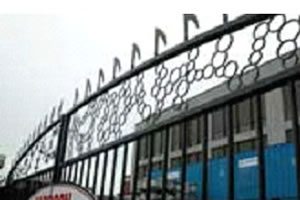 Cassidy Bros. Forge, has been designing, manufacturing and restoring fine wrought iron work for over forty years. The company was started by brothers who had a passion for fine wrought ironwork – and the talent to forge an exceptional product. They have a reputation for fine craftsmanship and solid, enduring architectural ironwork. The emphasis of their products is on strength, longevity and artistic craftsmanship.
Currently the company is specializing in hand forged wrought iron fences and gates, they fabricate both traditional and contemporary styles of ironwork using the best of both modern and centuries-old techniques of fine craftsmanship. In addition to fabricating custom designs, they have a product line of standard wrought iron fencing and iron gates. Their collection of styles responds to the demand for a higher standard of quality in readily available designs made with solid pickets instead of from tubes.
Cassidy Bros C.E.O Maurice Cassidy said currently their products are available in Africa and they can only be acquired from them directly. He also added that their products have their own hinge design that is from machined stainless steel for the pintal type hinges and also have press fit bronze bushings and "Delrin" bearings. They have a special paint system by blasting to sspc-10 followed by a two part marine epoxy primer and then a two part marine high gloss polyurethane top coat, including custom colors followed by a clear coat to prevent fading.
Cassidy Bros Forge incorporates methods of wrought iron construction which exceed current standards of quality. Wherever possible, they over-design our ironwork. Their satisfied clients include numerous colleges, corporate headquarters, private estates, embassies, public parks, cemeteries, churches and cathedrals throughout the United States and abroad.
All of their gates, fences and metal structures are made by hand after carefully being engineered and designed for the customer and the application.  They manufacture everything at one location and also do all finish work here as well.  They also can provide the high quality products as they have a blacksmith shop, machine shop, fabrication shop, environmentally controlled blast building and paint shop.
Control4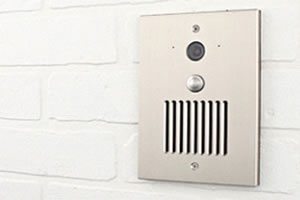 Conrol4 is a provider of personalized home automation systems. Their solutions allow you to control virtually any device in a home or business automatically or remotely by using Control4's anywhere access technology. The complete home automation system can be customized to fit the client's needs, but the basic functions of the system include automated climate control, wireless lighting, high-quality audio/video steaming, home security cameras and alarm systems, and the function you're covering for your story, automated doors.
Control4'sselection of smart door locks smart door locks require either a push-button code or touch screen sequence in order to gain entry. Not only are they convenient for those of us who are always losing our keys, but the doors can also be used to keep you informed about who is entering your home. They can be programmed to alert you any time they are locked or unlocked, or to send you a text message/mobile alert when a specific entry code is used (such as those used by service personnel or family members). By combining the automated door locks with the control4 Exterior Door Station, you can see and hear exactly who comes to the door no matter where you are in the house.
Alabama Metal Industries Corporation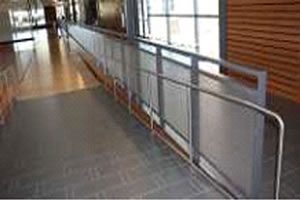 Alabama Metal Industries Corporationis a leader in the manufacturing and distribution of Industrial Flooring/Grating and Expanded Metal Products throughout North America.
An extensive line of Plastering, Stucco and Drywall Building Products, Concrete Forming Products, Security Barrier Products, Fiberglass Structural Products, Perforated Metals and Access Floor Systems amplify AMICO's entire product repertoire.
Alabama Metal Industries Corporation is striving to ensure that their products and facilities contribute to a sustainable environment. They are a member of the U.S. Green Building Council and support suppliers that share our commitment to a sustainable environment.
The company's products can help you achieve LEED points in the in that: EA Credit 1 – Optimize Energy Performance: Achieve increasing levels of energy performance above the baseline in the prerequisite standard to reduce environmental and economic impacts associated with excessive energy use.
By using AMICO products such as Expanded, Perforated or Bar Grating as sun shades or as an exterior facade, solar gain into the building is reduced, in turn reducing the amount of energy required to run HVAC systems.
List of contributors
Avon Barrier Company Limited
Joanne Smallwood
CASIT AUTOMATION & SECURITY
Elena Ramella
KEY AUTOMATION S.R.L.
Vanessa Marangon
Lindsay Transportation Solutions
Barrier Systems/ Snoline
Scott Kroeker/ Alberto Pedroni
[email protected]/[email protected]
PILOMAT S.r.l.
Mazzoleni Silvia
Parksafe Systems Ltd
Ken Wigley
Proforme UK Limited
John Morrell
Royal Boon Edam International BV
Sandra Baltissen
Centurion Systems (Pty) Ltd
Charl Mijnhardt
Cassidy Bros
Maurice Cassidy
Control4
Heidi Ohrenberger
Alabama Metal Industries Corporation
Shevchenko